After the flood of camera flashes and 360-degree spanning slow-mo videos, we're finally able to take a breather and fully examine Microsoft's new Surface Duo and a few internet sleuths are starting to pose some interesting questions, like, will there be more than just the off-white color option for the device?
Black #SurfaceDuo detected! @MichaelGillett @zacbowden pic.twitter.com/WB5eMgbgvL

— Oleg S. (@Galayder) October 7, 2019
While Microsoft paraded around its white/off-white Surface Duo to the press and for the cameras on October 2, 2019, there have been captures and brief moments in video that have spotted a black version of the device in use.
Alongside @galayder's observation, Microsoft's CPO of hardware, Panos Panay has been spotted, in this Marques Brownlee YouTube video, using a black version with a reference area in place for what could be a future camera module.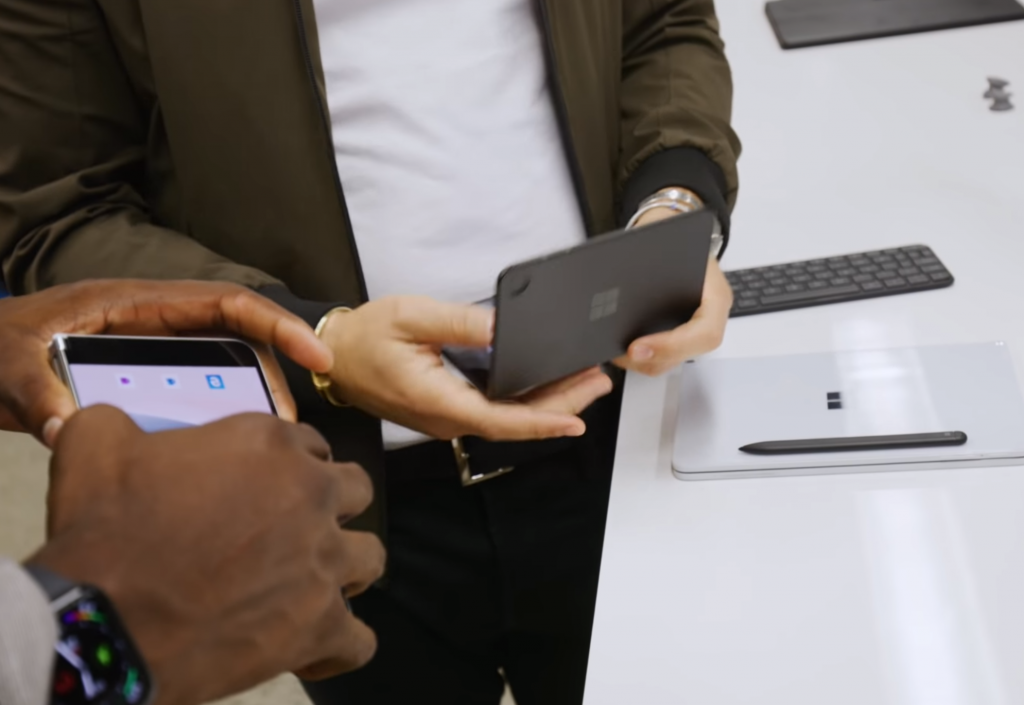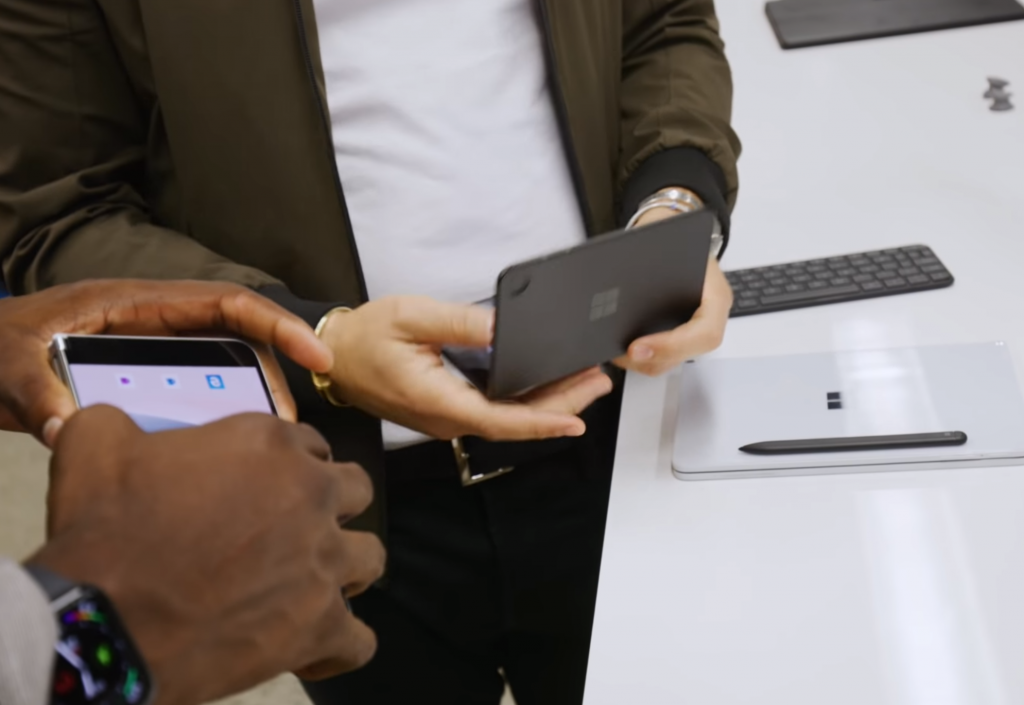 Following its relatively dazzling unveiling last week, Microsoft's miniature foldable offering has received a lot of press attention. Some journalists have gotten some hands-on with the dual 5.6-inch screened device powered by Android while others have had opted to speak at length with Microsoft's chief product officer about the ins and outs of the company's new foldable.
Over the past, 120 hours or so, Panay and his team of executives have stated consistently that the hardware for the Microsoft Duo is locked in and will likely not change over the next year as the company prepares to court developer for apps and services for the device. Despite their vocal convictions, there appears to be a couple of unanswered questions about the hardware of the Duo including final color options and camera inclusions (note that the black Duo Panos is holding does have what appears to be a rear facing camera, unlike the white version shown last week) as well as final chipset offerings.
The Surface Duo is currently running a custom Snapdragon 855 chipset, however, by holiday season 2020, chip designer Qualcomm will presumably be offering as a beefier upgrade for mobile devices.
Microsoft has doubled down on its matte black color options for the Surface Pro, Surface Laptop and now the Surface Pro X and it would seem its newest foldable options, the Neo and Duo will probably follow suit, especially if the head of the division is already rocking a black version.