Microsoft has been scoring some real victories lately in terms of how analysts have been rating their "cloud-first, mobile-first" productivity solutions. Gartner, in particular, has been rating Microsoft as a Leader in a number of their Magic Quadrants, from cloud storage to Disaster Recovery as a Service (DRaaS).
Today, the Azure blog spent some going highlighting all of the areas where Microsoft is a cloud computing leader:
Today, Gartner has named Microsoft Azure as a leader in its Magic Quadrant for Cloud Infrastructure as a Service for the third year in a row based on completeness of our vision and ability to execute. We are honored by this continued recognition as we are relentless about our commitment and rapid pace of innovation for infrastructure services. With the G series, Azure led with the largest VMs in the cloud and we continue to deliver market leading performance with our recent announcement supporting SAP HANA workloads up to 32 TB. And while Azure is a world class cloud platform for Windows, it's also recognized for industry-leading support for Linux and other open source technologies. Today, nearly one in three VMs deployed on Azure are Linux. Strong momentum for Linux and open source is driven by customers using Azure for business applications and modern application architectures, including containers and big data solutions. With over sixty percent of the 3,800 solutions in Azure Marketplace built on Linux, including popular open source images by Ubuntu, CoreOS, Bitnami, Oracle, DataStax, Red Hat and others, it's exciting that many open source vendors considered Microsoft one of the best cloud partners.
In fact, Microsoft is the only cloud computing vendor that is a Magic Quadrant Leader in all of the major cloud services categories, including IaaS, Platform as a Service (PaaS), and Software as a Service (SaaS). These ratings place Microsoft in an enviable position above Amazon AWS, Salesforce, and Google. Looking at the following chart, we can see that Microsoft is a Leader in fully 18 different Magic Quadrants.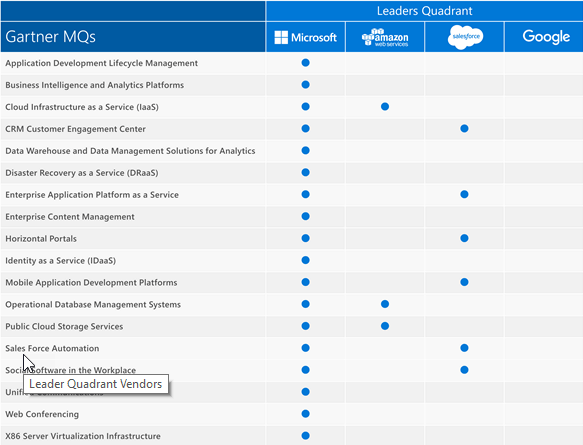 Microsoft highlights two specific customers who are using the Redmond company's cloud solutions:
Fruit of the Loom: Office 365 was their "runway" to Azure. Success with Office 365 deployment has led to use of Azure infrastructure and its platform services as they moved their consumer-facing website fruit.com to Azure. To gain insight into how they should market and package their products, Fruit of the Loom is also leveraging platform services such as Azure Machine Learning.
Boomerang: An Office 365 ISV takes advantage of Azure to create productivity solutions within Outlook. A key feature for Boomerang is its ability to generate real-time calendar images that are shareable with people outside of the user's organization. Boomerang relies on Azure's enterprise-proven infrastructure to support this computationally demanding workload. Their experience with Office 365 led them to look more closely at Azure, and they have started to migrate services from AWS to Azure to leverage Azure's platform services and Machine Learning capabilities.
Clearly, Microsoft's investments in their cloud computing strategy is paying off in terms of industry recognition to go along with the company's significant gains in cloud revenues. Going forward, this recognition should continue to help Microsoft enlist more companies into their cloud computing platforms and continue their success in shifting from the Windows company to a leader in a "cloud-first, mobile-first" market.