Back in June, Microsoft launched Microsoft Viva Sales, a tool designed to incorporate CRM technology into and from both Microsoft 365 and Microsoft Teams. With AI support, the tool personalizes recommendations for sellers and assists them to connect with their clientele.
And now, Microsoft just announced that Microsoft Viva Sales is set to reach general availability on October, 3. Microsoft will be partnering up with Seismic, an enablement platform that provides businesses with the tools and skills to run a profitable venture.
Through this partnership, our joint customers can streamline the meeting and buyer engagement experience for sales teams and improve productivity through preparation, automation, and intelligence in their daily flow of work. As the first step in this journey, Seismic Enablement Cloud uses Viva Sales'AI-powered insights to recommend content, training lessons, andpre-built digital sales room as post-meeting follow-up actions in Viva Sales.
In turn, users will now have access to real-time business context from a sellers' CRM system in Outlook and Teams, What's more, it will also promote efficiency and effectiveness in the business by enhancing connectivity, knowledge sharing, and collaboration.
With more than 270 million monthly active Teams and Microsoft 365 users, Viva Sales acts as a bridge connecting the data and insights sellers need to sell effectively and close deals faster with the productivity and collaboration tools, they use every day.
In other Microsoft Viva news, Microsoft is expanding Viva Goals with new applications and services in an attempt to mitigate the three business imperatives from their latest Work Trend Index Pulse Report. That is, end productivity paranoia, embrace the fact that people come in for each other, and re-recruitment of employees. In turn, this will help enhance the employees' morale and in turn boost their performance index.
First up is Viva Pulse, an application that will provide a platform designed to enhance communication between managers and team leads. It makes use of both smart templates and research-backed questions that will help businesses identify their strengths and weaknesses. In turn, they will get recommendations on how to address the issues.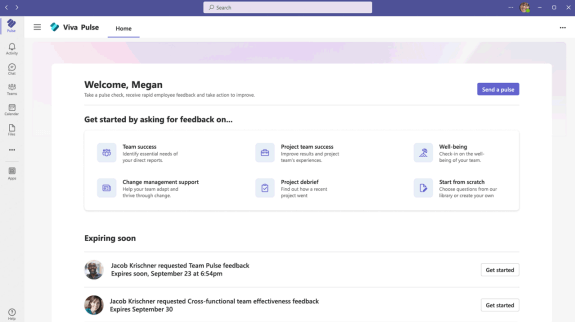 Viva Amplify is also coming to Viva Goals, a tool that will help leaders put their points across to employees with an impact as it centralizes communication campaigns. Ultimately enhancing the information's resonance. What's more, it cuts across the board on Microsoft 365 which means you can publish important information on multiple channels and distribution groups easily.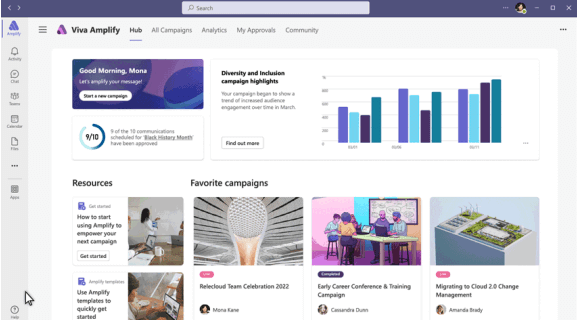 Users will also get two new capabilities, Answers in Viva and People in Viva. The former comes with AI support which matches employee questions to answers and experts across the organization, availing all relevant information while the latter curates rich profile cards with information regarding the employee's interests, knowledge, and team goals which makes it easier for colleagues to network and connect. These insights will
be available through Microsoft 365 profile cards and as a new app.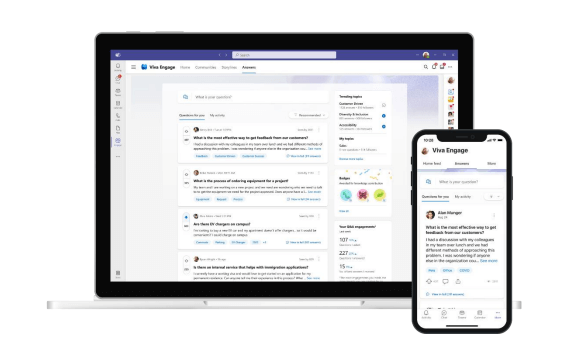 Leadership Corner will also be incorporated into the recently launched Viva Engage to serve as a platform where employees get to interact with leadership directly, share ideas and perspectives, and take part in organization initiatives. It will appear on top of the Storyline feature that recently reached general availability, which allows users to real-time updates and experiences.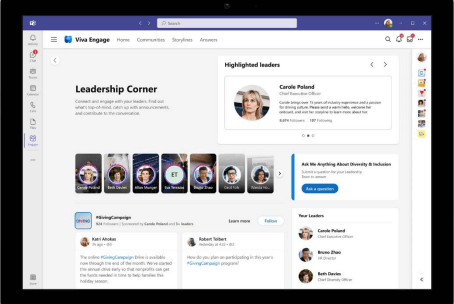 These incorporations in Viva Goals "will bring goals into the flow of work including a richer integration with Microsoft Teams to check in on OKRs, an extension in Azure DevOps to complete work items, a connection to Power BI datasets to track KPIs and Key Results, and integrations with Microsoft Planner and Microsoft Project for automatic project management updates."
And finally, there will be enhancements between Viva Learning and LinkedIn Learning, which will in turn make it easier for users to access content from LinkedIn Learning Hub directly from Teams. What's more, learners will now be able to view custom content, curated learning paths, and complete courses within Viva. It is worth noting that, this integration can be set up directly from the settings on LinkedIn Learning Hub by admins, canceling out the need for APIs.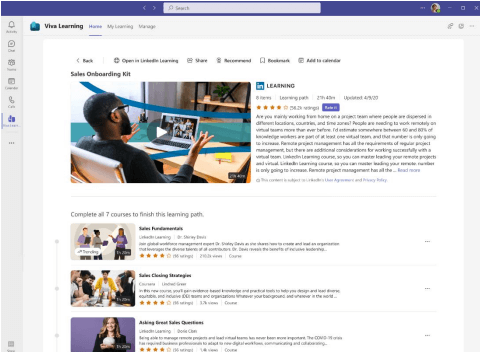 All these new applications and services coming to Microsoft Viva will be available in one convenient location, the new Viva Connections home experience. Users will also be provided with a tailored and personalized summary highlighting their productivity insights, recommendations, and employee experience information directly in their Outlook inbox every day.