At this morning's Samsung keynote at CES, Dr. WP Hong, President of the Solution Business Unit, Samsung SDS, introduced a number of partners to Samsung's push into IoT, including BMW, Goldman Sachs, and a number of others, including Microsoft.
Microsoft's Terry Myerson took to the stage to tout the company's "renewed partnership" with Samsung, to highlight the Samsung Galaxy TabPro S running Windows 10, and with the help of Microsoft's new designated presenter Bryan Roper, to show off how Windows 10 and Cortana can connect with Samsung's IoT devices including washing machines, TVs, and refrigerators.
In a quick demo, Roper asked Cortana (using Windows 10 on the Galaxy TabPro S) first to check to see if the washing machine was in use, and then noticed that the previous load was only filled to 15% capacity. In a quick series of Cortana queries, Roper checked on appliance usage when a child, "Billy", was home alone after school, and was able to see how long the TV was on, and how long the refrigerator door was open.
This was done all with just a few simple questions to Cortana, who responded not only with facts, but provided graphic information to make the IoT data consumable: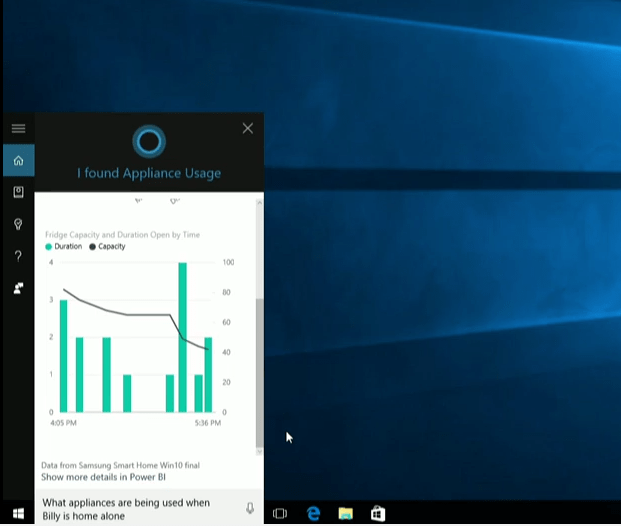 Microsoft again highlighted Windows 10 and their Samsung partnership in a blog post, highlighting their collaboration with Samsung now and in the future:
Today, I had the honor of joining Samsung President Dr. Won-Pyo Hong during his keynote briefing at CES to celebrate a renewed partnership and a commitment to joint innovation. Of course, Windows and Samsung have worked closely together for over 30 years – co-designing many great Windows devices. With Windows 10, both companies wanted to do something great together, and we showcased the new Samsung Galaxy TabPro S, along with our shared vision for future innovation together across the entire Internet of Things.
The live stream of the keynote has just finished, but you should be able to watch a recording of it soon on YouTube. Update: Watch it below.