Over the past couple of years, Chromebooks have slowly taken over the education market in the US, forcing Microsoft and Apple to change their strategies. This week, a new report from Futuresource Consulting is giving us new hard data about how Microsoft, Google and Apple perform in the US K-12 sector and the rest of the world (via MacRumors).
According to the report, PC sales in the US K-12 sector went from 10.7 million units in 2015 to 12.6 million in 2016. Year-over-year, Windows maintained its 22% market share while Chromebooks rose from 50% to 58% in the same period. "The strong combination of affordable devices, productivity tools via G-Suite, easy integration with third party platforms/tools, task management/distribution via Google Classroom and easy device management remains extremely popular with US teachers and IT buyers alike," explained the consulting company.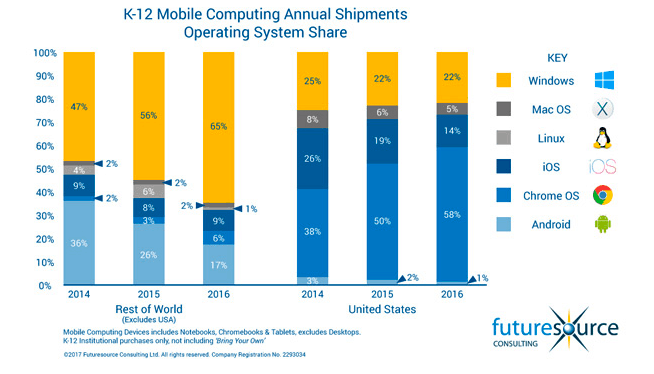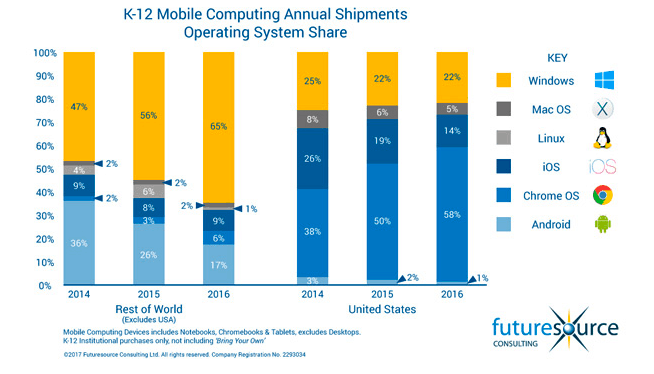 Outside of the US though, PC sales in the education market fell to 13.6 million last year, a 26% year-on-year decline which Futuresource Consulting attributes to "large scale national projects that did not take place in 2016." However, Windows' marketshare grew from 56% to 65% last year while Chromebooks rose to 6% (up 3% points). The consulting company  added:
At an OS level, Microsoft remains a dominant market leader with a strong position in both developed and emerging markets. Microsoft has been gaining share against Android, especially in large scale emerging market deals. Whilst 90% of Chromebook global sales remain in the US, Chromebook international sales are steadily increasing in certain territories. In Northern Europe particularly, Chromebooks have been consistently gaining share and 2016 saw Chromebooks gain the #1 spot in Sweden (the first country outside of the US).
Earlier this year, Microsoft made it clear that it was ready to compete with Chromebooks in the education market: the company announced Intune for Education, a new tool that will help schools easily set up and manage classroom devices. Additionally, it revealed new partnerships with PC manufacturers to bring affordable Windows 10 PCs to the education market, starting at $189. For Mike Fisher, Associate Director of Education at Futuresource Consulting, the recent rumors about Windows 10 Cloud being targeted at the education market makes sense:
Microsoft has made huge strides in developing its education ecosystem offering in the past year, with major announcements on both the devices and platform side. To date however, these developments have not stopped Google's momentum within the US K-12 market. Microsoft continues to face challenges to win back end-user mindshare. Chromebook users and administrators continually refer to the simplicity and ease of use of the platform. With rumours swirling in the technology press (not confirmed by Microsoft) about a potential new OS offering 'Cloud OS', a stripped back, simplified OS, designed specifically for cloud with education in mind, would "square the dots" on other recent moves Microsoft has made in education (in particular launching $189 devices).
We still don't have much details about Windows 10 Cloud, expect that it will be a locked down version of Windows 10 that can only run Windows Store apps (including Win32 apps that have been ported with Desktop App Converter). This new SKU seems to be well suited for the education market, and we should learn more about it Microsoft's Build 2017 conference.