Customers who own a Windows 7 or 8 PC, in need of a replacement PC, and aren't ready to get familiar with Windows 10, have a deadline to buy a new PC running their familiar version of Windows. Microsoft has confirmed on its Windows Lifecycle Fact Sheet web page that PC manufacturers have until October 31 of next year to sell off all their stocks of computers running Windows 7 Professional or Windows 8.1.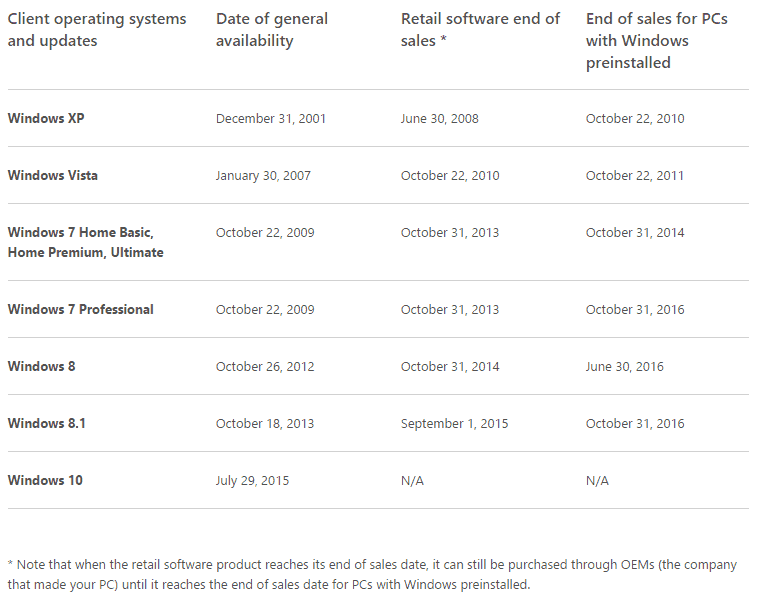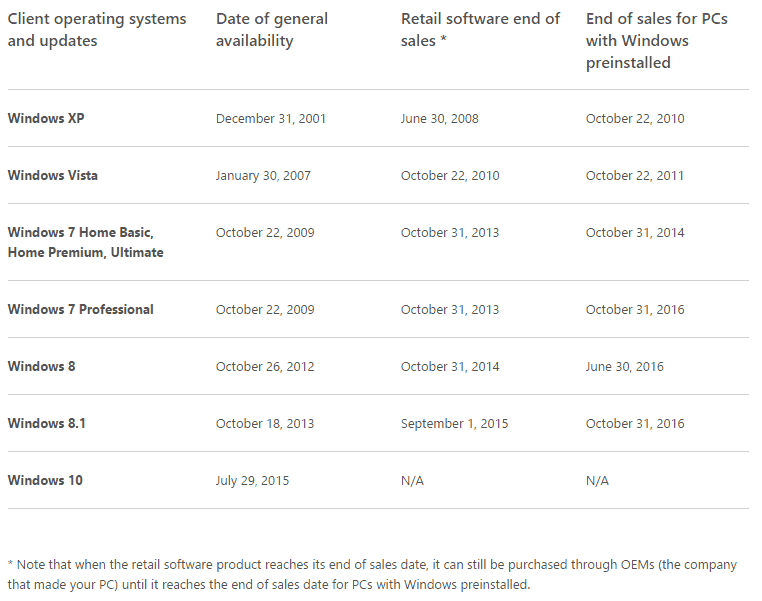 Looking at the sheet above, it is a little ironic that manufacturers have until July 30 of 2016 to sell off Windows 8 PCs―sooner than they have for Windows 7 Professional PCs. It's also worth noting that manufacturers may also no longer sell PCs running Windows 7 Home Basic, Home Premium, and Ultimate, as the end-of-sales date was October 31 of last year.
Typically, the end-of-sales date of a particular version of Windows is two years after the release of the succeeding version of Windows. However considering the large amount negative feedback towards Windows 8 and the fact that Windows 7 still dominates the market, it's easy to see why Microsoft set a much later date for Windows 7 computers.
To sum it all up, consumers have 363 days from the date this post is written to buy a brand new Windows 7 or 8.1 PC, after which the only available PCs running either version of the OS will only be sold from the existing inventories of merchants.
The good news is that Windows 10 attempts to be familiar to both Windows 7 and 8.1 users, so it shouldn't be too hard for new users to get used to it. If you're willing to give the new OS a shot, you can check out our review of it to see if it's right for you.
What do you think about Microsoft's decision to discontinue manufacturers' licenses to sell PCs running Windows 7 or 8.1 on October 31, 2016? We'd love to hear what you think in the comments below!