If Xbox remains a challenger at the beginning of the 9th console generation, Microsoft was apparently planning to shake up the console market by reducing its cut on digital games sales on the Xbox Store to just 12%. That's according to a confidential document from January filed in the Epic Games vs Apple case (via The Verge), where a table about Microsoft Store Standard Fees mention that all PC and Xbox games will move from the standard 30% cut to 12% in 2021.
Microsoft made headlines last week when it announced that the Windows 10 Microsoft Store would reduce its cut on game sales to just 12 percent in August 2021, matching what the Epic Games Store has been offering since launch. Adopting this same 12 percent cut for Xbox games would have been truly unprecedented, especially since console makers are used to selling consoles at a loss or with razor-thin margins while making big profits on games sales.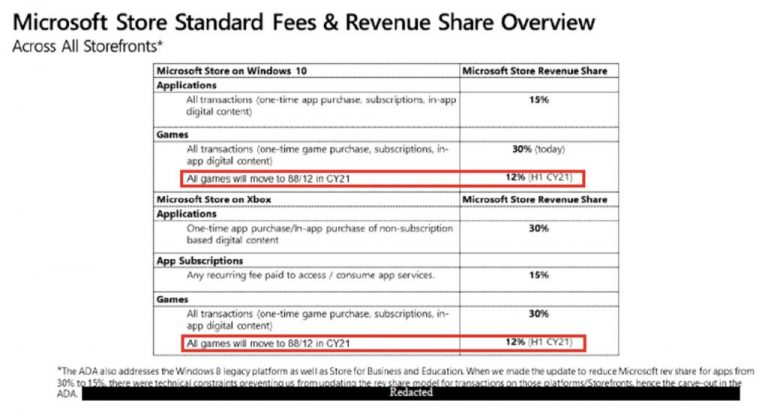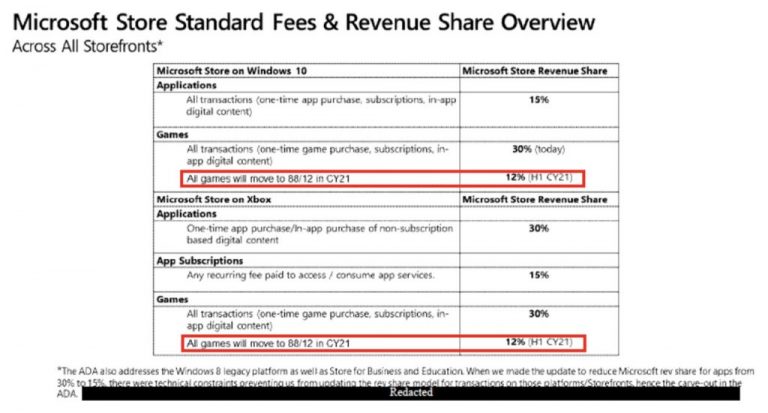 However, Microsoft has now denied in two separate statements shared with The Verge that it's planning to reduce its Xbox Store cut to 12%. Keep in mind that the aforementioned document was filed in January, and it's not clear what happened since then.
A Microsoft spokesperson initially said "we have no plans to change the revenue share for console games at this time," in a statement to The Verge on Saturday, before issuing a clearer statement on Sunday.

"We will not be updating the revenue split for console publishers," says a Microsoft spokesperson. Microsoft still refuses to answer whether the document is inaccurate, or simply that plans changed.
If it makes sense for Microsoft to follow Epic Games' lead with its PC games store and put more pressure on market leader Steam, the company probably didn't have a real incentive to adopt a 12% revenue cut on its Xbox Store. The move may have put some real pressure on its competitors in the console market, though it's possible the loss in revenue could have been too important for Microsoft, especially at a time when the company is spending a lot of money to acquire new studios and bring games to its Xbox Game Pass subscription service.
"Console makers such as Microsoft invest significantly in developing dedicated console hardware but sell them below cost or at very low margins to create a market that game developers and publishers can benefit from. Given these fundamental differences in the significance of the platform and the business model, we have more work to do to establish the right set of principles for game consoles," said Rima Alailyk, Vice President and Deputy General Counsel at Microsoft last year.