Microsoft Forms has released a new update that adds an option for designers to shorten the URL of their survey for collecting responses. The feature is beginning to roll out to all enterprise users starting this week, and it will be available soon to worldwide customers.
Microsoft Forms allows users to create a survey or quiz and share it with their colleagues or students to get instant feedback. Thanks to this update, form designers can now choose to generate a short and simple URL that is more memorable than a long and complicated link. The feature was spotted by Michel Mendes, a Microsoft 365 consultant, who shared a screenshot of the Shorten URL option on Twitter yesterday.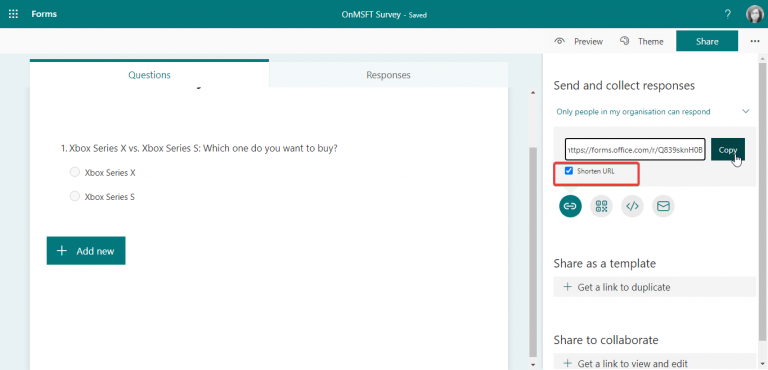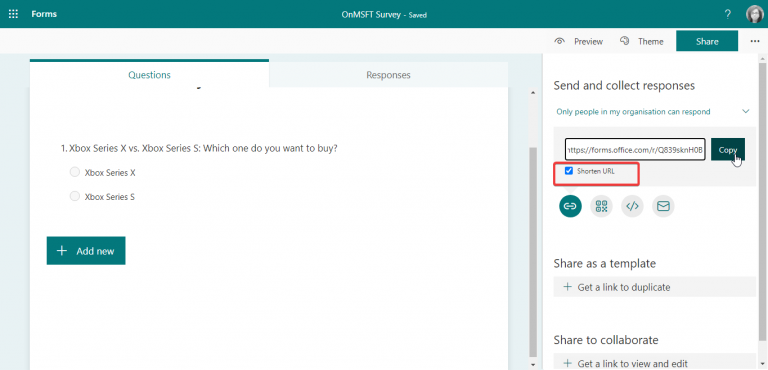 To get started, open the form, and click the Share button. Now, in the Share pane, choose from whom you want to collect responses, and then select the "Shorten URL" option. Finally, click the "Copy" button to copy the link and share it with respondents.
Keep in mind that this option is currently unavailable for GCC, GCC High, and DoD customers, and it doesn't work with personal Microsoft accounts. The team will be listening to feedback on the UserVoice forum to improve the experience for Microsoft Forms users. You can learn more about how to create a survey and collect responses on this support page.