The injection of AI across various products and services on the web has been very apparent since the year began, with Microsoft and Google at the forefront. Microsoft launched its own AI chatbot back in February which was shortly followed by Google's Bard.
Both chatbots have experienced praise as well as setbacks in equal measure, but elaborate interventions have been put in place to remedy the issues. And as it seems, the rivalry and competition between Google and Microsoft is at an all-time high as first spotted by developer Vitor de Lucca on Twitter.
Now when you open Bard on Microsoft's Edge, it shows a button to compare the answers with Bing! Holy f… pic.twitter.com/xGpHc0Ztfn

— Vitor de Lucca ????️‍???? (@vitor_dlucca) April 27, 2023
While trying to test out Google's Bard on Microsoft Edge, the user spotted a Bing ad right next to Bard's website URL. Perhaps an attempt by Microsoft to lure Google Bard users to the new Bing.
Deeper into the quest to try out Google's Bard, Vitor spotted an animated "compare answers with the AI-powered new Bing" slide pop-up on the right side of the browser.
Gradually, the text disappears and leaves behind a Bing icon. It is worth noting, that the icon is rather out of place considering the fact that there's also another Bing icon on the sidebar.
However, upon clicking on the new Bing icon after the slide disappears, the new split screen feature in Edge is launched allowing the user to compare answers with Google's Bard.
Personally, I've tried to replicate the same results on Microsoft Edge, and here are my findings:
I first searched for Google Bard on Microsoft Edge (the latest version on the Stable Channel). Results pop-up alongside a "Try the new AI powered Bing and unleash the power of search" banner at the bottom which featured a Chat Now and Later button.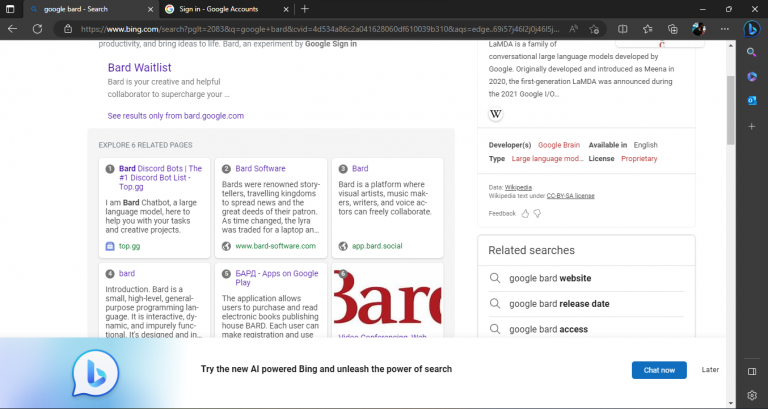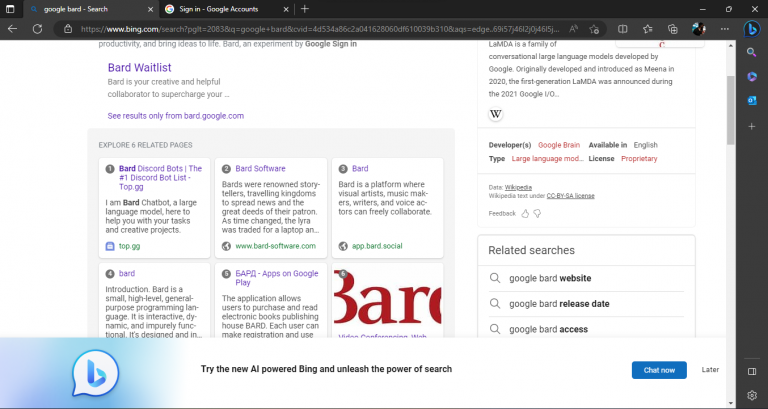 Upon clicking the Chat Now button, I was immediately redirected to Bing Chat in a new tab. It's worth noting that I am already part of the preview program for the new Bing.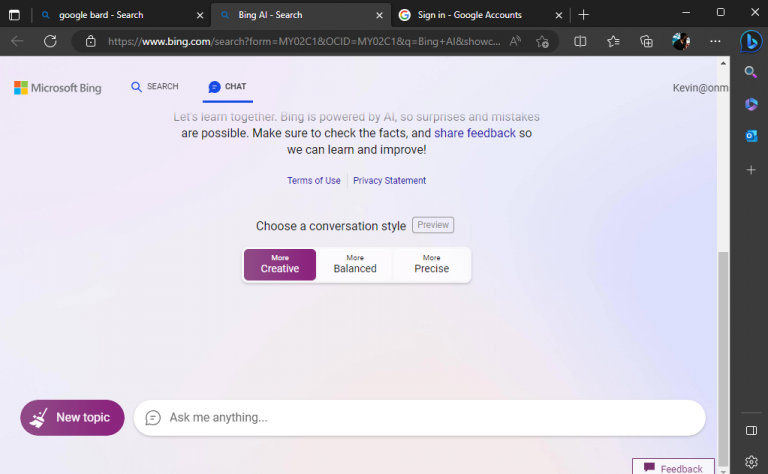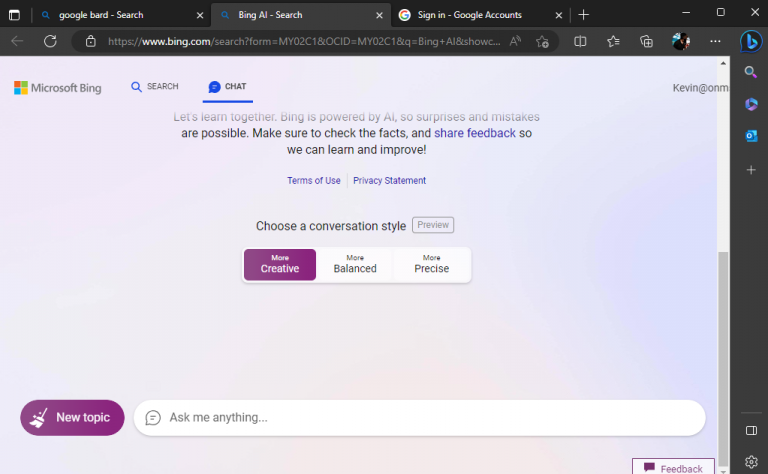 My assumption is that if I wasn't part of the preview, I would've been prompted to sign up and join the tool's waitlist. Given the recent acceleration of request approvals, perhaps, I would've immediately gotten instant access to the tool.
I didn't see any ads upon clicking on the first search result and the process of joining Bard's waitlist was seamless. I'm still on Bard's waitlist, so I couldn't experiment further.
What are your thoughts on Microsoft's stunt to lure more users to its chatbot? Let us know in the comments.
via The Verge