Microsoft has always put security as a focus in its Edge web browser. The upcoming Chromium remake is no exception to this rule, as the new browser will soon begin warning those who run it in Administrator Mode (via BleepingComputer).
While the event in which a user runs Edge in such a way sounds unlikely, it's always possible for it to be done unintentionally. This could happen when another application in Administrator Mode opens the browser with the same privileges. If another program is launched from Edge running this mode, the app retains the same privileges, which leaves the computer vulnerable to attack if the software proves to be malicious.
The warning titled "Administrator Mode Detected" will alert users in this instance, telling him or her to "close Microsoft Edge and relaunch in non-administrator mode for best performance." By closing the browser and reopening it without Administrator privileges, an application won't be able to run in the same mode without the user's prior consent.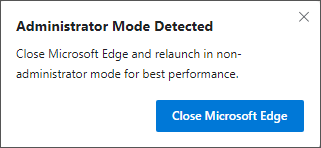 Microsoft continues to push out refinements to its Edge Insider builds, and those wishing to give it a try can download either the Dev or Canary versions for Windows 10 to see how it fairs. The company also plans to bring its browser to older versions or Windows and macOS soon, for those who might be interested.