If you're running Windows 11 on unsupported hardware through the Windows Insider program, then be prepared to see a new warning from Microsoft. The company is currently testing a new desktop watermark, which lets you know that your system isn't up to spec with requirements (via Windows Latest.)
A bit like the classic "Windows isn't activated" messaging, this new warning plainly alerts Windows Insider beta testers that "system requirements not met." The message shows up in the bottom right of the screen, right above the current Windows edition, as well as the build number and branch. Here's what it looks like, courtesy of The Verge.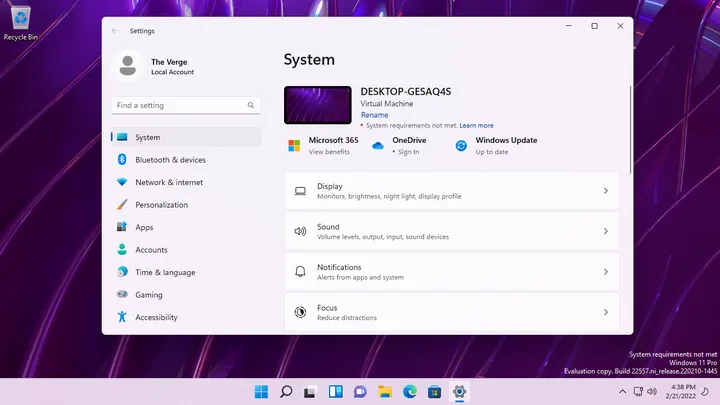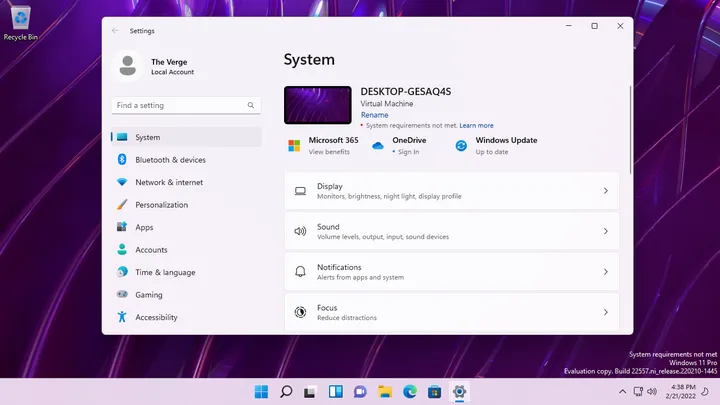 In its current state, the messaging won't show up top of other apps or windows, and stays on the desktop. It also doesn't take away from any Windows 11 features, like customizing your wallpaper or choosing different themes. Previously, Microsoft tested similar messaging at the top of the Windows 11 settings app. That message shows up under the name of your device, with an alert that "system requirements not met."
It should be made clear that this messaging is only being tested with Dev Channel Windows Insiders at the moment. This means it's not something that could make it to a future version of Windows 11. Features in the Dev Channel have been known to come and go, so don't expect this to be final, but do hold your breath a bit.
Microsoft's minimum requirements to run Windows 11 has been a bit of a source of controversy. You need TPM 2.0, an Intel 8th generation or AMD Ryzen 2000 series or  newer processor to officially run the operating system. You can unofficially run it by tweaking the registry, but Microsoft has warned doing so could put your PC at risk since it says it won't deliver security updates on unsupported systems. Of course, so far that hasn't been true, and people have installed Windows Update just fine, but Microsoft still reserves the right to withhold updates.