Microsoft today announced the launch of an Outlook.com beta program. Non-Premium Outlook users who are interested in joining the program and testing out new features will soon be able to toggle a "try the beta" switch to receive several enhanced experiences currently in beta testing.
The new beta experiences leverage advances in programming design and artificial intelligence. Microsoft is saying that the beta experiences will bring a faster Outlook.com experience, a smarter inbox, and better personalization options. If you're looking to opt into the beta, here is what you need to know.
We're implementing a more responsive web development framework that delivers an upgraded search feature, a fresher look with a modern conversation style and a new design to let you see, read, and attach files and photos faster.
Your inbox now shows you Quick Suggestions as you type—so you can easily add information about restaurants, flights, or your favorite teams' schedules to your conversations.
An improved photo experience puts all the pictures sent or received in your email in one place and makes it easier to share them with others.
The new modern conversation style makes it easier to manage and preview photos and attachments.
You can personalize your inbox with your favorite people and folders to make it easier to find the friends, files, and conversations that matter to you and give your communications a personal touch with an easier way to access tons of expressions, including popular emojis and GIFs right inside Outlook.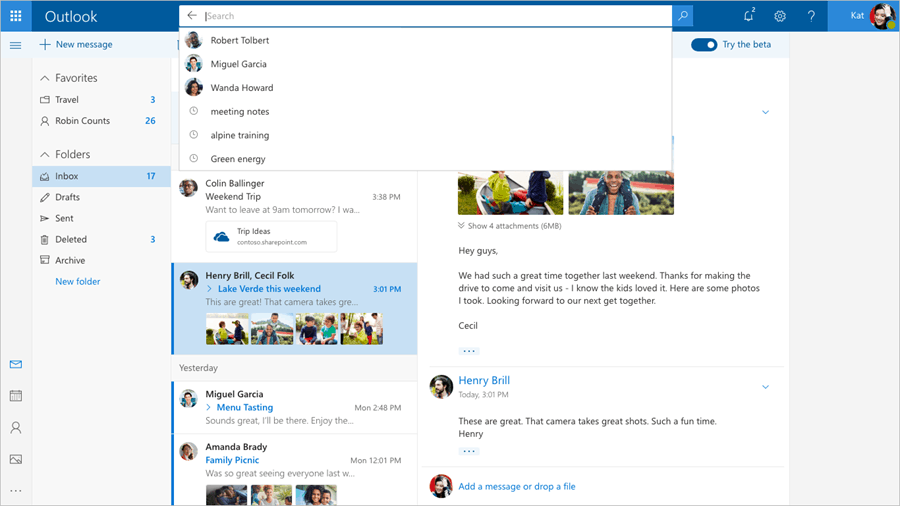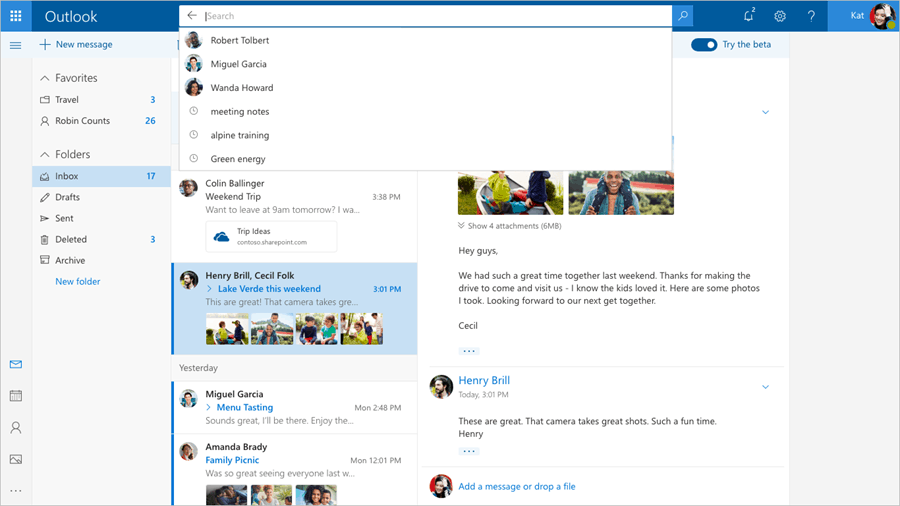 Any standard Outlook user who sees the icon can join the program, though Outlook.com premium users won't be able to partake in the beta. More details are available on the Outlook.com beta support article. You should also be aware that add-ins are not supported for the beta. Once you join, you can always switch back to the regular Outlook.com web experience to use add-ins by switching back the "Try the beta" toggle.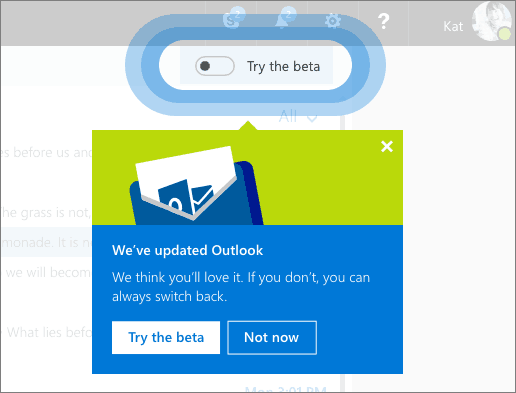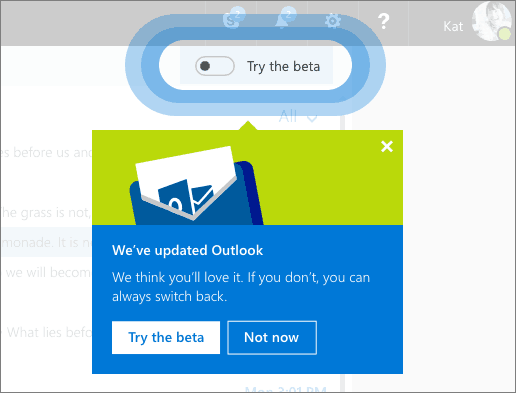 More enhancements will be coming soon, especially for Calendar and People, so your feedback will be key to the adding of more features to Outlook.com. For now, you can opt into the Outlook.com beta when you see the "try the beta" toggle switch appear on the top right corner of your inbox. If you don't see the option at first, don't be alarmed, as you should be seeing it in the next few weeks. Microsoft is not sure how long the beta will last, so be sure to keep giving your feedback once you've opted in!