One of the biggest controversies with Windows 11 is the minimum hardware requirements. Officially, Windows 11 only installs on PCs that have a TPM 2.0 chip, an Intel 8th gen or Ryzen 2000 series or newer processor. Turns out, though, that you can, in fact, install Windows 11 on any hardware, but with the caveat of (possibly) not getting security updates. So, did Microsoft back off the hardware requirements for Windows 11? We did some digging to find out.
First off, we want to talk about some support pages. On the new "Ways to install Windows 11″ support page, Microsoft mentions installing Windows 11 on a device that does not meet the minimum system requirements. It highlights how you can use a registry hack (and actually provides the registry settings) to bypass the TPM and CPU checks in the Windows 11 Installation Assistant: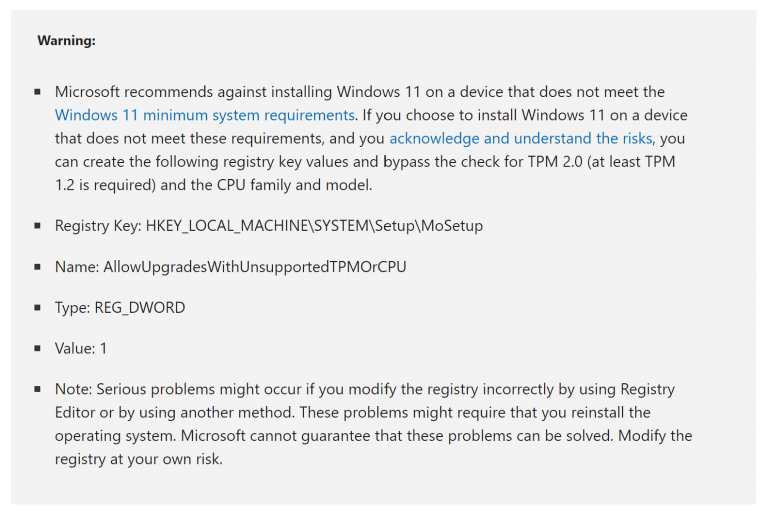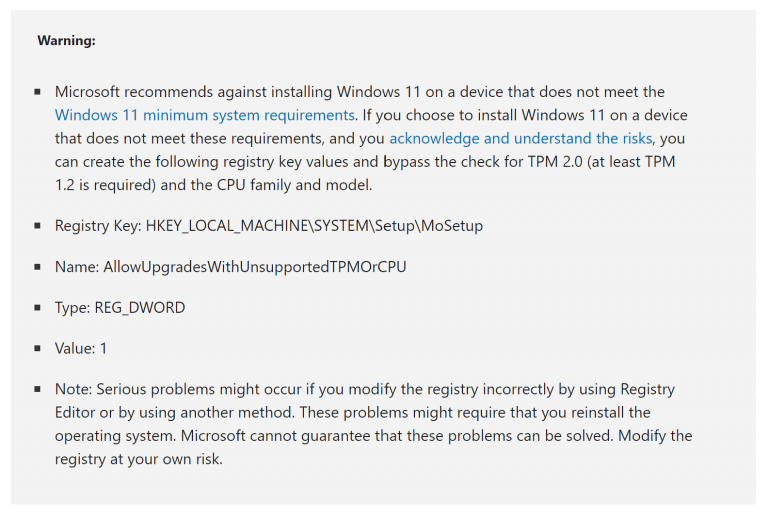 This makes it clear that it is, in fact, possible to run Windows 11 on any hardware. Yet, a second support page also explains what might happen if you do so. It explains that it is not recommended, and the device might malfunction. Microsoft also makes it clear that "devices that do not meet these system requirements will no longer be guaranteed to receive updates," So there it is.
We tested this out for ourselves. We pulled out a 13-year-old ThinkPad X200 running Windows 7, downloaded the Windows 11 Media Creation Tool (NOT the Installation Assistant), and saved a Windows 11 ISO File to our system. After mounting it, we launched the setup.exe file, and Windows 7 upgraded to Windows 11 (but didn't properly activate, since there's no official upgrade path this way.) We also were able to find some driver updates, as well as definition updates for Microsoft Defender.
Previously, when we tried to update this very same laptop to Windows 11 using Microsoft's own Windows Insider Windows 11 ISO files, it was blocked for the lack of TPM, as well as the CPU being too outdated. The new ISO file from the Media Creation Tool seems to have removed the block.
Wow. Well, Microsoft didn't lie. You can in fact install Windows 11 on any PC using the Media Creation Tool. Here I am updating Windows 7 on this ThinkPad X200 to Windows 11. Insane. Wonder how it'll work in the unsupported state. ???? pic.twitter.com/xGqM5UfpIm

— Arif Bacchus (@abacjourn) October 4, 2021
Using the Media Creation Tool, and the ISO file it downloads, Windows 11 installed fine. We didn't We didn't have to tweak the registry, etc, but we did get a warning about not meeting requirements. See our above thread for the full details. A fellow Twitter user also replied to us, indicating that he did the same on his newer "unsupported" ThinkPad running Windows 10, and everything worked fine after — so we're not alone in our journey.
Based on our experience, and these support pages, it just as well seems as though Microsoft did back off the hardware requirements for Windows 11, with the listed caveat of not getting security updates. As far as what this means for running Windows on a Mac, we're going to test that out at a later point and will update this post accordingly.
Have you tried updating unsupported devices to Windows 11? Tell us about how it went for you in the comments below.