Microsoft and the US Federal Trade Commission sparred today in an explosive first day of court proceedings over the fate of the $68.2 billion Activision Blizzard deal, and the public is now privy to confidential emails, details on secret revenue share deals, and upcoming exclusive games.
As the two opened for the day, the FTC filed 120-pages of proposed findings of fact and conclusions of law that were heavily redacted while the Microsoft and Activision filed roughly 80 combined with the onus on the plaintiffs to also defend the preliminary injunction filed earlier this week.
Microsoft began with an exhibit list for the FTC that included head of Microsoft Studios Matt Booty's communications to executives on the Nintendo Switch team discussing Xbox games for the console, emails between head of Xbox Phils Spencer and PlayStation CEO Jim Ryan, emails between Spencer and the business strategy teams to bring multiple stores on Xbox, and discussions of "pettiness from Sony and Gamespots fanboy reviews."
As part of public discovery early in the proceedings, a deposition from Jim Ryan included the reveal that the CEO planned not to share details about its next console with Activision if the deal closes. During the same deposition, Ryan is asked about Microsoft stewardship of Minecraft on PlayStation, which would require the company to have access to console details to provide future services, although redacted, available sentences still have the CEO concerned about a competitor having access to console development information.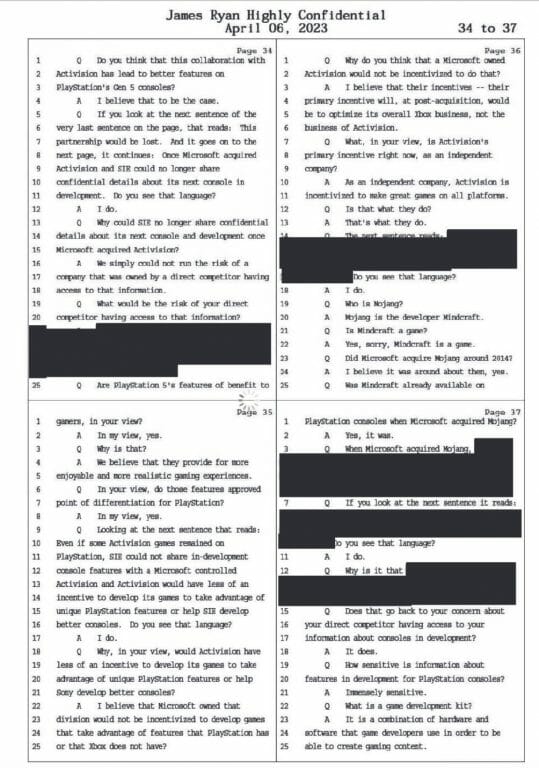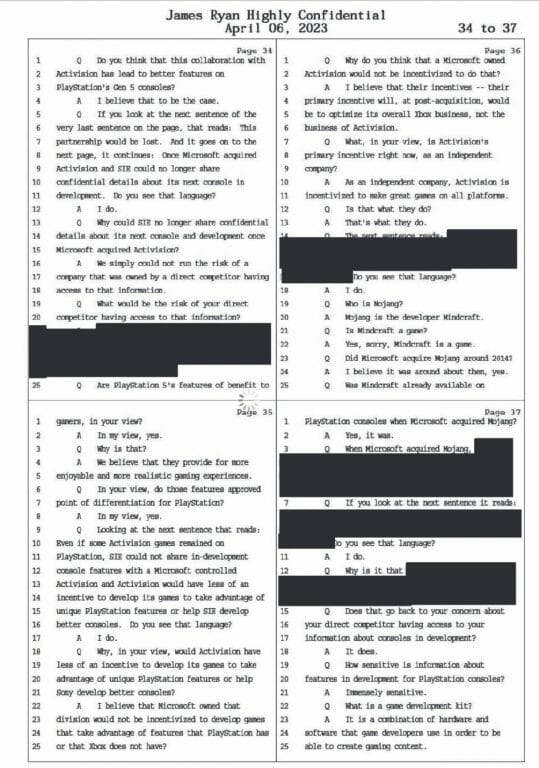 Microsoft opened its case with a filing issued today that offered the admission that Xbox has lost the console wars, and its rivals are positioned to continue to dominate." Further attempting to diminish its role in the gaming market, Microsoft revealed it made up a 16 percent share of console sales in 2021 while only 21 percent of the overall console install base.
During its 20-minute opening argument the FTC's counsel James Weingarten set the parameters of its case by leaning on the business practice of securing exclusives for console sales and defining the market without Nintendo Switch and PCs because of pricing.
Meanwhile Microsoft spent its 20-minutes painting Sony as a continued market leader over several console generations and wants to secure its current dominance and revenue position which is fueling its opposition to the Activision deal.
Another revelation that surfaced early in the proceedings is an email from Ryan to internal staff that explained that Microsoft's acquisition of Activision Blizzard was "not an exclusivity play at all," and that he believed PlayStation "would be fine." Ryan's internal email fly's in contrast to what the CEO proceeded to do months later sharing concerns of exclusivity with regulators.
During witness examinations, Booty answered several questions pertaining to the previous state of relations between Microsoft and Sony, noting that Sony never complained about Xbox taking games away from the PlayStation platform or exclusivities being bad for the industry. Booty also clarified to the preceding judge that Xbox players and Nintendo Switch players can make use of cross-play technologies while Sony has made the effort unnecessarily difficult for gamers.
Another witnessed called today was head of publishing for Bethesda Pete Hines where he revealed during a redirect of questioning that the company had already signed an agreement with Disney to provide a previously undisclosed Indiana Jones game as cross platform before Microsoft acquired the studio and cancelled its multi-platform release.
FTC lawyers then seized on the opportunity to continue its narrative of Microsoft's recent history with acquisitions and exclusivity releases with Bethesda's Redfall and Starfield games becoming Xbox exclusives after initially being planned to be multiplatform.
While Hines did offer some validity to the FTCs concerns about Microsoft's potential to hoard games for exclusivity privileges, he did end his time being question by drilling home the profile difference between unreleased games and a industry staple like Call of Duty.
Last to be questioned today was cvp of Xbox Sara Bond who shifted the conversation to the duopoly in mobile gaming between Google and Apple with Microsoft's only presence being Minecraft, as well as the 80/20 revenue split the company pays to certain developers to get games to the platform, which is slightly higher than its documented 70/30 split for most others.
Bond also walked FTC lawyers and the judge through the details of Game Pass and Game Pass Ultimate, how xCloud servers differ from Azure ones, stipulations on Xbox marketing of CoD due to Sony and Activision agreements, launching games on NVIDIA GFN, the difference between first- and third-party games, and a clause in the 10-year deals Microsoft has been offering that includes "unanticipated or unforeseeable circumstances."
The day wrapped up with the biggest revelations revealed by Bond in regard to how cloud gaming works and that Microsoft planned to offer xCloud as a standalone service before it began becoming a user-success, and that xCloud loses Microsoft money the more people use it due to infrastructure and server costs.
Tomorrow offers to be another big day for both Microsoft and the FTC as the witness list includes Phil Spencer, Jim Ryan via video deposition, Microsoft finance director Jamie Lawver, and former Stadia head Dov Zimring.
Stay tuned.