Microsoft's market cap value temporarily grew past that of Apple's yesterday, making the tech giant from Redmond the most valuable company in the world. According to a report from The Verge, Microsoft's capitalization reached as high as $812.93 billion, exceeding Apple for the first time by about $330 million, albeit very briefly. As of the time of this writing, Microsoft's market cap was $817.29 versus Apple's $828.64 billion (you can click the links to get the latest numbers).
Microsoft has continued to face intense pressure from Apple, which reached a record high of more than $1 trillion earlier this year. The Cupertino giant had continued to have very strong sales primarily from the iPhone, which makes up 60% of its revenue streams. Lately, however, production orders for new iPhone parts have dropped, cutting into Apple's market value.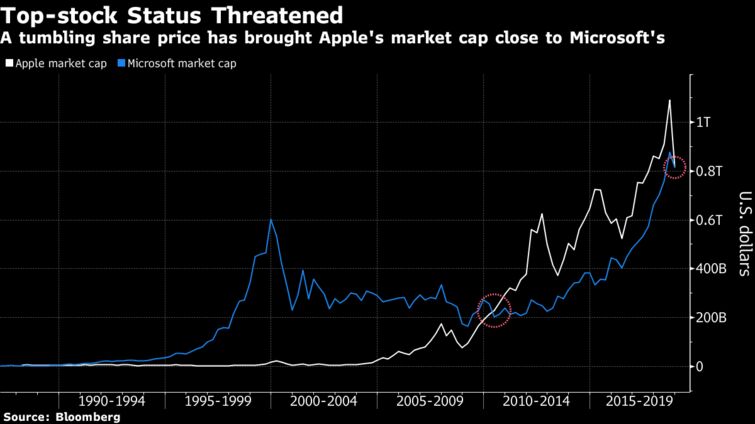 Microsoft's increase in valuation comes as the company continues focus on the cloud and AI, something the tech giant has been investing in heavily since its failed Windows Phone efforts. However Microsoft also has a rather wide range of product and service offerings, including Windows 10, Xbox One, and Surface devices, all of which generate a combined total of 36% of its revenue.
It's likely the company will continue to face immense competition from its rivals, primarily from Apple, Amazon, and Google's parent company Alphabet, as each of them have competing sectors in each space. What do you think Microsoft can do to get ahead of the other giants? Let us know in the comment area below.