Amidst the electrifying atmosphere of Build 2023, Microsoft has made a groundbreaking announcement that is set to redefine the way we work and interact with technology. The integration of Microsoft 365 Copilot into Microsoft Edge, the AI-powered web browser, has taken center stage, showcasing the immense potential of combining advanced language models and data integration. This innovative development promises to empower users with unparalleled capabilities, providing seamless assistance and transforming the work experience.
Microsoft 365 Copilot Arriving on Microsoft Edge
Microsoft is set to integrate Microsoft 365 Copilot, currently in a private preview phase, directly into Microsoft Edge, the AI-driven web browser. This integration aims to bring enhanced work-related functionalities to the Edge sidebar, allowing users to access powerful tools for answering questions, completing tasks, and more.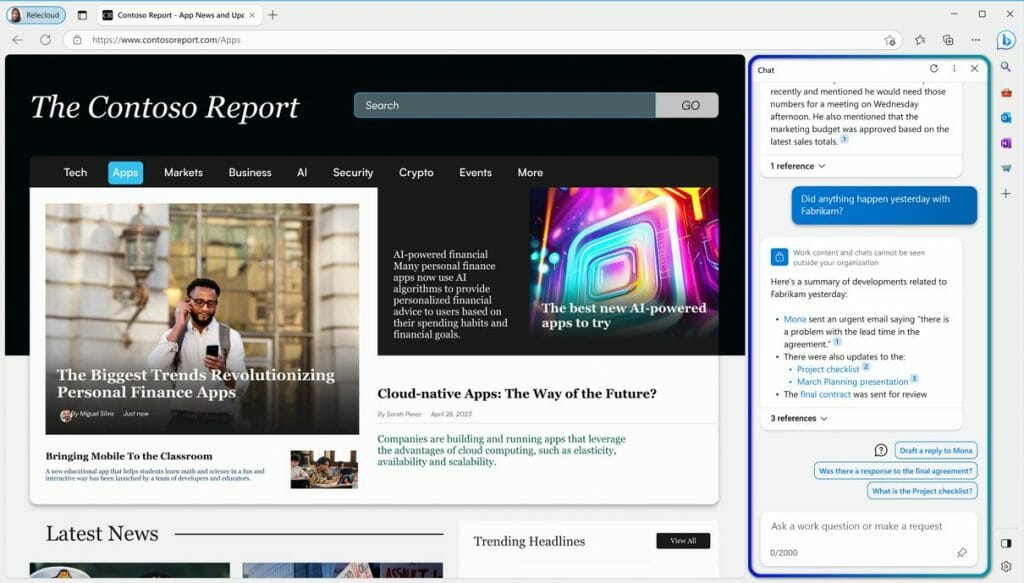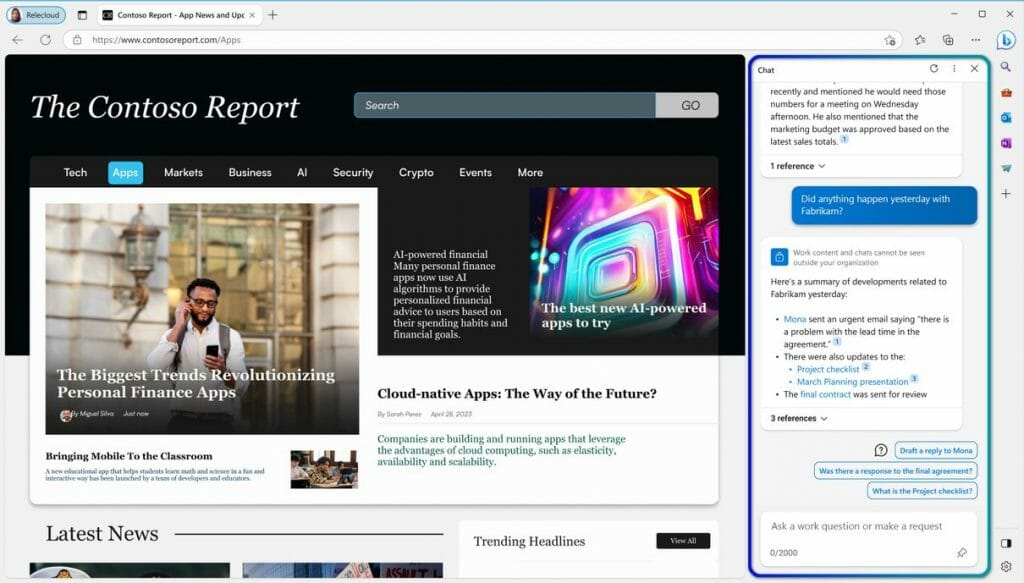 The introduction of Microsoft 365 Copilot will introduce novel features that harness the capabilities of large language models (LLMs), leveraging data from Microsoft Graph and the Microsoft 365 suite of applications. Users will have the ability to input natural language requests such as, "Inform my team about the updates we made to the product strategy today." In response, Copilot will generate a status update based on the morning's meetings, emails, and chat conversations. By seamlessly integrating with Edge, Copilot becomes even more intuitive as it follows the context of users' browsing activities, providing more accurate answers. For instance, when viewing a file shared by a colleague, a user can simply inquire, "What are the key insights from this document?"
Previously, Copilot was announced to be available on Microsoft Teams, Microsoft365.com, and Bing for users signed into their work accounts. With the inclusion of Edge, Microsoft reiterates its commitment to delivering these capabilities while ensuring data security and privacy within enterprise settings. To utilize Microsoft 365 Copilot, users must be signed into their Azure Active Directory (Azure AD) account.
Conclusion
As Build 2023 continues, the unveiling of Microsoft 365 Copilot's integration into Microsoft Edge marks a significant milestone in the realm of productivity tools. Microsoft's commitment to delivering cutting-edge solutions that prioritize data security and privacy remains unwavering. With the ability to generate comprehensive updates, answer complex queries, and provide valuable insights, Microsoft 365 Copilot revolutionizes the way we navigate and engage with our work. Embrace this transformative technology and unlock a new era of efficiency and productivity.