Lenovo sent me a ThinkPad C13 Yoga Chromebook last week and after 7 days of playing with it, I can immediately see the appeal of the operating system for the average computer user and, I have already found some problematic threads that I've already started to pull at in ChromeOS.
Out of the box, Lenovo delivers a solid piece of computer hardware that feels like a mesh of its other Yoga lines. Where the consumer version of Lenovo's Yoga line makes use of aluminum chassis and reduced I/o support while ThinkPads opt for their flagship carbon fiber casings and robust connectivity, the C13 actually uses an aluminum build but with the design prowess and port support of a ThinkPad. The C13 comes with the ThinkPad Kensington Lock, two USB-C 3.2, two USB-A 3.2, and a mini-SD card slot.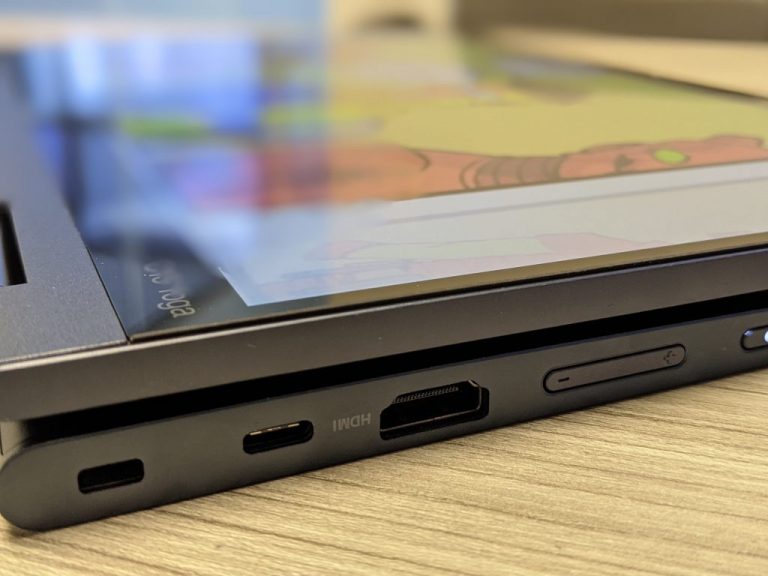 Due to its aluminum construction, it's got relative weight to it at around 3 pounds, which makes it as heavy as any other Yoga or ThinkPad offerings from 2020. The other things that were immediately notable were the speaker placement which led to poor sound experience during my initial testing.
The particular model I received is sporting 8GB of RAM, an AMD Ryzen 5 Pro 3500C chipset, and 256GB of SSD storage, so it's meeting my standard Windows 10 usage on paper. The screen is a bit muddled and doesn't get as bright as I would like, but it gets the job done, especially when the scaling out the box is a bit over the 'larger' setting which takes up unnecessary screen real estate.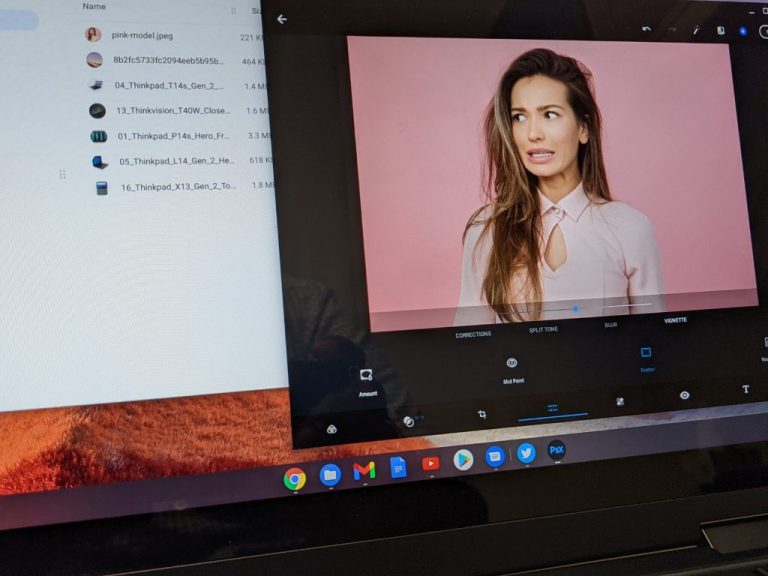 Aside from familiar hardware, the Lenovo C13 Yoga is also being marketed as a lightweight enterprise tool powered by ChromeOS. When going through the signup process for ChromeOS for the first time, I was met with several more windows than the last time I checked out ChromeOS, but it was a pleasant walkthrough of some new features in Chrome.
Perhaps, it's just the system getting used to downloading and processing a bunch of new caches, but the fan on this thing kicks in pretty quickly and loudly for a lot of things I've been doing. As a Chromebook novice, I've noticed the fans kicking in on this Chromebook fairly early into my review seems a bit troubling, but we'll see.
As a Pixel user, the C13 feels like an extension of my phone in both good and bad ways right now. I love that most of my apps were automatically loaded on the device but it's very apparent that the app experience on ChromeOS needs a lot of tweaking. Some apps can't be reshaped – looking at you Instagram, and I'm without some of my often used .exe apps such as Gimp, Google, and Microsoft Ads editors that I need for bulk edits to marketing efforts. I'm sure I'll find some workaround through extensions or PWA's but right now, it's been a hassle as I've started to move my workflow over to this new device.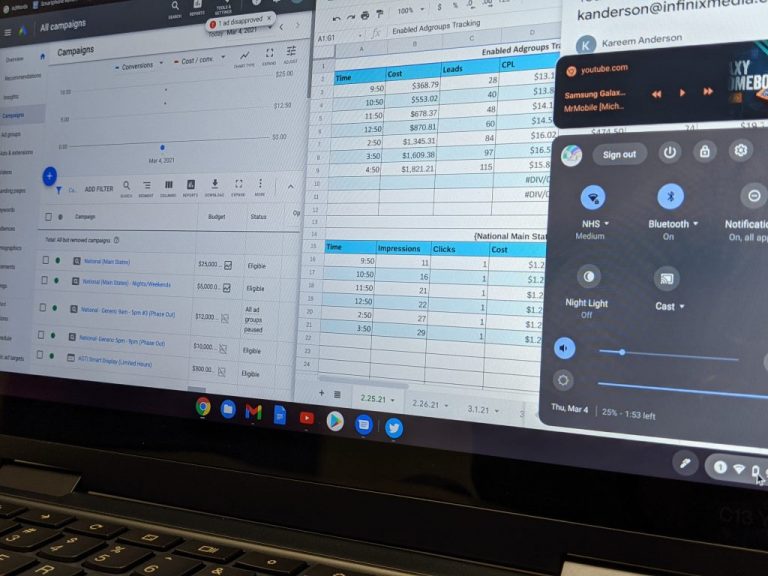 As of right now, I'm enjoying getting used to the Chrome operating system more so than the hardware it's on, and that's in large part because Lenovo is providing a solid mid-range enterprise experience, I believe a large portion of office workers have experienced at some time in the last seven years.