While Samsung may have sullied the concept of foldable smartphones with the premature release of their Samsung Galaxy fold that left early reviewers scratching their heads and rushing to return their defective units, other companies are still on course to expand the market of foldable technologies.
During the late hours of Lenovo's Accelerate Conference, the company announced its intentions to release its own spin on a foldable personal computer.
At first blush, it would seem that Lenovo has been making foldable PCs for decades in plain ol' laptops and that the company's new offering is just a semantic juggling of the definition of 'foldable pc' but as the company puts it, "this is not a phone, tablet, or familiar hybrid; this is a full-fledged laptop with a foldable screen."
The company plans for its new foldable offering to be a users "everything" device, (except make phone calls, from what we can tell).
Wake up, fold it into a book, and start the day scanning your social media feeds in bed.
Walk to your kitchen, unfold it, and stand it up for hands-free viewing of your top news sites.
Hit your commute on the bus or train and morph it into a clamshell to catch up on emails.
Get into the office, dock it into your multi-monitor setup and get to work.
Go into meetings, take notes with its pen, and write on a full-screen tablet.
After lunch, set up the stand and use its mechanical keyboard to type out a few work emails.
Come home at night, open it up and stream your favorite shows.
Relax in bed, fold it in half and enjoy your latest read before going to sleep
Lenovo was very cagey about the details of its foldable PC despite it only being a year out from potentially landing in users pockets, however, there are a few details we can latch onto at the moment to conceptualize an end result.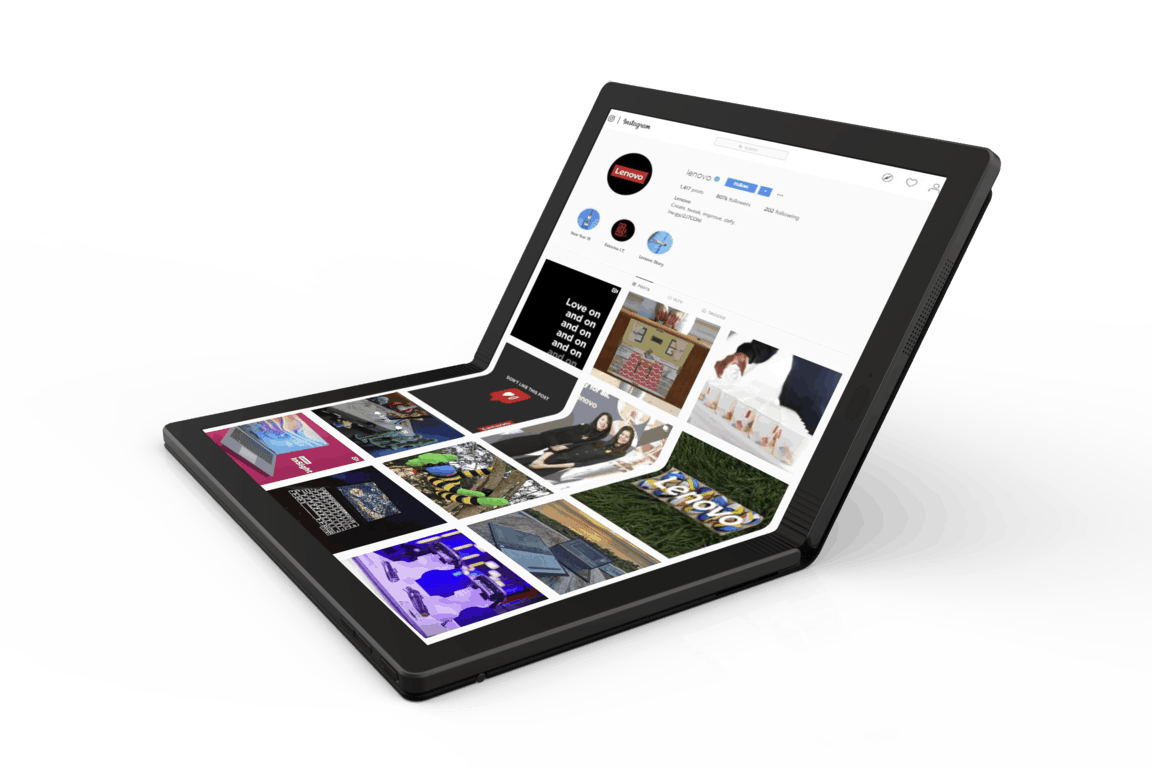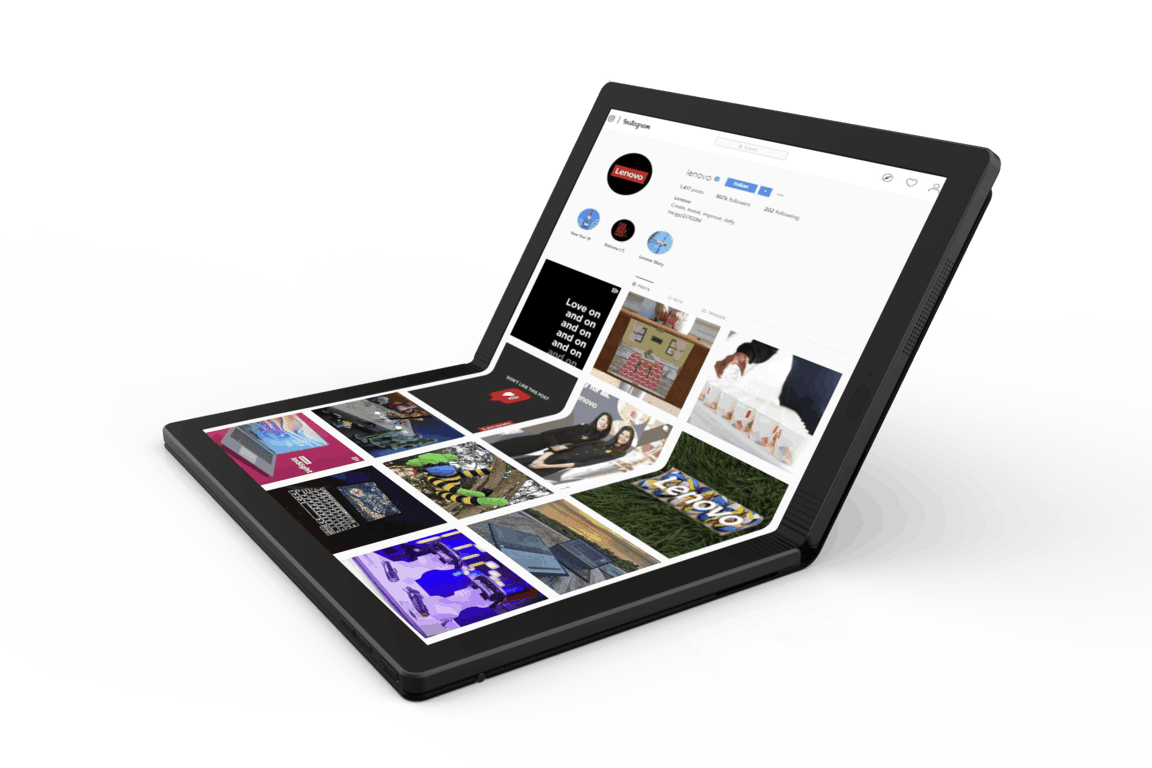 Firstly, Lenovo refers to the product as the ThinkPad X1 foldable prototype and it will be similar in processing power and architecture of a common PC being Windows-based and powered by an undisclosed future Intel technology.
Secondly, the foldable screen technology will be handled by LG Display rather than Samsung, and it's unclear if the decision is based on recent events, but it seems doubtful since Lenovo claims to have been working on the prototype for the past three years. LGD plans to produce a folding OLED, 2K display with a 4:3 ratio at 13.3″ for its full size and 9.6″ when folded for the ThinkPad X1 foldable.
Other details of the Lenovo ThinkPad X1 foldable prototype also include an IR camera, 2 USB ports, stereo speakers, a pen based on Wacom technology, a Bluetooth keyboard and the standard PC claim of "all day battery life," but Lenovo hasn't landed on an exact number for that boast.
Based on the description and the mockups, it appears as though Lenovo created a hybrid tablet/PC display with all the functionality of a full laptop that harkens back to Microsoft's failed Courier project.
However, unlike the Courier, the device comes at a time when the technology is prime for use and the use cases continue to evolve parallel to its presence, oh, and it should also be able to handle email.
Aside from price and release date, perhaps the only other looming question for the ThinkPad X1 foldable prototype is if people want foldable PCs or foldable or prefer the potential pocketability of foldable smartphones?