After Microsoft launched various new Surface products this week including the Surface Go 2 and the Surface Earbuds, Microsoft enthusiasts are now looking towards the company's Surface Duo. The dual-screen mobile device is rumored to be launching this summer, though the ongoing coronavirus pandemic could well push the company to change its plans.
Anyway, while we're waiting for Microsoft to share some news about its first Android phone, we have a bit more details about the Duo's specs courtesy of Windows Central's Zac Bowden. In a previous report from February, Bowden revealed that according to his sources, the Surface Duo would come with a Snapdragon 855 SoC, and a minimum of 6GB of RAM and 64GB of storage, but many details about the device were still missing, including its camera.
Well, Bowden has now also revealed today that Surface Duo will come with a single 11MP camera located above the right display, with a 2.0 aperture and 1.12 micron pixel size. Thanks to the Duo's 360-degree hinge, users will be able to use this single camera for both four and rear-facing shots, and it remains to be seen if this is less convenient than having a regular rear-facing camera.
It's not clear yet if Microsoft will use on-device AI to improve pictures, as many other high-end smartphones already do. Smartphone photography has become so good in recent years that Microsoft can't really afford to ship an average camera in the Surface Duo. "I'm told not to expect iPhone or Pixel level quality, but it should be good enough for most people," Bowden wrote.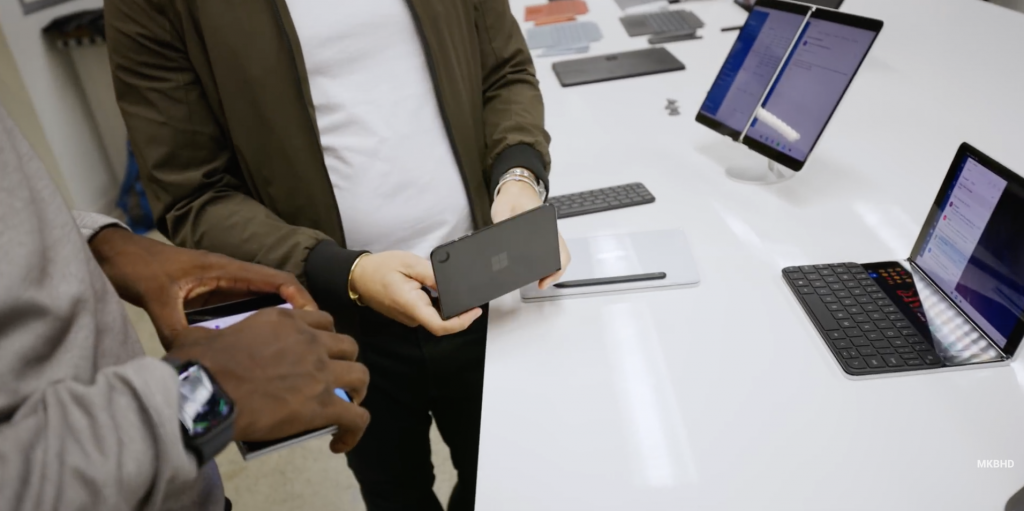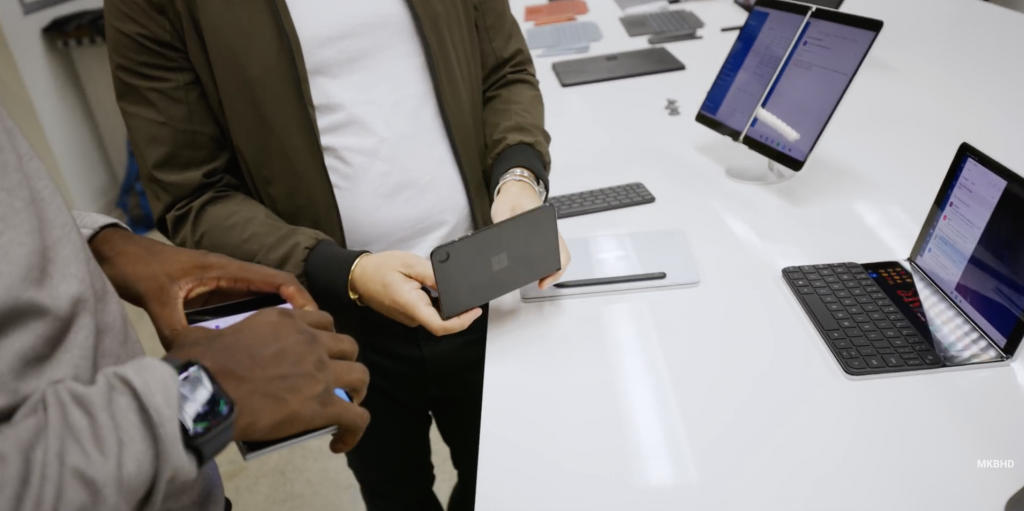 Today's report included other interesting tidbits, such as the use of Amoled displays for the two 5.6-inch 1800×1350 screens. Pretty much all premium smartphones now use Amoled screens these days, so this is definitely a good point. The new report also mentioned a 3460mAh battery that supports fast charging via USB-C, though Bowden heard that "current test units do not have wireless charging or NFC capabilities."
The Surface Duo is also said to be running Android 10, and all Microsoft apps shipping on the device should be optimized for dual-screen use. "Microsoft is aiming to finalize the apps that will be preinstalled on Surface Duo by early June, and create a factory OS image that will ship on the hardware out of the box," Bowden said today.
Lots of details about Surface Duo are still unknown, especially the price. The software side is also still a bit mysterious, even though Android makes perfect sense for a mobile device. This will be Microsoft's first Android phone, but it should offer a distinctive experience compared to other Android devices, including those running the Microsoft Launcher.
The software giant insisted last year that it wasn't considering Surface Duo "a phone," even though it will have phone capabilities. If other manufacturers like Samsung, Motorola and Huawei did launch folding smartphones this year, Microsoft will try something different with a dual-screen device with a 360° hinge. From the beginning, the Surface brand has been associated with category-defining devices, but it's not clear yet if Surface Duo will meet the expectations of Microsoft fans that have been waiting for a "Surface phone" for so many years.