Pre-orders for the highly-anticipated Star Wars Jedi: Survivor video game are now open ahead of its confirmed March 17th (or 16th depending on your region) release date.
A Standard and Deluxe Edition are available on Microsoft's Xbox Series X family of consoles. Pre-ordering either will also unlock an exclusive DLC pack of cosmetics inspired by Star Wars icon, Obi-Wan Kenobi, called the Jedi Survival Cosmetic Pack.
The Jedi Survival Cosmetic Pack includes the Hermit outfit, the Hermit Lightsaber Set, and the Combustion Blaster Set. Star Wars Jedi: Survivor will feature both blaster and lightsaber customisation so these aren't just basic skins for the weapons but likely a collection of numerous aspects that can be selected or deselected to fully change the appearance of the main weapons.
Star Wars Jedi: Survivor Deluxe Edition also includes two DLC packs with content inspired by Luke Skywalker and Han Solo. The Galactic Hero Cosmetic Pack features the Scoundrel outfit and Rugged BD-1 design plus the DL-44 Blaster Set while the New Hero Cosmetic Pack includes the Luke Skywalker New Hero outfit, the BD-Astro BD-1 Cosmetic, and the Rebel Hero Lightsaber Set.
Here's what each item looks like:


In addition to the Standard and Deluxe Editions, a special Collector's Edition is also available. This collectible is limited to just 1,500 copies for the Xbox Series X version, will set fans back $299.99, and is expected out after the game's release.
The Star Wars Jedi: Survivor Collector's Edition will likely prove popular though as it includes a replica of Cal's lightsaber, a box to hold it in, and a steelbook.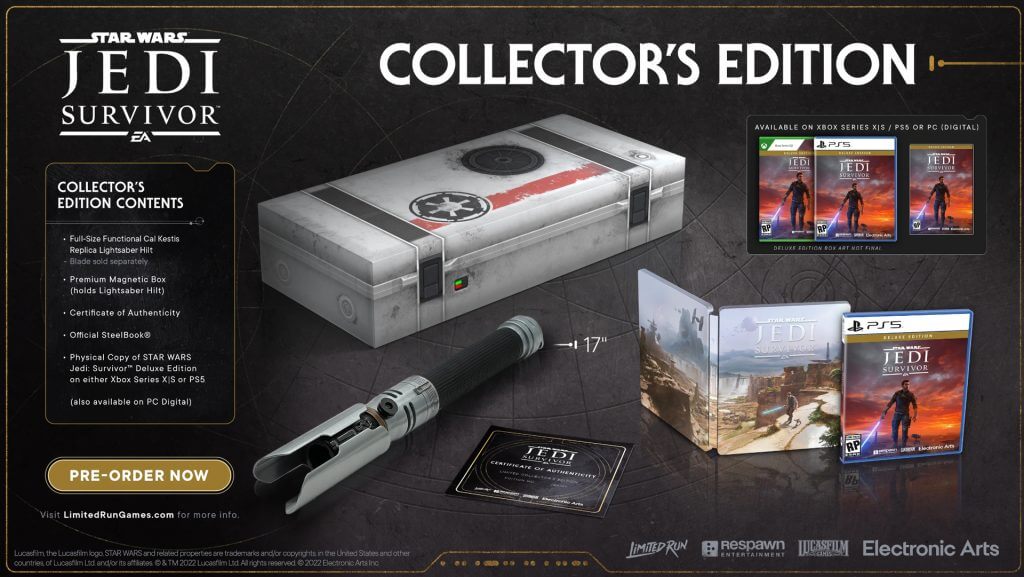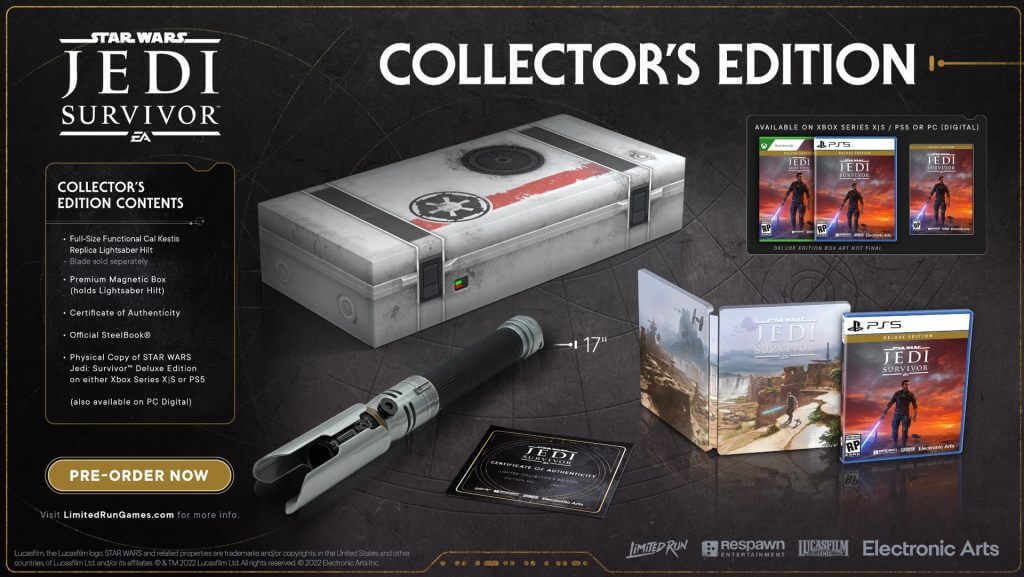 A new trailer featuring Star Wars Jedi: Survivor gameplay footage was also released today. Check it out below:
Are you excited for Star Wars Jedi: Survivor? Let us know which version you're planning to pre-order in the comments below and then follow us on Twitter for more Xbox news.