Businesses are constantly looking for better deals in cloud computing. The prospect of a cost-effective and simple management across products and services is appealing for enterprise customers. Every day, consumers embrace the expanding market for cloud services. Premier market intelligence firm IDC estimates that "worldwide spending on commercial cloud systems management software and SaaS solutions grew 24.6% and totaled $2.9 billion in 2015."
IDC expects that by the end of 2017, over 80% of enterprise IT organizations will commit to hybrid cloud architectures encompassing multiple public cloud services, as well as private cloud and/or noncloud infrastructure resources.
Following the tireless creed of "Cloud first, Mobile first," Microsoft has made certain to cement their spot near the top of the list. In fact, the recent report by Mary Johnston Turner, IDC research vice president, gave detail to the expanding growth of Microsoft Azure as a worldwide cloud system compared to its competitors.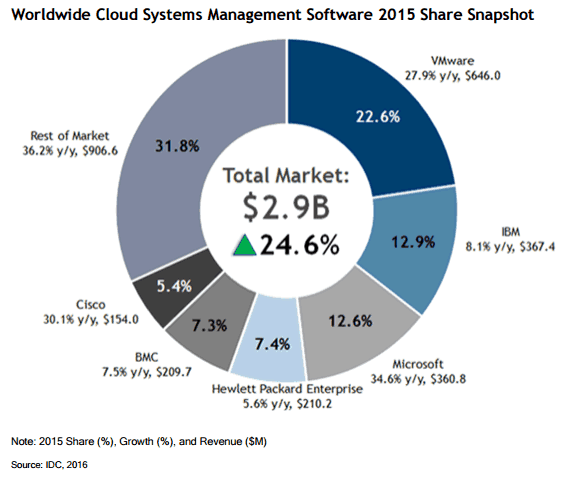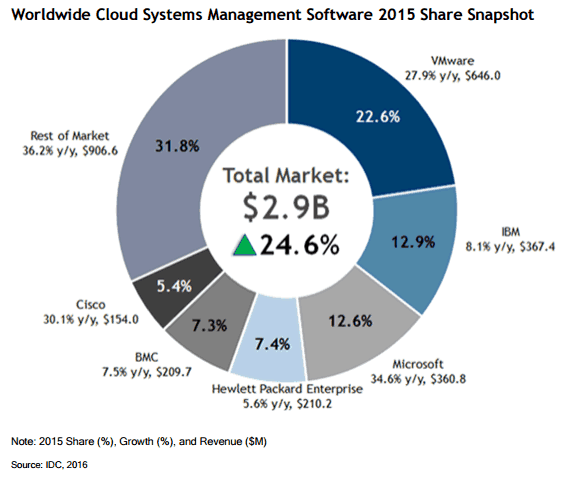 According to the publication, Microsoft is hot on the tail of market leader VMware. Both offered cost efficient management suites and unified licenses to their customers, a strategy that seems to be working well in the market for many vendors.
The report attributes much of Microsoft's growth to a variety of announcements and innovations as a result of the 'cloud first' solution. Such as the release of Microsoft Operations Management Suite and Azure Stack.
Microsoft emphasized it will continue to support on-premises System Center upgrades and deployments for many years. As Azure gains traction with enterprise customers, more and more Microsoft systems management software including portions of System Center, Window InTune, and OMS are being deployed to support cloud.
Turner also noted in the analysis that the market demand for cloud systems are still strongest in the Americas. That doesn't count out the rest of the world, though. Interest has continued to build in EMEA and Asia/Pacific regions compared to previous data.
While the report doesn't note any expected predictions for the next year's growth, it does state that the market did meet their former expectations. Customers are gaining confidence and selecting cloud systems that meet their needs at low costs with efficient services. Microsoft intends to provide just that through the Azure cloud as they race their way towards the top.