After several leaks, the highly anticipated sequel to the popular Hitman video game, Hitman 2, has now been officially announced via an official website, a trailer, and digital pre-orders which are now live for Xbox One in the Microsoft Store.
Here's the official game description for Hitman 2.
Travel the globe and track your targets across exotic sandbox locations in HITMAN 2. From sun-drenched streets to dark and dangerous rainforests, nowhere is safe from the world's most creative assassin, Agent 47. Prepare to experience the ultimate spy thriller story; your mission is to eliminate the elusive Shadow Client and unravel his militia, but when 47 learns his target's true identity and the truth about his past, it changes everything. HITMAN 2 introduces new ways to play, new game modes and new features, including the new Sniper Assassin mode with franchise first co-op play.
Four versions of Hitman 2 will be released for Xbox One. The regular version comes with the main Hitman 2 while the Silver Edition comes with the game plus the Executive Pack (ICA 19 Blackballer Pistol and Italian Black Leather Briefcase) and Expansion 1 (New Location, Missions, Sniper Map, Outfits and Weapons). The Gold Edition comes with everything in the Silver Edition plus Expansion 2 (Another new Location, Missions, Sniper Map, Outfits and Weapons) and two day early access to the game.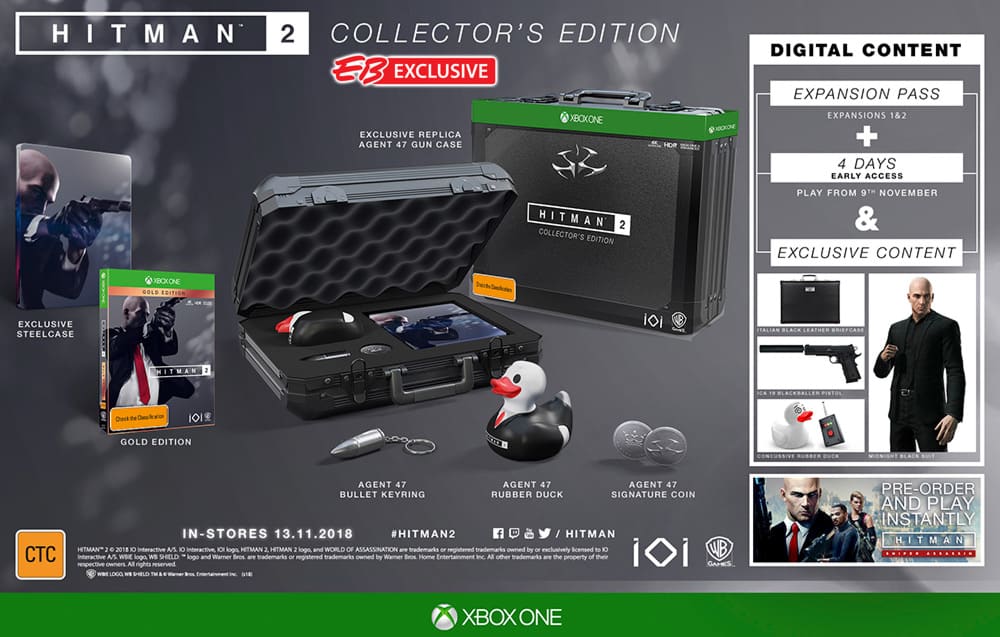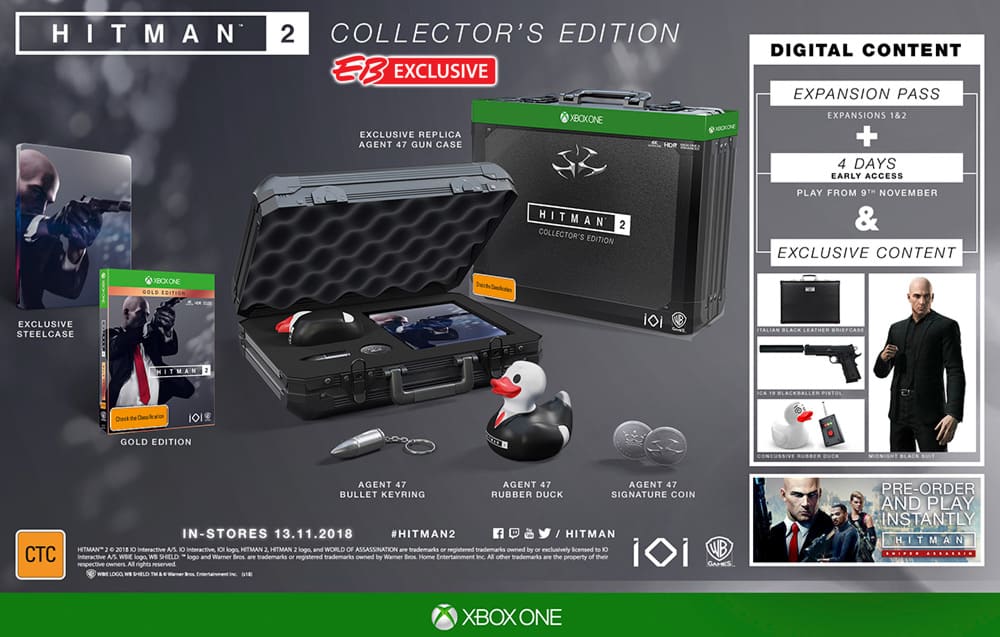 The special Hitman 2 Collector's Edition is a physical release of the game that comes in a steel case and includes physical replicas game-related items like a rubber duck and coin. Collector's Edition buyers will also get four days of early access to the game and the Collector's Pack which includes the concussive rubber duck and midnight black suit digital items.
Those who pre-order any version of Hitman 2 will gain immediate access to the online Sniper Assassin Mode which is playable right now. Hitman 2 will be released on Xbox One consoles on November 13th and will play in 4K   Ultra HD when played on an Xbox One X.
Are you going to play Hitman 2 on your Xbox One? Let us know which version you're going to buy in the comments below and make sure to follow us on Pinterest for more Xbox content.