Google is now looking to redesign its interface and provide much more to its users on top of the search bar and doodles. The brand new layout termed "new Google.com" features a set of five new cards. Google is testing out these widgets widely as per the reports that have surfaced recently confirming the same. (via 9to5Google)
According to the reports by the users that have experienced this new homepage, right off the bat is a Meet the new Google.com card which prompts the user to sign in to the Google account in order to customize their experience with it based on preferences.
Once logged in, you will come across a Make the space yours button. You will be redirected to a "Hi, What are you interested in?" which in essence helps you customize the widgets based on your needs.
"Meet the new https://t.co/Dw4J4gNDnM"!! I cleared Chrome's browsing history (cache, cookies, everything) and when I logged in back to Google, I got this on its homepage.

I hope that this comes to @googlechrome's NTP.

CC @9to5Google @NexusBen #9to5Google #NewGoogle pic.twitter.com/FPD7J0O7Eh

— GreenShades (@GreenShades9) August 1, 2022
The available widgets range include Air Quality, Cryptocurrency, Stock Market, Your Top Stocks, Events Nearby, Weather, Trending Searches, Top Stories, Sports, and What to Watch which are quite similar to those in Windows 11 as the cards now come in an expanded square shape rather than the short rectangular shape. Here's a glimpse of how they appear.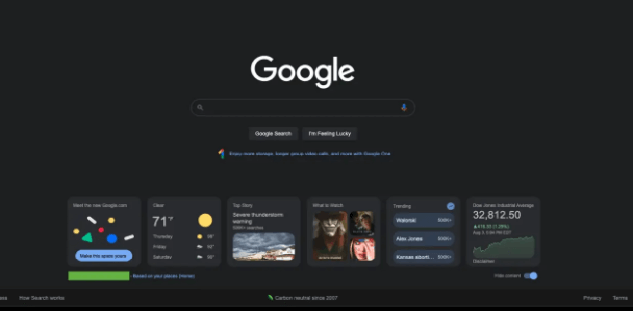 In another instance reported, these cards appeared at the bottom of the homepage which also featured a Hide Content button at the bottom-right corner. Google still notes your current location and curates information based on your search history. This account seems to be quite similar to the first as far as widgets are concerned. It features Weather, Trending, What to Watch, Stocks/markets, and COVID News. The number of widgets that appear on your screen at any given time is restricted to the size of your screen unless you expand the window.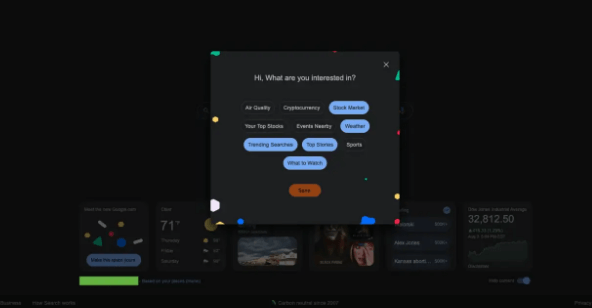 It is not yet clear if and when Google will be rolling out this "new Google.com" but we will be sure to keep you posted as the story unfolds. In other Google news, there were some indications that suggested that Google was working on an easier way for Windows 11 users to set it as the default browser. And in case you missed it, Google yet again postponed the process of phasing out third-party cookies in Chrome for 2 years.