The rising tide of PC sales during the pandemic helped lift the boats for Windows PC manufacturers, Apple MacBook sales, and even the adoption of ChromeOS.
According to market research firm IDC, Google's 10-year old operating system just surpassed Apple's macOS to claim the number two spot in user install base behind Microsoft's Windows platform.
Geekwire obtained visualizations from the IDC report showing the shift from Apple in the second spot to Google's ChromeOS.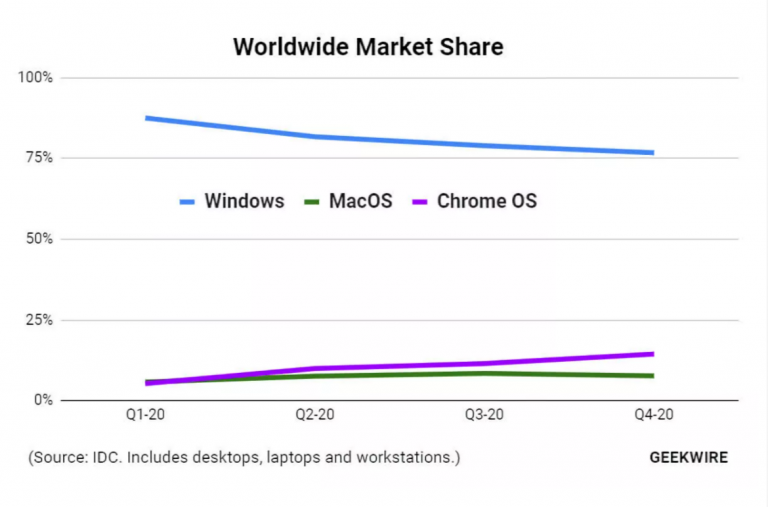 While ChromeOS has recently beaten out macOS in various quarters, last year's overall market share gains gave Google's operating system 10.8 percent of the market over Apple's 7.5 percent in 2020.
Despite slipping behind ChromeOS, Apple's 2020 did end on positive gain where its macOS went from 6.7 percent in 2019 to7.5 percent the following year.
With both ChromeOS and macOS seeing gains in 2020, the flip side of things is the understandable slippage of Widows market share which dropped from 85.4 percent of the market to 80.5 percent by the end of 2020.
Even though Microsoft still commands a significant amount of market share for operating systems, a five percent loss here and there ends up adding up to a trend that may be difficult to subvert as workflows and buying patterns permanently shift.
The pandemic has been an accelerant for many trends and it would seem that the adoption of ChromeOS was among those aided by the very particular circumstances of 2020 pandemic life.
Perhaps, thanks in large part to educational discounts awarded to schools to accommodate at-home student learning many took advantage of steeper than usual Chromebook discount deals in the US that have had a net positive on increasing the adoption of ChromeOS. It'll be interesting to see if ChromeOS can maintain the same levels of adoption throughout 2021 as circumstances ideally shift once again.