A new video was released today that showcases the stark visual differences between ARK: Survival Evolved running on an Xbox One and a next gen Xbox Series X console.
While there have been several similar videos released recently comparing footage between cross-gen titles playing on different Xbox consoles, this one by far shows the greatest gap in image quality that goes beyond a simple resolution and framerate increase.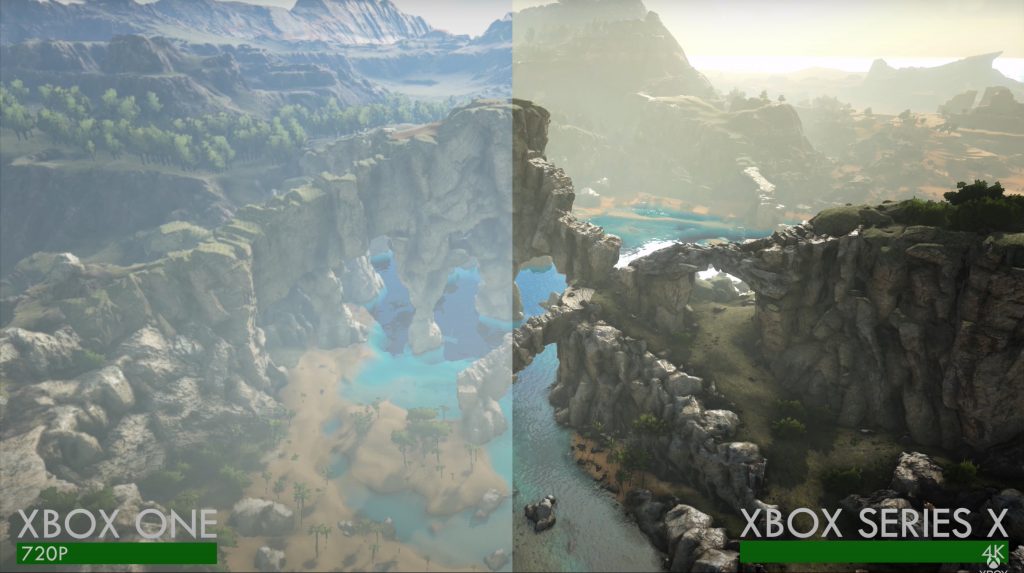 In addition to an improved 4K output on an Xbox Series X console, ARK: Survival Evolved will also get improved atmospheric and subsurface scattering quality, maximum texture resolution on surfaces, dynamic shadow quality, and terrain self-shadowing.
Check out the video below for visual comparisons of several in-game locations.
Along with the above video, a full list of Xbox Series X improvements was also released boasting an impressive number of technical upgrades that even beat how the game plays on PC.
4K Output at 30-60 FPS
Extreme Draw/LOD Distance (Higher than PC)
Extreme Level Streaming Distance (Higher than PC)
Epic Sky & Atmospherics Quality
Epic Subsurface Scattering Quality
Infinite-Range High Precision Screen Space Ambient Occlusion
Max Texture Resolution
16x Anisotropic Filtering
Infinite-Range Distance Field Shadows
Terrain Self-Shadowing
Epic Dynamic Shadow Quality
Epic Ground Clutter Distance
High-Precision HDR Output
Epic Postprocessing Quality
Tetherless Non-Dedicated Hosting
Tetherless Splitscreen
100-player Dedicated Server Hosting
Splitscreen Multiplayer uses Epic Graphics Settings
7x Faster Loading
ARK: Survival Evolved has been available to play on Windows PC and Xbox One consoles for a while now. Owning either version will automatically unlock it on Xbox Series X for free as long as the same account is being used. The game is also available to play for free for Xbox Game Pass subscribers.
Are you a fan of ARK: Survival Evolved? Share your thoughts on these Xbox Series X changes in the comments below and then follow us on Pinterest and Facebook for more Xbox gaming news.