For all of you Xbox owners with a shortage of games and the need to find a good deal, Xbox's Deals With Gold program is here to give you a few options. For Xbox One and Xbox 360 alike, there's a fantastic library of games for you to save on this week. From Fallout 4 to Remember Me, there's a little something for everybody this time around. If you don't feel like looking at each of the sale titles, indie games and all, we'll lay out the highlights for you right here.
Fallout 4 (17% off) / Fallout 4 Digital Deluxe Edition (15% off) – Xbox One
Bethesda Game Studios, the award-winning creators of Fallout 3 and Skyrim, welcomes you to the world of Fallout 4 . Winner of more than 50 Game of the Year awards, including top honors at the 2016 D.I.C.E. Awards. Fallout 4 is the studio's most ambitious game ever and the next generation of open-world gaming. As the sole survivor of Vault 111, you enter a world destroyed by nuclear war. Only you can rebuild and determine the fate of the Wasteland. Welcome home.
Author's note: Buy this. Pretty cut and dry, here. Fallout 4 is a masterpiece, and one of the greatest games of the generation. Bringing together all of the best aspects of its predecessors in the setting of post-apocalyptic Massachusetts, Fallout 4 created an incredibly memorable experience that, after playing more than 100 hours, I still keep on coming back to – finding more new content each time.
Forza Motorsport 6 Standard (17% off) / Deluxe (15% off) / Ultimate (10% off) editions – Xbox One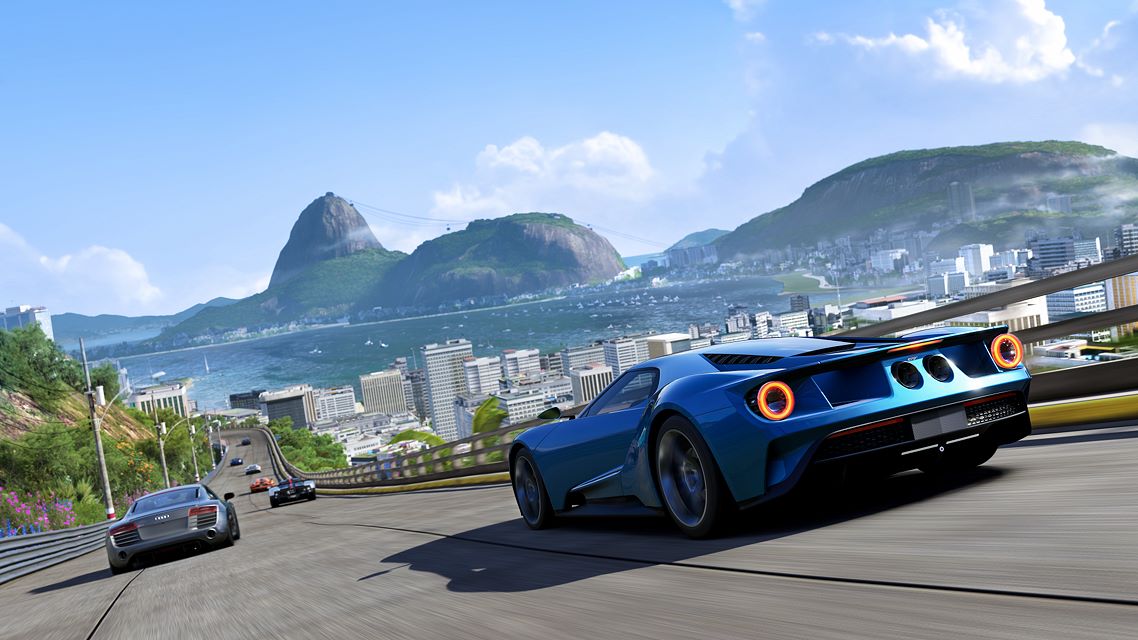 Forza Motorsport 6 is the most beautiful and comprehensive racing game of this generation. Collect and race over 450 Forzavista cars, all with working cockpits and full damage. Master wet weather and night racing on your road to victory. Compete in epic 24-player races and Forza Race Leagues across 26 world-famous locales, all at a stunning 1080p resolution and 60 frames per second. The Forza Motorsport 6 Standard Edition includes Forza Motorsport 6, Forza Hub, and the Ten Year Anniversary Car Pack, which features 10 specially tuned and liveried cars, including the 2009 Ferrari 458 Italia, the 2014 Lamborghini Hurácan and the 2013 McLaren P1™.
Dishonored Definitive Edition (50% off) – Xbox One
Arkane Studios' Dishonored®, winner of over 100 Game of the Year awards, and all of its additional content come to the next generation in Dishonored® Definitive Edition! With Dishonored's flexible combat system, creatively eliminate your targets as you combine the supernatural abilities, weapons and unusual gadgets at your disposal. "Void Walker's Arsenal" offers unique character bonuses, additional bone charm slots, and more that will aid you in pursuit of revenge. Enter the world of the Outsider in "Dunwall City Trials" where you will put your combat, stealth and mobility skills to the test. Finally, play as the legendary assassin Daud in "The Knife of Dunwall" and "The Brigmore Witches".
Author's note: This one comes highly recommended. The second Bethesda game on this list, Dishonored created an incredibly interesting world and gave us one of the best first person stealth experiences we've gotten in decades. The sequel is coming out fairly soon, so if you're interested you ought to pick Dishonored up while it's on sale so you can catch up.
Remember Me (75% off) – Xbox 360
Neo-Paris. 2084. Personal memories can now be digitised, bought, sold and traded. The last remnants of privacy and intimacy have been swept away in what appears to be a logical progression of the explosive growth of social networks at the beginning of the 21st century. The citizens themselves have accepted this surveillance society in exchange for the comfort only smart technology can provide. This memory economy gives immense power over society to just a handful of people. Remember Me™ is a 3rd person action adventure where players take on the role of Nilin, a former elite memory hunter with the ability to break into people's minds and steal or even alter their memories. The authorities, fearful of her knowledge and capabilities arrested Nilin and wiped her memory clean. After her escape from prison, Nilin sets out on a mission to recover her identity, helped by her last and only friend. This search for her past leads to her being hunted by the very people that created this surveillance society.
Author's note: This one sort of snuck under the radar for a lot of people, but I am wholly confident in saying that it's a really excellent game.  Remember Me was the breakout title of Dontnod entertainment, the studio that brought us Life Is Strange last year – that alone should tell you that they know how to tell a good story. A gripping world along with a fun and innovative combat system that allows you to build your own combos makes for one of my favorite titles of 2013, and one that you'd be crazy to overlook at just 10 bucks.
So, there you have it. this week's Xbox Deals with Gold is a good one, so get out that credit card and start saving some money on some very good Xbox titles.