With the success of the Windows Insider program, Microsoft now lets anyone give them formal feedback through the Feedback app. In this series we break down some of the most intriguing feedback and suggestions. We'll do our best to dive into the lists of feedback rather than just have "dark theme everywhere." This week we look at keyboards, a feature that's used as much as just about anything.
Note that the links to feedback items work by opening the Feedback Hub in Windows 10.
Keyboards aren't usually considered exciting, though every once in awhile a curved one shows up, but they are used throughout just about any operating system in the majority of apps. Texting and web browsing obviously need them but honestly there aren't many apps you don't have to type in, even if it's just a password or login.
I wouldn't say the keyboard experience on Windows 10 and Windows 10 Mobile is bad. I mean they're keyboards after all. It would be impressive if Microsoft couldn't figure out how to let us type things. But that being said there are some nifty features and bits of feedback that would make text and keyboard entry better on devices.
Bring shape writing to Windows 10
I wrote an entire article on this last year and others from the feedback app agree. In fact, three out of the top ten bits of feedback in the "Input and Interaction Methods" section are basically saying the same thing "Bring swype keyboard to win 10 all devices!!!" Microsoft calls their mobile version of the interaction "shape writing" but regardless, people want it on tablets and 2-1s.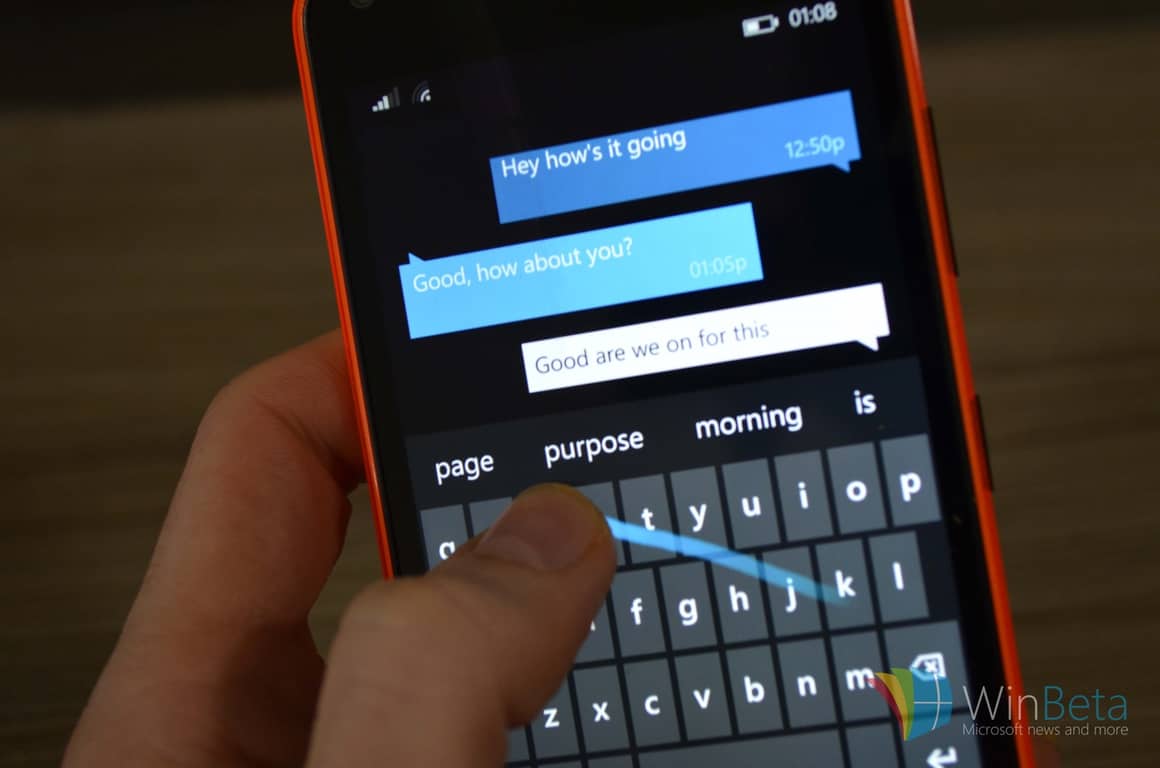 I like swiping my thumb around my phone to write text but I think it would be even better on a tablet because it could be combined with a stylus. Imagine how quickly you could type on a tablet with a stylus and swiping. With Windows 10 Mobile soon to be running on devices up to 9″ we're going to have shape writing on tablet size devices anyway so we know it's possible.
There are some other smaller features such as "Shift key Change Case on selected text" that feedbackers would also like to see make the leap to the full Windows 10 keyboard.
The feedback app says that Microsoft has "got it" so we can hope that they will add it. That being said, shape writing on a larger tablet wouldn't work very well without the next bit of feedback.
Let me snap the touch keyboard on tablets to the side of my screen
This is actually my own piece of feedback but there are similar ones in the Feedback app. There is currently a more touch centric keyboard on tablets but it splits the keyboard into two halves and puts them on the edge of the screen. What I would like to see is a resizable keyboard that would essentially bring the mobile keyboard onto your tablet but with the option to be bigger to support stylus or thumb support.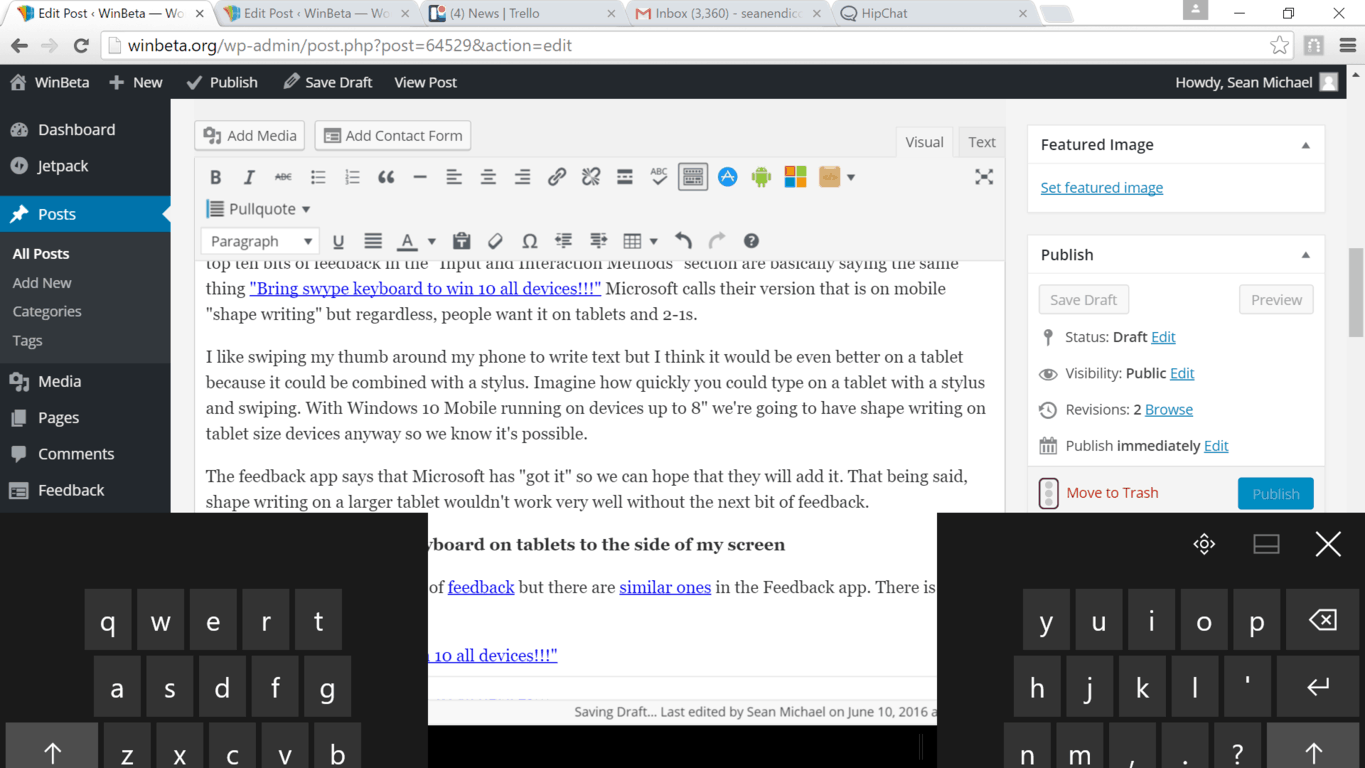 I wouldn't get rid of the current split screen keyboard but would add another option.
Transparent keyboards
About a year ago I broke down a tips and tricks video from Sean Ong and added a tip of my own. Using Touch Mouse Pointer (update: Now Tablet Pro) allows users to have a transparent keyboard. It's possible to do now as evidenced by Touch Mouse Pointer but that's a paid feature and it would be nice to see as part of Windows 10.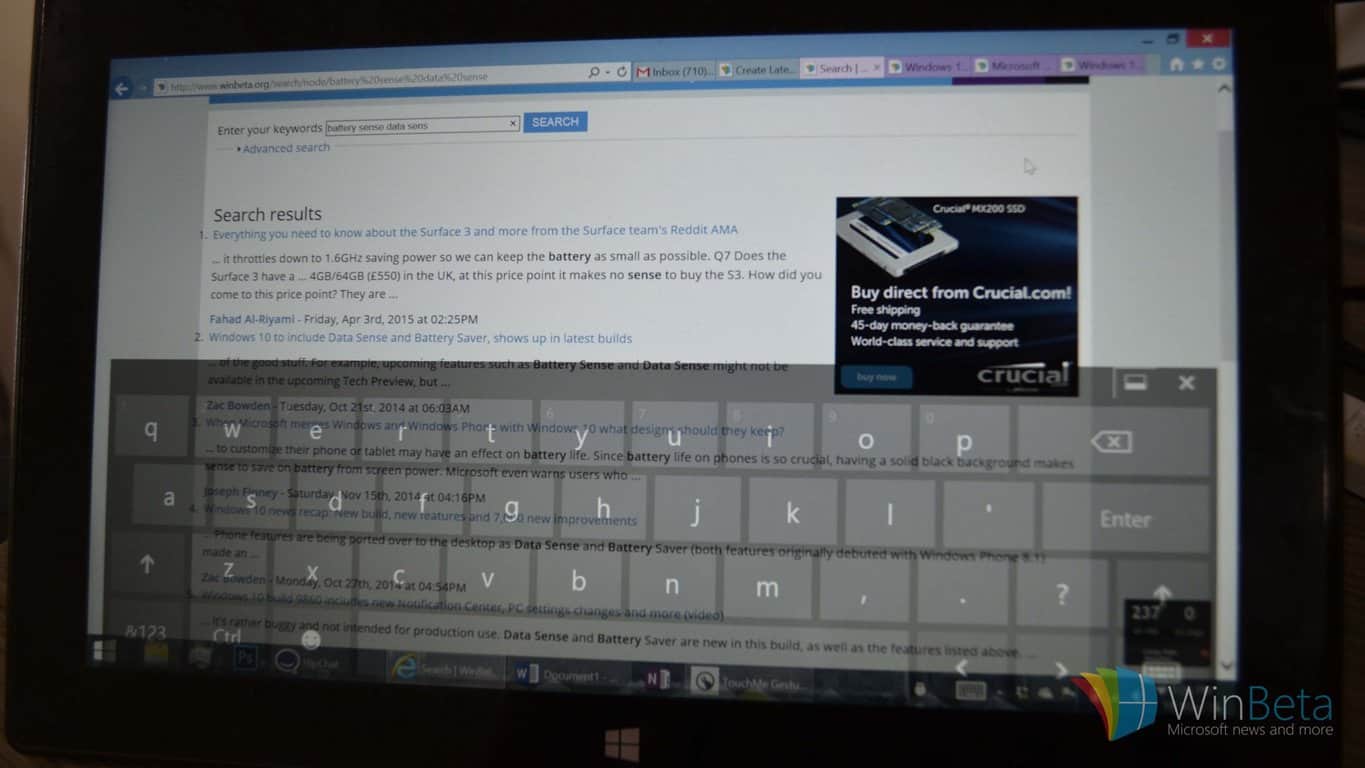 This is another popular piece of feedback that has been given multiple times so hopefully Microsoft will listen.
Curved one handed keyboard on Windows 10 Mobile
I can't say that I'm dying to have this feature as much as it bothers me a little that I'm not able to try it. Microsoft tested a curved wordflow keyboard on iOS but it hasn't made its way to Windows 10 Mobile. It very well could in the future if it is popular but I would love to test it on the insider program of Windows 10 and Windows 10 Mobile. This could even be combined with my snapping idea and a stylus by snuggling fitting a curved keyboard in the corner of a tablet.
Conclusion
While Microsoft is making a big push to have stylus and touch be regular input methods, people still need to use keyboards. While the keyboard offering on Windows 10 and Windows 10 Mobile are by no means poor, they could be improved by listening to some key pieces of feeedback. In fact, some feedback such as bringing shape writing to tablets could be advertised as part of a greater stylus and touch experience.