One of the more exciting things announced during Microsoft's Build 2016 was just how easy it can be for developers to move their desktop Windows (Win32) apps over to the Universal Windows Platform. The Desktop App Converter is Microsoft's new tool for enabling Live Tiles, notifications, Cortana, and more in Win32 apps while also making those traditional applications available in the Windows Store.
Essentially, the Desktop App Converter serves as a bridging tool between Win32 apps and Universal Windows Apps, in much the same way that Project Islandwood does for iOS apps. Run a Win32 app through the Converter, test it, plug in the additional UWP features and functions, and then push to the Windows Store.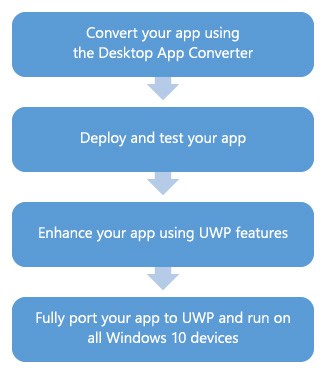 Most important, applications that are converted to Universal Windows Apps become available on all Windows 10 devices. That means a Win32 app can make it over to the Xbox (minus some unsupported features, of course) or even a Windows 10 Mobile device. That's not to say every application will make sense on every device type, but it's good to see that Microsoft is making it easier to "port" apps over where it makes the most sense.
Here are the key benefits that Microsoft envisions:
App model. The converted app has a well-defined app model and a deployment experience that ensures clean install, uninstall, and seamless updates. The behavior and performance (including startup) of users' systems remain pristine.
App identity. A UWP app has an identity, which enables features such as push notifications, Live Tile updates, and in-app product offers for your app.
App enhancement. At your own pace, you can add UWP features to your app such as background tasks, app services, and many more. You can use the rich UWP feature set in your app.
Reach every Windows device. Once all functionality moves from the full-trust portion of your app and into the app container portion, your app will be able to reach every Windows device.
If you're a Windows developer, head on over to the Microsoft developer site and get signed up. The sooner you start playing around with the Desktop App Converter, the sooner you'll be able to help flesh out the growing Windows Store.