The technology industry is an interesting environment, where the top companies act as both fervent competitors and committed partners. Dell and Microsoft are no exceptions, partnering on cloud computing solutions while simultaneously competing in providing Windows 10 computers.
Today, for example, we reported on Microsoft and Dell teaming up to provide hybrid cloud solutions to enterprise customers. At the same time, various anonymous sources from Microsoft's OEM partners–the companies that make the machines that flesh out the Windows 10 hardware ecosystem–demonstrate that not everyone is happy with Microsoft's offering up innovative products like the Surface Book.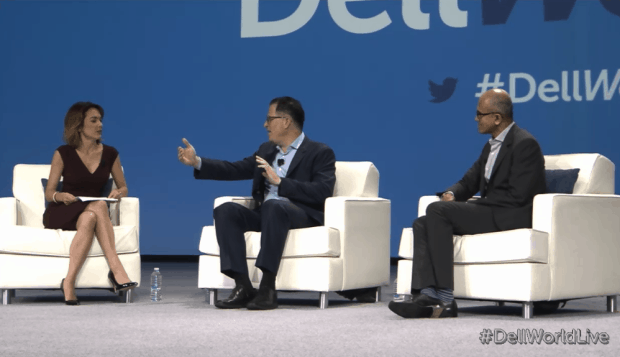 As GeekWire reports, Dell CEO Michael Dell is just fine with Microsoft leading the way in demonstrating just what Windows 10 can accomplish when paired with the right hardware. Bloomberg TV interview Dell and asked him point-blank about what it's like to both compete and partner with the software giant:
"We're absolutely friends," responded Dell, talking about the ways the company is working together in the cloud and on Windows.
He added later, "When I look at what Microsoft is doing with Windows 10 and the Surface family of products, what they're doing is they're pushing Windows 10 into new spaces and driving the platform forward. I'm actually excited about that. The reason I'm excited is it's helping drive the Windows 10 ecosystem faster."
Dell also points out what might very well be Microsoft's tactic for both providing visionary products and yet providing plenty of room for OEMs to compete:
"Satya's got some nice products. The volumes are not very high, the prices are pretty high, but it's great," Dell said, as Nadella [also being interviewed] and the audience laughed.
Dell summarizes Microsoft's strategy, and where his company fits in:
"I wanted to understand what they were doing and why they were doing it," said Dell. "When we understood that the intent is basically to drive the platform — as I call it, the "icebreaker" strategy, push into new territory — and then we come in with a product that is more affordable, but we can sell 100 times more, great, that works."
We have to wonder if Dell is really this accepting of Microsoft's strategy, or whether his opinion would be a bit more pointed behind closed doors. Nevertheless, at least in public, Dell fully understands that his company has the option of undercutting Microsoft on price and leveraging its capability to produce at volume while providing its own innovative products. Certainly, Dell makes some nice laptops with the Dell XPS 13, XPS 15 and hybrids such as the XPS 12.
The interview was conducted at Dell World 2015, currently taking place in Austin, TX, where Dell is highlighting its efforts to both build out its own enterprise-level solutions while continuing to compete in its traditional PC business.