In the fast-paced era of artificial intelligence, organizations are seeking advanced analytics solutions to extract valuable insights from their data. Enter Build 2023, Microsoft Fabric, an innovative platform designed to revolutionize the way analytics workloads are managed. With a seamless integration of Power BI, Data Factory, and Synapse, Fabric offers a unified Software-as-a-Service (SaaS) experience, enabling cost-effective and efficient analytics tailored for the AI era. Join us as we delve into the features and benefits of Microsoft Fabric, along with the latest updates in Power BI, empowering organizations to turn data into actionable insights like never before.
Build 2023: Introducing the revolutionary Microsoft Fabric for the AI Era
Microsoft Fabric, currently available for preview, offers a streamlined and unified experience for all analytics tasks and users on a robust enterprise-level data foundation. It combines the power of Power BI, Data Factory, and the next generation of Synapse into a cohesive Software-as-a-Service (SaaS) solution. This integrated offering provides customers with a cost-effective and easily manageable modern analytics solution tailored for the AI era. Fabric brings together various experiences, such as data integration, data engineering, data warehousing, data science, real-time analytics, applied observability, and business intelligence, in one place, enhancing productivity like never before.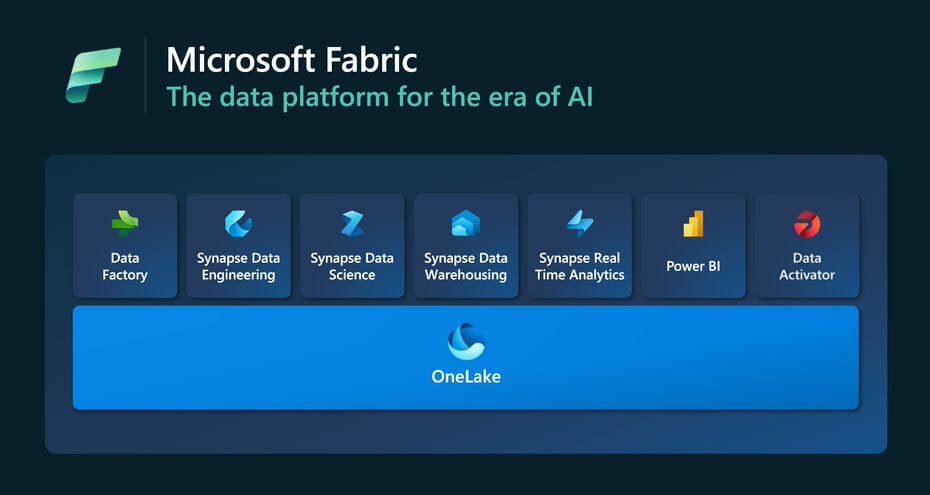 To further enhance data value creation within organizations, Microsoft is integrating Copilot into Microsoft Fabric. This integration, soon to be available for preview, enables natural language capabilities and a chat-like experience to generate code and queries. It also allows users to create AI plugins using a low/no-code approach, customize Q&A functionality, tailor semantics and components within the plugin, and deploy them to Microsoft Teams, Power BI, and the web. With the assistance of AI-driven insights, customers can focus on conveying the right data narrative while Copilot handles the heavy lifting.
Organizational data is hosted on Microsoft's unified foundation, OneLake, which serves as a single source of truth, reducing the need for data extraction, movement, or replication and minimizing the occurrence of uncontrolled data sprawl. Fabric also ensures persistent data governance and adopts a scalable pricing model that grows alongside the organization. Moreover, it embraces an open approach to every layer, eliminating proprietary lock-ins. By leveraging deep integrations with Microsoft 365, Teams, and AI Copilot experiences, Fabric accelerates and scales data value creation for individuals across the board. Whether they are data professionals or non-technical business users, Fabric offers personalized experiences to empower everyone in unlocking greater value from their data.
Empowering Speed and Productivity with Power BI Updates in Preview
Power BI introduces several exciting updates that enable organizations to swiftly transform data into insights using a leading-edge business intelligence platform. These updates include:
The addition of Copilot in Power BI, available for preview, harnesses the capabilities of advanced language models to help users uncover and share insights rapidly. Users can now create and customize reports in seconds, generate and modify DAX calculations, summarize data narratives in conversational language, and even inquire about their data. By seamlessly integrating tailored text summaries within reports, Power BI delivers impactful data insights in a more comprehensible manner, allowing users to easily adjust the tone, scope, and style of the narratives.
Power BI Direct Lake, available for preview, introduces a new storage mode within Power BI datasets. This mode enables organizations to tap into vast amounts of data without the need for replication by directly accessing the data in the lake.
Power BI Desktop Developer Mode, available for preview, facilitates developer-centric workflows through Git integration for Power BI datasets and reports.
Conclusion
The future of data analytics is here, and Microsoft Fabric is leading the way. With its integrated approach and advanced capabilities, Fabric empowers organizations to unlock the full potential of their data assets, driving growth, efficiency, and informed decision-making. Combined with the latest updates in Power BI, organizations can harness the power of natural language, advanced data modeling, and streamlined workflows to gain deeper insights faster than ever before. Embrace the AI era and embark on a data-driven journey with Microsoft Fabric and Power BI updates. Start unlocking the true value of your data today.