When it comes to purchasing a new Xbox One S gaming console, there is always more than one way to save. Some may turn to Microsoft's special bundles to get more for their buck, and others may simply wait for special holiday offers. If you have an old console laying around the house, however, you should also consider trading it in to save some money, as Microsoft currently is running an in-store and online Xbox One S trade-in offer until February 27th, 2017.
If you're trading in online, to get started with your trade in, you should first visit this website to determine your trade-in value. The website lists various consoles, one of which you probably own. After you choose your console by clicking on its image, you must then detail storage capacity and condition, or if you are trading in controllers, power cables.  To qualify for trade in, and as working condition, you must meet the following conditions.
You must own the qualifying device, device must power on, battery must hold charge and not be required to be plugged in to operate, and be in fully functional, working condition without broken/missing components, cracked display/housing, liquid damage, modification(s) or have device warranty seal broken to be considered working. Trade-in cannot be password protected, and must include original chargers/accessories, and hard drive.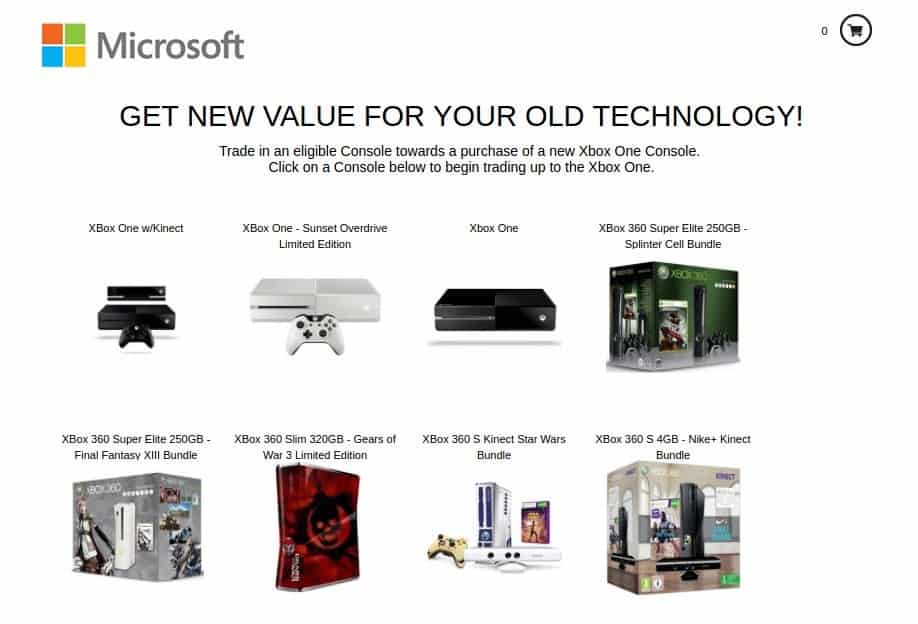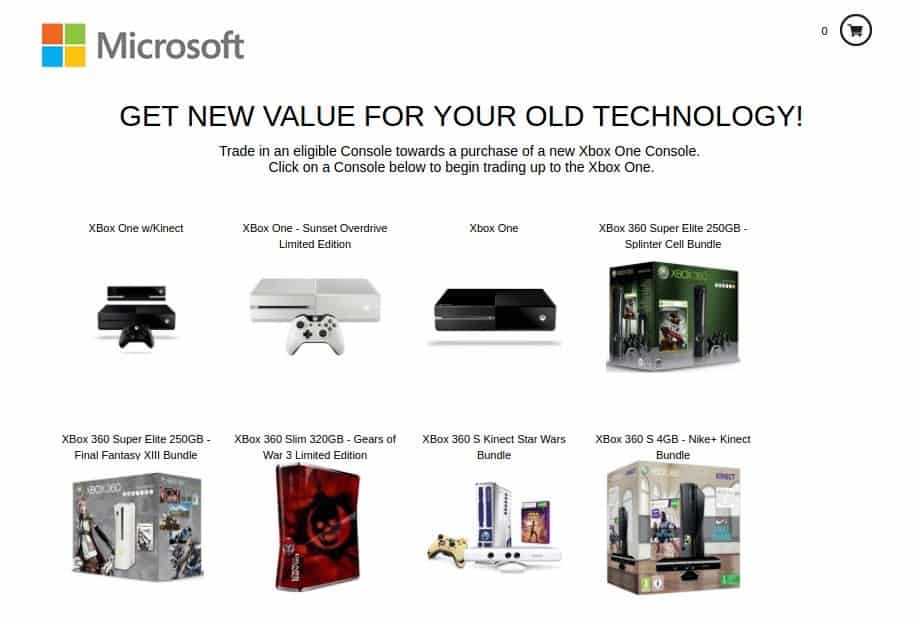 After you fill out the condition, you will then be presented a trade-in value for your item. Once you accept you will have to fill our some personal information and Microsoft will provide you a shipping label for your device. You must then box up your console and ship it out. Once it is received, Microsoft will email you a promotion code and you will be able to use the code during checkout of your Xbox One S to get your discount.
It is worth noting that you can also trade-in at the participating physical Microsoft Retail stores, all of which are available via this link here. Of course, the trade-in program does have its caveats and is valid for online purchases only. Other terms can be seen below.
Any appraised value will be determined at trade-in and provided as a Microsoft online store redemption code and is valid online only. The online redemption code will be sent via email once CExchange receives and appraises your trade in. The redemption code will be valid until April 30, 2017. All trade-ins are subject to Microsoft's discretion and approval. All trade-ins are final. Recycle for Rewards program provided by CExchange, LLC., and other terms and conditions may apply. Not valid on prior orders or purchases; cannot be transferred or otherwise redeemed for cash or gift cards. May not be combinable with other offers. Refunds will take into account the discount. Price discount does not include taxes, shipping or other fees.
Again, this trade is only valid for a new purchase on an Xbox One S device, and for a minimum of $150 off transaction when trading in PlayStation 4, and a minimum of $50 when trading in PlayStation 3 or Xbox 360. Other retailers such as Gamestop have put up similar offers in the past, but this time things are more official from the folks at the Microsoft Store themselves. Do you think you will take up this offer? As always, let us know what you think by dropping us a comment below!