Wireless screen sharing is an increasingly popular way to consume media from a smartphone. Using protocols like Miracast, you can beam video from your mobile device to your TV. If you own a Windows 10 PC, you can project your screen to it too, letting you mirror your phone onto your desktop monitor.
Since the release of the Anniversary Update, Windows 10 has come with everything you need to stream your screen to your PC. You can both send and receive Miracast content within the operating system. To get started configuring your PC as a Miracast receiver, open the Settings app and click through to the "System" category.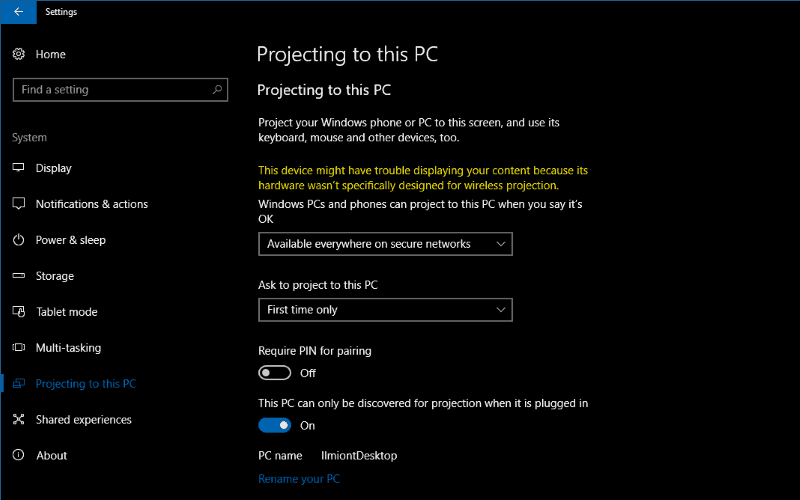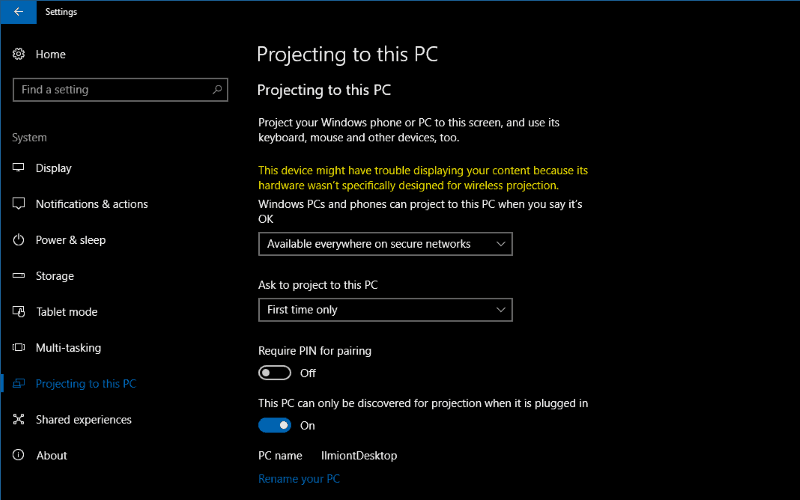 All the relevant settings are listed on the "Projecting to this PC" page. Here you can choose where your PC is allowed to receive content and whether a PIN should be used for sharing.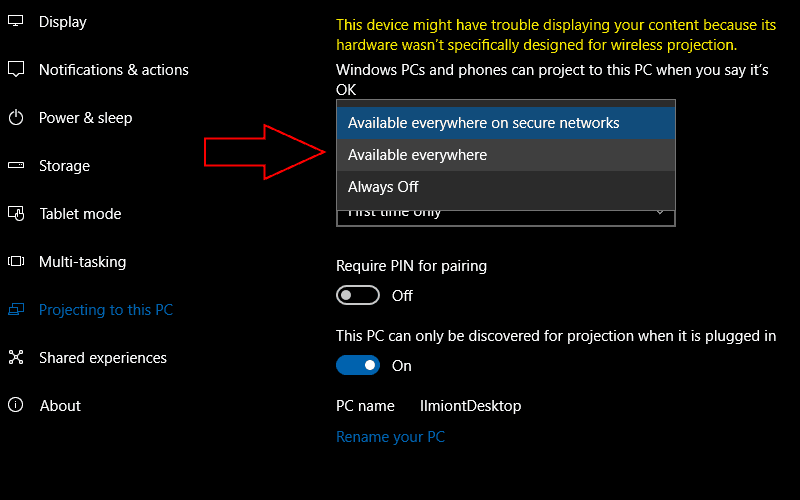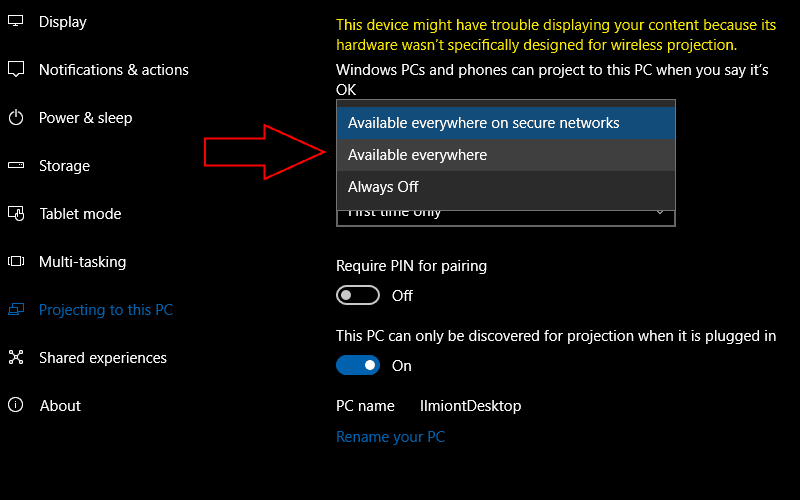 The "Windows PCs and phones can project to this PC when you say it's OK" dropdown menu lets you choose the physical locations that streaming is enabled for. By default, it's set to "Available everywhere on secure networks." Your PC will only show up as a Miracast receiver when it's connected to a trusted network. Alternatively, you can force Miracast to be "available everywhere" or "always off."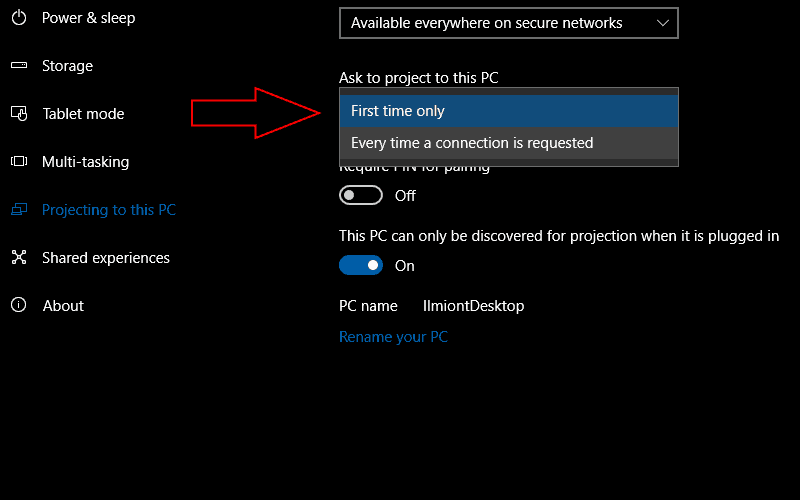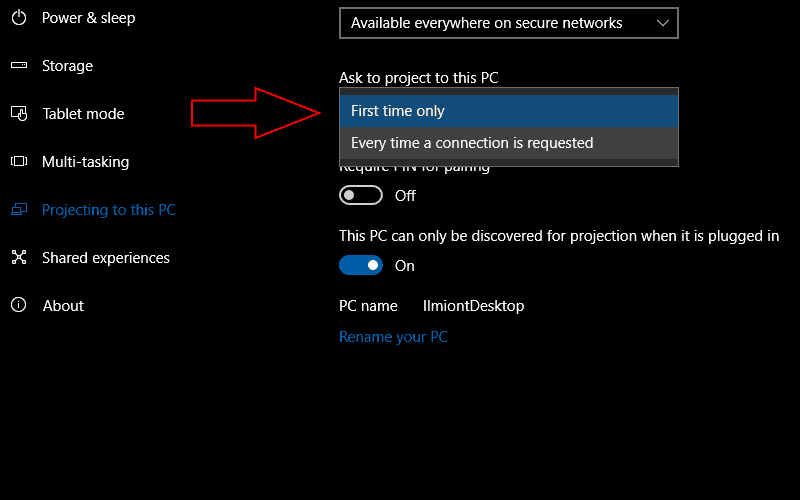 The second dropdown menu, "Ask to project to this PC," controls whether you should be prompted before a device connects. Usually, "First time only" should be sufficient. You'll get an alert the first time a new device connects but it will be remembered for subsequent uses. If you intend to use Miracast on an open network, "Every time a connection is requested" may be a safer option. Once you've finished setting the access controls up, you're ready to start streaming content to your PC.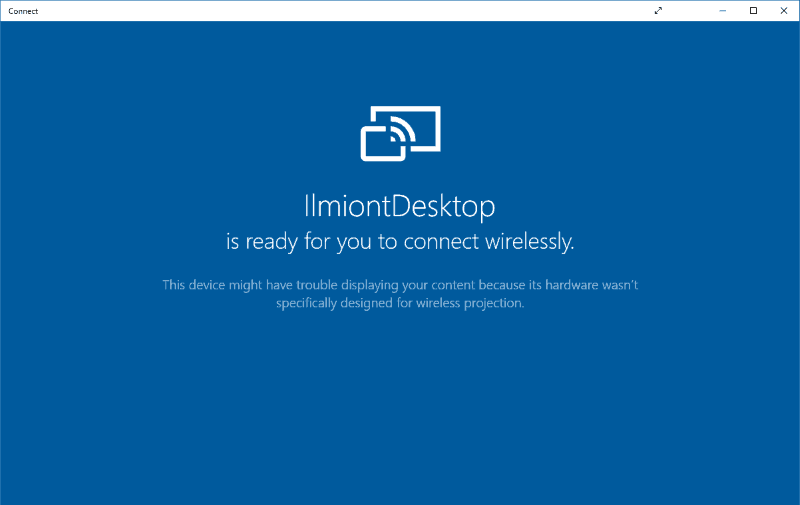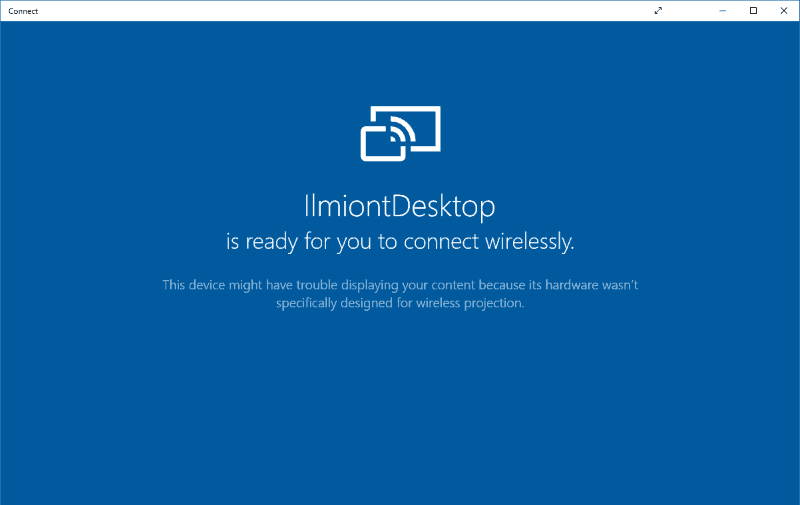 First, open the Connect app on your PC. This is Windows' built-in Miracast player that will display the projected content. Then, on the device you want to stream content from, open your media and use the operating system's controls to connect to a wireless display.
On Windows 10 devices, you only need to open Action Center and press the "Connect" quick toggle. Your PC should show up in the list if it's on the same network. Tap its name to get connected. On Android, you can usually connect to a wireless display from the Quick Settings screen in the notification tray. The exact procedure will vary with the device used. iOS doesn't include native support for Miracast devices but apps such as AirServer allow you to bridge the gap.
When you've connected your device, you should see a live view of its screen appear in the Connect app after a few seconds. It will stream in real-time from your phone, although performance will vary with each device combination. Only newer Windows 10 PCs and laptops include the dedicated hardware necessary for smooth Miracast streaming. If your device doesn't fully support the standard, the Connect app and projection settings page will display a warning that performance might be degraded.