The Windows 10 Enterprise LTSC (Long Term Servicing Channel) is designed for devices where the key requirement is that functionality and features don't change over time. These devices include ATMs, point of sale (POS) devices, and other automation and IoT systems.
Things to consider before you install
Wondering how you can get Windows 10 Enterprise LTSC? Before you think about all the benefits a Windows 10 PC without Microsoft bloatware can give you, there are some caveats:
1. Unless you already have a valid Windows 10 Enterprise LTSC product key, you need to purchase one from Microsoft to validate your installation.
2. There are no pre-installed apps included in this Windows 10 LTSC version. No Cortana, no OneDrive, and no Windows Update, but you can also avoid extraneous features like the News and Interest taskbar tab Microsoft added last year.
3. The Windows 10 Enterprise LTSC build you install is the build you're stuck with. You will still get the latest Windows 10 security updates and bug fixes, so security won't be an issue. Windows 10 LTSC versions released after 2021 only receive 5 years of security update support as opposed to 10 years for other versions.
4. Windows 10 LTSC works fine on an everyday PC as long as you're okay with not getting the latest features. You can still connect to the internet, install third-party apps, and play PC games, but it may take some extra work to get some apps and games to function properly on your version of Windows.
5. You'll need to install alternative apps to make up for the lack of Media Player, Microsoft 365, Edge, and others. Windows 10 LTSC also does not include the Microsoft Store app, but this can be downloaded and installed if you want it. You may also need to update your device drivers manually in some cases.
Should I install Windows 10 Enterprise LTSC?
A recent Reddit post details the benefits of Windows 10 Enterprise LTSC, a version of Windows 10 that reportedly comes without any ads, bloatware, or spyware. LTSC stands for "Long Term Servicing Channel" and you may see it elsewhere by its previous name, LTSB, or "Long Term Servicing Branch." LTSC is a stripped-down version of Windows 10 Enterprise.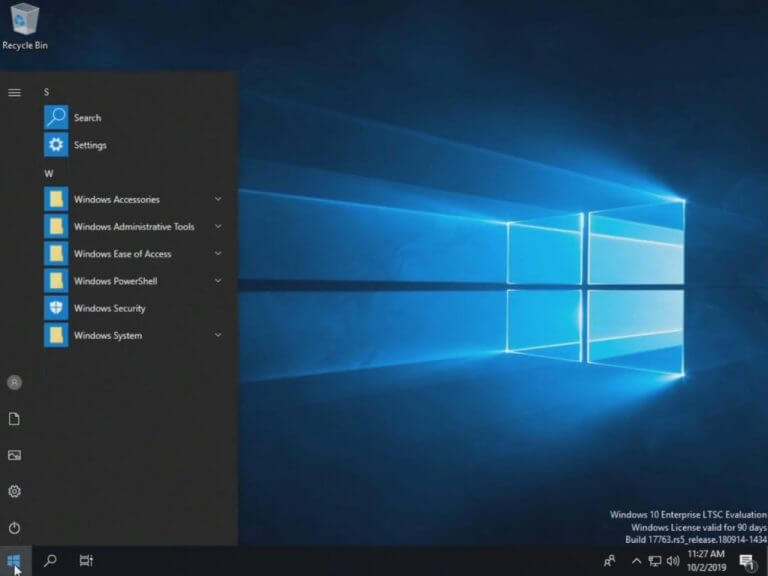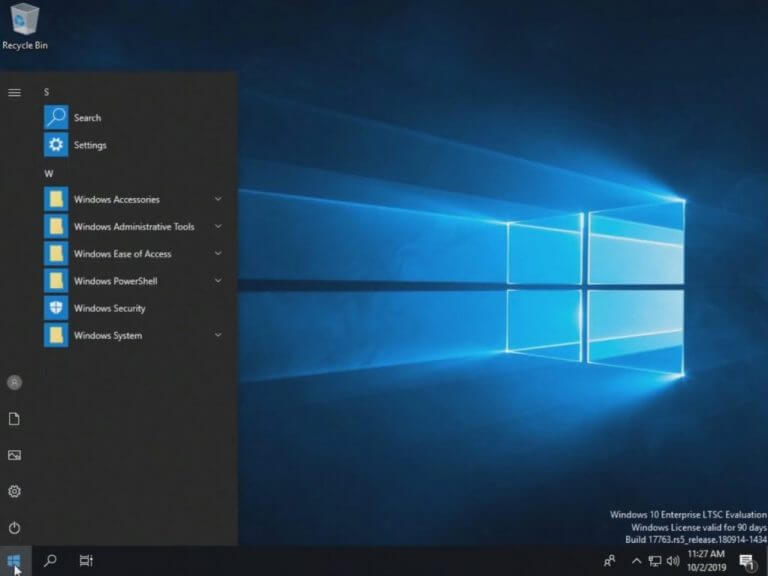 The number of standard Windows consumer features you have or don't have depends on the version of Windows 10 Enterprise LTSC version you install.
However, the missing Windows features will free up extra hard drive space and PC system resources to help your PC run even more efficiently.
If you do decide you want to throw caution to the wind and install this version of Windows anyways, remember that once you install LTSC, you cannot upgrade to a non-LTSC version.
How to install Windows 10 Enterprise LTSC
If you want to try Windows 10 Enterprise LTSC for yourself, you'll need to install a Windows 10 ISO file.
Here's what to do:
1. Go to the Microsoft Evaluation Center.
2. Click the 64-bit or 32-bit LTSC version you want to install to start the ISO file download.
3. Once the download is finished, you will need to create a Windows 10 bootable USB drive to install the LTSC ISO on your PC.

Once the 90-day evaluation expires, you will need to reinstall another operating system. At that point, you can either reinstall Windows 10 or 11 or wait out the 90-day evaluation period. After two weeks, your PC will no longer boot into the Windows operating system and you will need to do a clean install of Windows 10.
Make a fully informed choice about LTSC
Before you get too excited, it's important to point out the downsides to installing this version of Windows on your daily PC. If you have a Windows 11 Pro product key already, congratulations, you can upgrade to Windows 10 Enterprise LTSC. If you have Windows Home, you'll need to upgrade to a Pro license first, before you can upgrade to Windows 10 LTSC.
Microsoft provides a solid explanation of what Windows 10 Enterprise LTSC is and when it should be used and offers some key disadvantages of LTSC:
1. Windows 10 Enterprise LTSC carries a separate, more expensive license fee than the regular Service Channel. Windows 10 Enterprise is a volume license client and is only available for organizations that have an existing Microsoft Enterprise Agreement (organizations of 500 or more users or devices).
LTSC is not available as an individual license and must be purchased for a minimum of 5 or more devices. There's a really helpful video from 2019 about Windows 10 Enterprise LTSC that estimates the cost of an LTSC license to be approximately $350 (USD) in 2019.
The best price I could find was about $420 (USD) for a Windows 10 Enterprise license.
2. LTSC does not keep pace with the releases of new hardware, feature, or security enhancements. LTSC may not support new peripherals either because the driver support models do not change past the LTSC release you deploy. For example, Microsoft's Office 365 ProPlus is not supported on LTSC.
3. Your favorite applications and Xbox Games may not work or may not support LTSC versions of Windows, so your favorite apps and Xbox games and functionality might not work correctly, if at all. The Windows 10 Enterprise LTSC N version doesn't include the gaming and media-related features of the more consumer-friendly Windows 10 on the Service Channel.
Conclusion
Some have found success with installing Windows 10 LTSC.  Chris Titus Tech has a helpful video detailing Microsoft's stringent licensing requirements and offers detailed advice on installing Windows 10 Enterprise LTSC 2019 on your PC.
If you are still interested in installing this version of Windows on your system, Microsoft has extensive documentation on Windows 10 Enterprise LTSC available.
Are you on Windows 11? You can download Windows 11 Enterprise LTSC via the 64-bit ISO file. Once the ISO file is downloaded, you can create a Windows 11 bootable USB drive to install on your PC.
But, if you can't get the required Microsoft licenses to run LTSC, you will face the same dilemma. At the end of the 90-day evaluation period, your PC will no longer boot, you won't be able to continue using LTSC, and you'll have to purchase a new license key to reinstall Windows 10.
If you have any questions or comments about Windows 10 LTSC, let us know in the comments or reach out to me on Twitter!