Microsoft Search is a business-oriented intelligent search solution from Redmond's leading software provider, which allows companies and organizations to search for business documents, people, conversations, tasks, and files from a single search box. While it uses the same artificial intelligence technology that powers the Bing search engine, it differs significantly with its enterprise focus and enhanced capabilities.
Perhaps the easiest way to access Microsoft Search from within your organization is through Bing, as it will give you both business-related info as well as general search results. This creates a central hub for users to access a variety of information, both related to their business as well as that from outside. These queries not only come from Bing, but from everywhere in Microsoft 365, including Teams, OneDrive, and Outlook according to the company's blog post.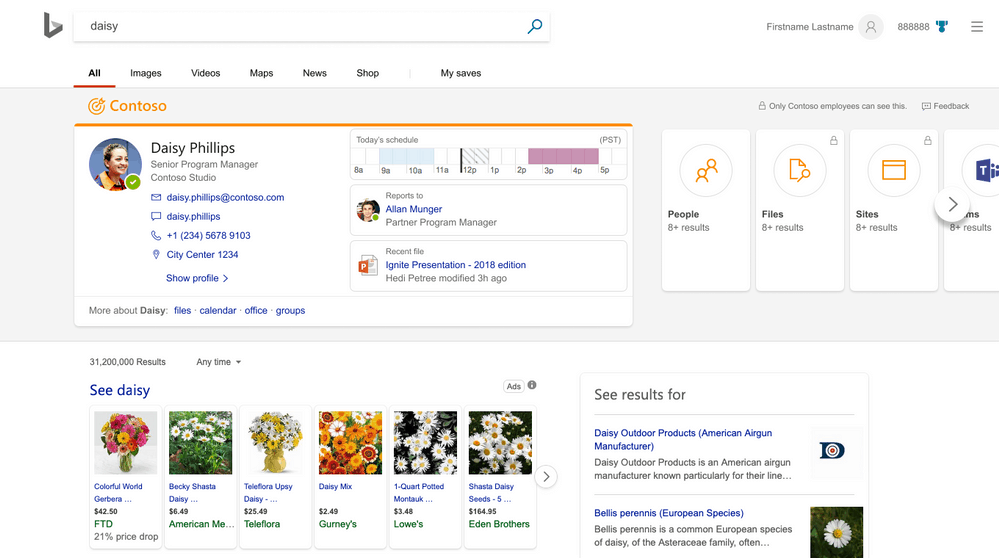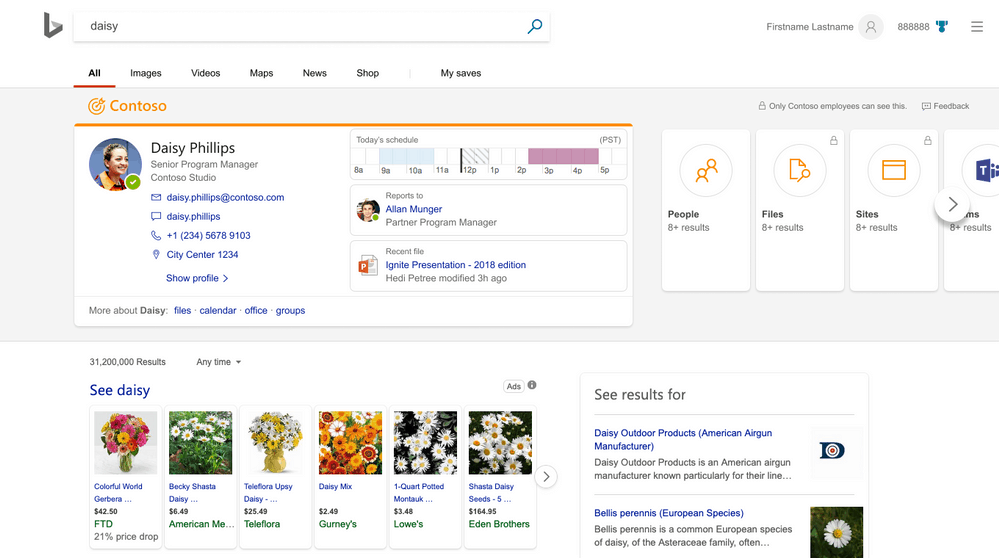 Microsoft Search can also be accessed from the Office portal or from its new progressive web app. Users can use it to quickly search for their business apps, files, contacts, sites from Sharepoint, and list items. Microsoft applies AI to the service to provide its users will relevant suggestions based on the work they are performing though intent-based commands or for performing common tasks to enhance work efficiency.
Businesses that use SharePoint can also benefit from being able to quickly keep up with the news and latest announcements, and search through sites without keeping bookmarks. Microsoft highlights its "zero intent queries" as a significant feature, which brings up relevant information and suggested documents without having to type a word. The search bar can also provide results from people within the organization, previews from more than 270 file types, as well as site previews.
Microsoft is also working to integrate its Search solution straight into Windows 10, as well, which will expand the search to apps, device files, and settings straight from the search bar in the taskbar. These personalized results provide users with relevant information and files both locally as well as from Office 365, including smart results such as for the people that are contacted most frequently.
Microsoft is continuing to provide enhancements and bringing additional capabilities to Search, with new features being added every month. If you're interested in integrating it into your business, you can find out more on its website.