Microsoft Teams is a great way to communicate with people at work. Recently, Teams has added a number of great functionalities, including the ability to respond to specific messages starting next month.
When using Teams on Windows 10, you may assume that your files are automatically synced up wherever you have Microsoft Teams installed. The fact is, you need to complete one extra step to make sure your files are synced on Microsoft Teams on all of your devices. When it comes to having files at the ready using Teams, you have to make sure that you have your files backed up using OneDrive. Here's what you need to do.
First, make sure that you have OneDrive installed on all the devices you want to sync. If you have a free Microsoft account or a Microsoft 365 account, you will already have access to OneDrive. OneDrive is a SharePoint site and Microsoft Teams stores all of your files in dedicated SharePoint sites.
In order to sync your files in Microsoft Teams, here's what you need to do:
1. Go to the Files tab and select Sync.


2. From here, a OneDrive dialog box will pop up as Teams connects to OneDrive to sync your files. If you have already set up OneDrive, you don't have to do anything. If not, you will need to set up your OneDrive account.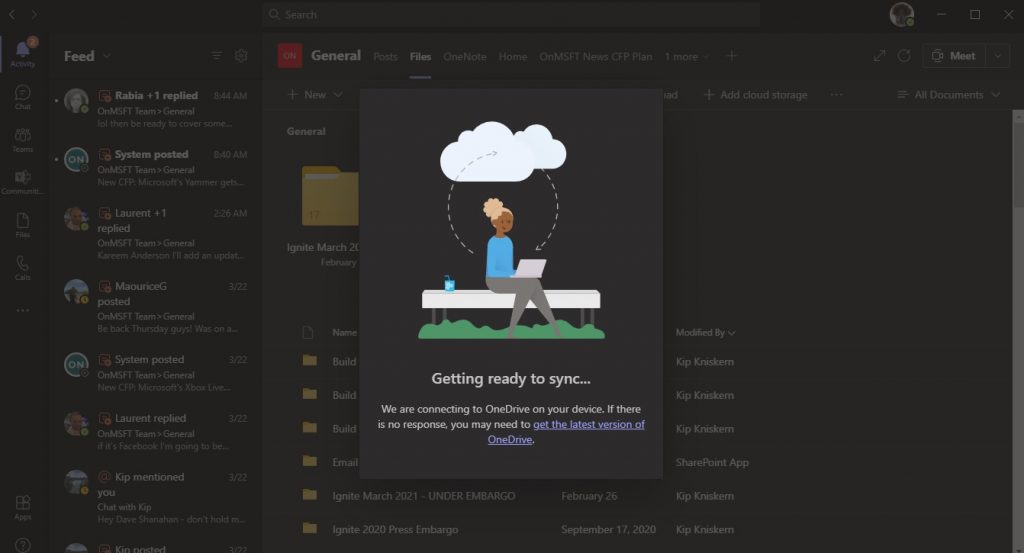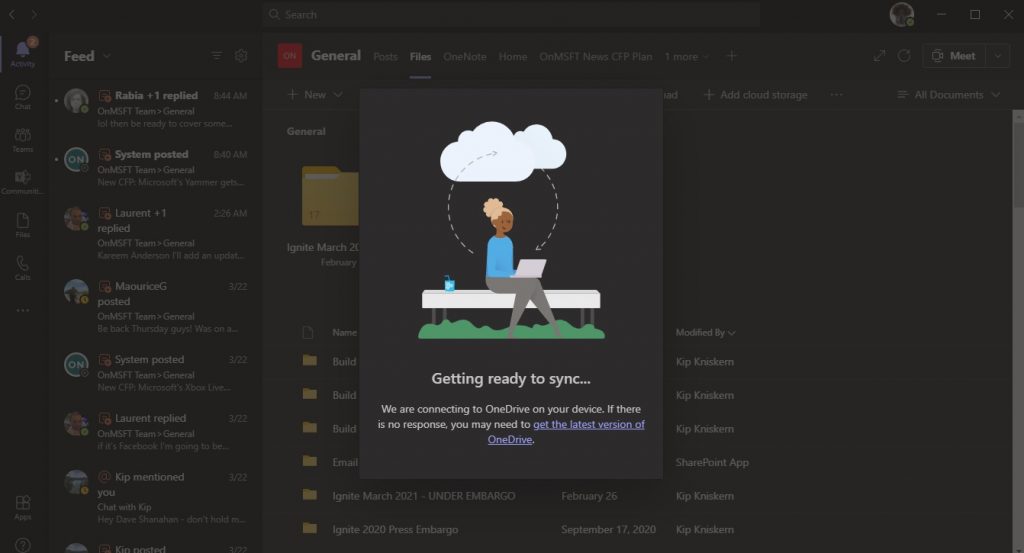 3. If your OneDrive is not set up, you will be prompted to set it up. Again, you can use your Microsoft 365 account or your own personal Microsoft account to backup the Teams files.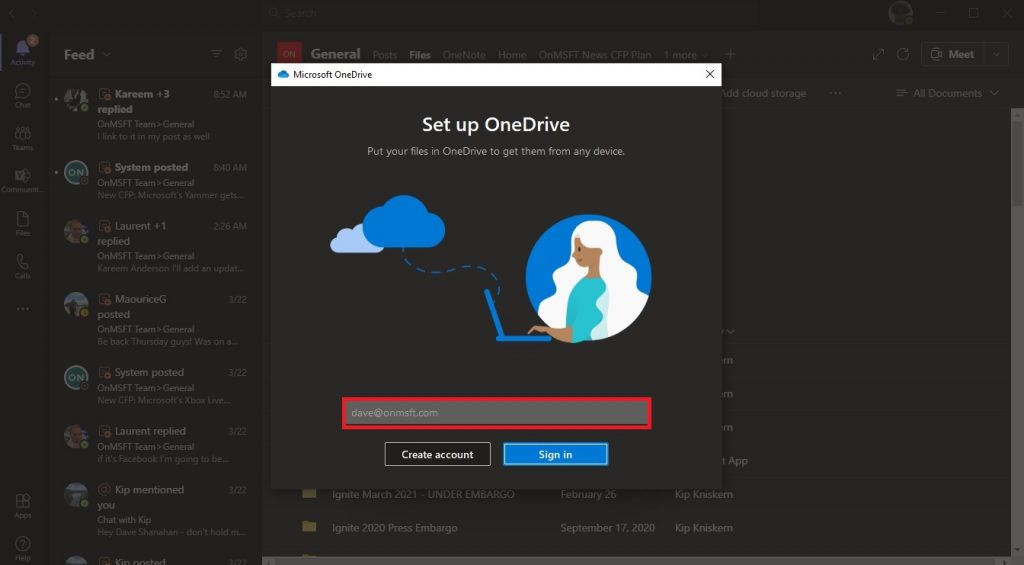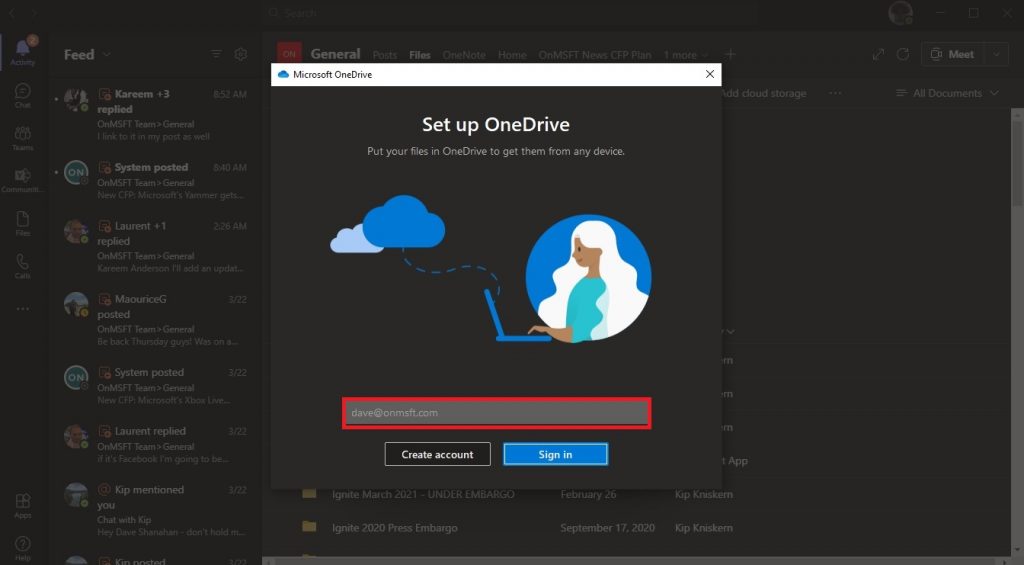 Please note that if you set up two-factor authentication on your Microsoft 365 account or your organization did, you will need to approve the sign-in using either the Microsoft Authenticator app or a SMS text code.
4. Once you enter your Microsoft 365 or Microsoft account username and password, your OneDrive account folder will be automatically be set up. By default, your OneDrive folder name will be the following:
Users\[username]\[organization name]\[Team – Channel]
If you want to change the folder location, pick Change Location and choose a different folder location.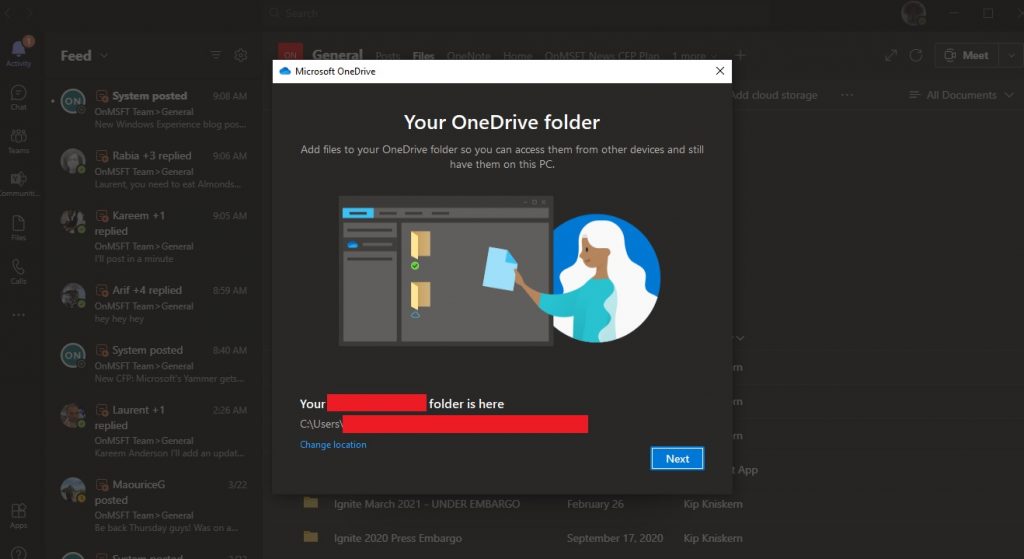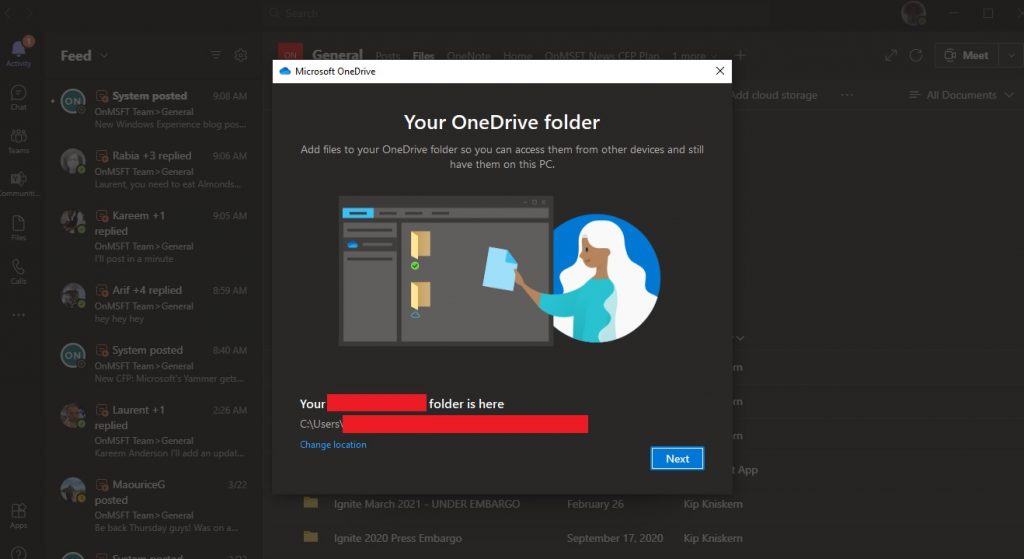 5. Once your account is set up, OneDrive will explain the basics of OneDrive to you and you will have the option of having OneDrive sent to your mobile device now or later and you will be all set. Pick Open my OneDrive folder and your OneDrive folder will open on your device.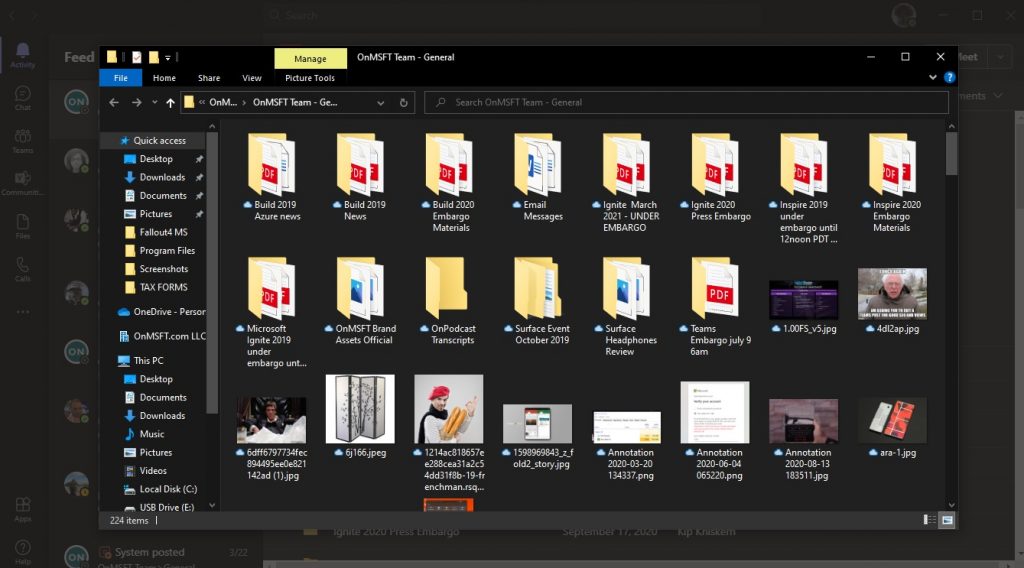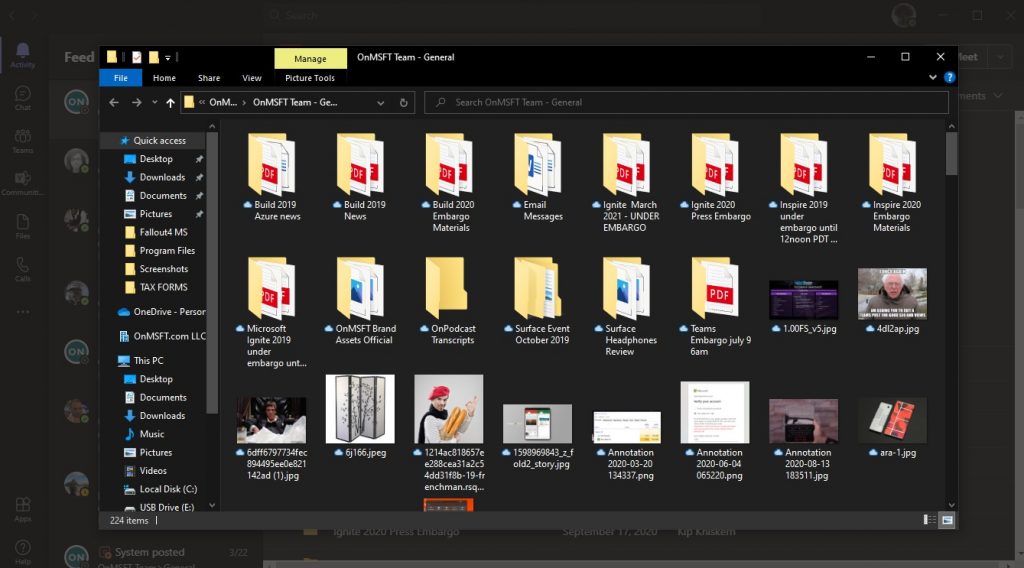 Now, any changes you make on your device to any files in the Microsoft Teams folder will be automatically synced back to the files in Teams. Additionally, anyone in your Teams channel that makes changes to the files will also be synced to your device.
Whenever you are working offline, the Teams files will be synced when you get back online. Keep in mind syncing your files in Teams only works with one channel at a time, so if you want to sync files from a different Teams channel, you will have to run this process again.
It is also important to point out that if you delete any synced files from OneDrive on your device, those files will be deleted from Teams too. In case you want to avoid accidentally deleting Teams files or if you no longer need to have access to those files on your device, you need to stop syncing the OneDrive folder on your device.
All you need to do is go to OneDrive settings on your device by right-clicking the OneDrive icon in your system tray, going to Help and Settings and then Settings as shown.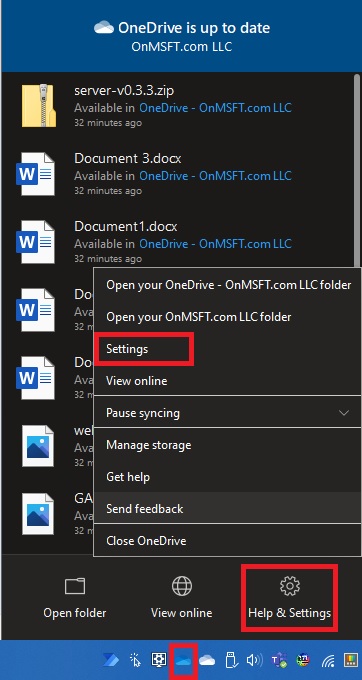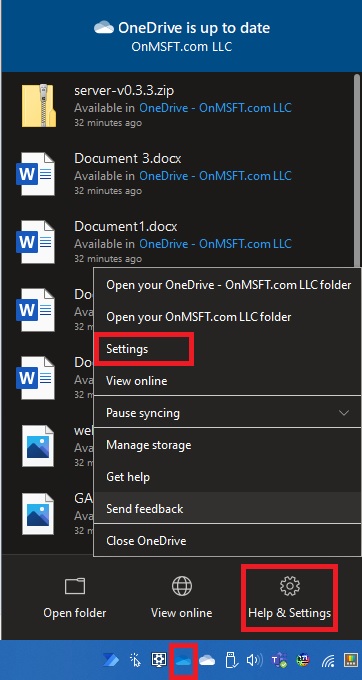 In the Account section, find the Teams channel that you are syncing and select Stop sync and select OK. A OneDrive confirmation window will pop up to confirm that you want to stop syncing the files.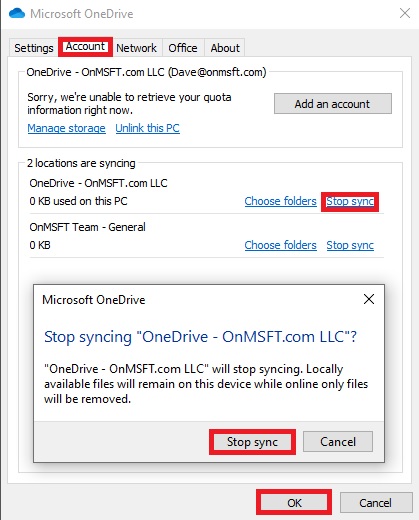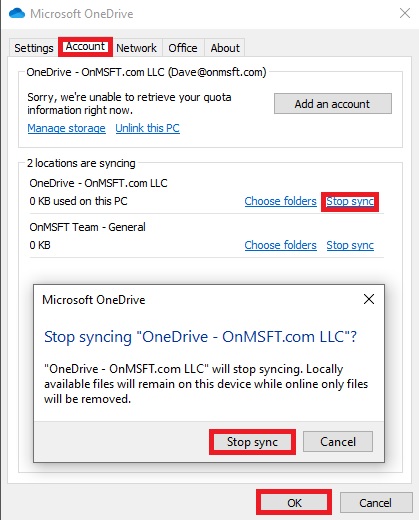 Once you are sure you want to stop syncing, select Stop sync and the files will no longer sync with the files located in Microsoft Teams. From now on, any changes you make to the files will not be reflected online in Microsoft Teams. You can now delete the folder from your device and you will not have to worry about deleting any files from Microsoft Teams.