It's no secret that the AI craze has now taken the world by storm. And with every given opportunity there's a new trend, integration, or incorporation.
Microsoft in particular has been pushing the pedal to the metal on that front with its relatively new entry, the new Bing. The company refers to it as the AI copilot for the web and has been incorporating it across its services and products to enhance efficiency while simultaneously promoting productivity.
In February, Microsoft incorporated Bing Chat into Skype alongside Edge Mobile apps as well as Bing. This new integration redefined the user's chat experience. In that, it allows users to make inquiries and generate ideas. Users can even manipulate the tool to present answers in an orientation of their choice.
More than 36 million people use Skype daily to connect through phone calls and chats across borders and around the world and the new Bing is going to enable some helpful and fun new scenarios and capabilities.
Today, we're going to focus on how to add Bing to your group chat and leverage these capabilities to enhance your chat experience. Here's what you need to do:
How to add Bing to your Skype group chat
There are still a lot of people who have signed up and joined the new Bing waitlist since it's still in preview. This is despite Microsoft confirming that it has accelerated the approval process.
Earlier this year, Bing surpassed 100 million daily active users. Microsoft has attributed part of this success to the new Bing and has indicated that it was able to hit those numbers quicker because of the millions of users that signed up to preview the new Bing.
A major concern for users who might want to leverage the tool's capabilities is its inaccessibility. However, Microsoft has provided a loophole for Skype users particularly those in group chats.
According to Microsoft, any user that's part of a Skype group chat can make use of the new Bing's capabilities even if they aren't part of its preview. However, at least one member of the group needs to have access.
This way, they can be able to look up the new Bing in their contact list and add it to the group. From this point, everyone should be able to access it. Here's what you need to do:
Head to the App Store or Google Play Store and download Skype.
Next, launch the app and sign into your Skype account or create a new one if you didn't have an existing account.
Tap on the New Chat button at the bottom and select New Group Chat.
Name the group, add everyone you'd like to participate in the group, and hit the Done button.
Then, invite the new Bing to your group chat by clicking on the Add people button and select Bing.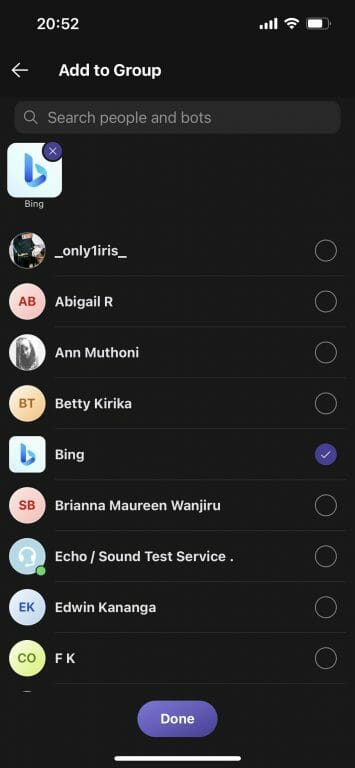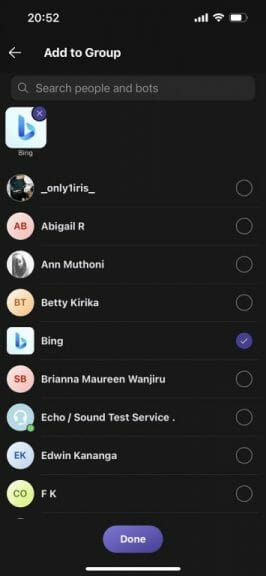 From this point, you can interact and leverage the new Bing capabilities by simply typing @Bing followed by a query. For instance, we're planning a group trip with my friend Edward to Malindi, Kenya, and have no clue how to go about it.
Here are some important notes and tips highlighting how the new Bing helped us map out this trip.
Hotel choices and preferences
We wanted a hotel close to the beach to cut down on the transportation cost to and from the beach. At the same time, we also didn't want to spend an arm and a leg while in Malindi.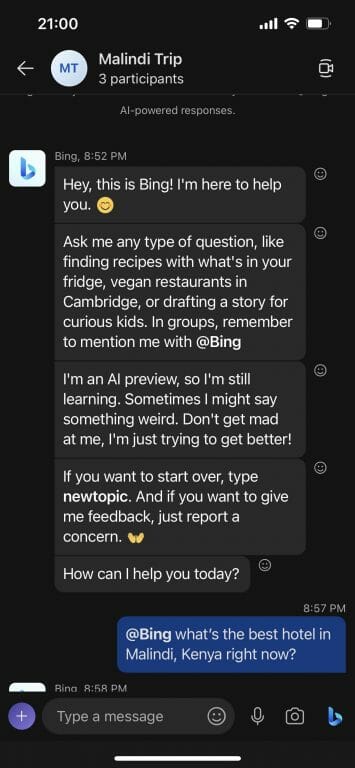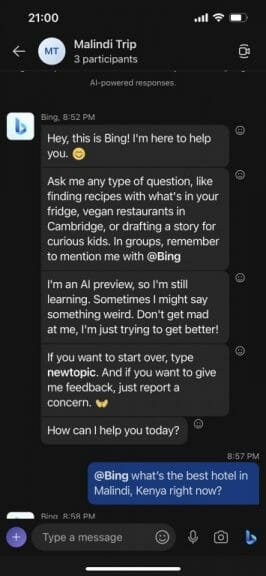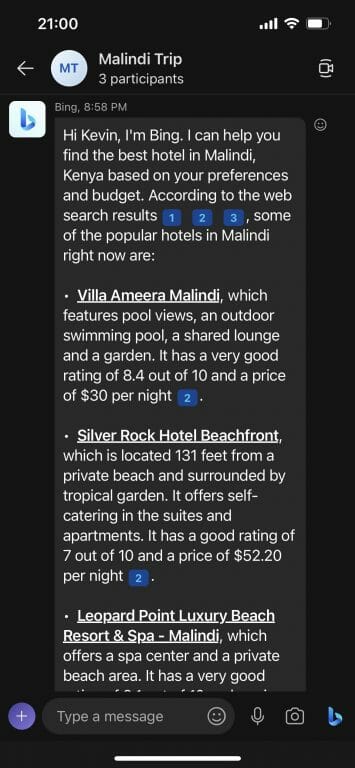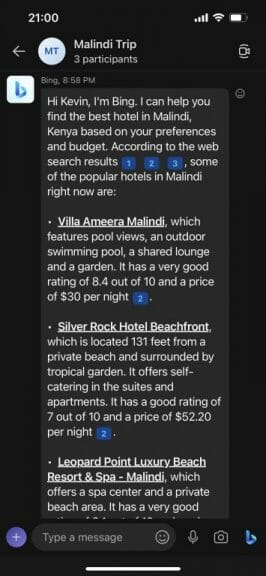 With the help of the new Bing in our group chat, we were able to get a comprehensive list of hotels that we liked and further narrowed down the list based on the hotels' proximity to the beach and cost per night.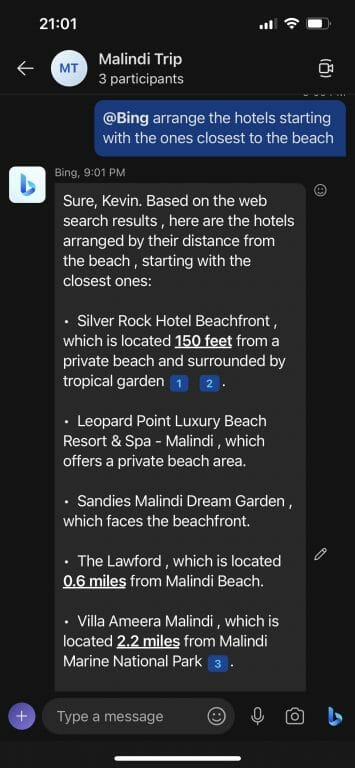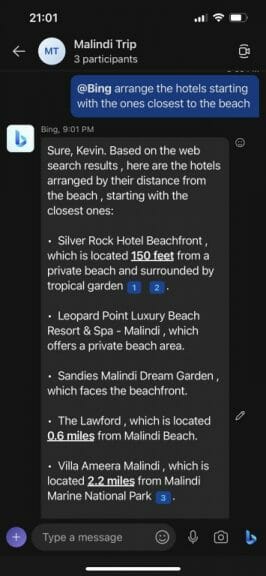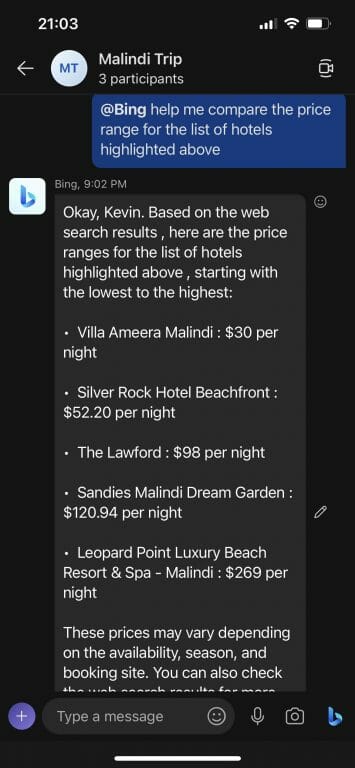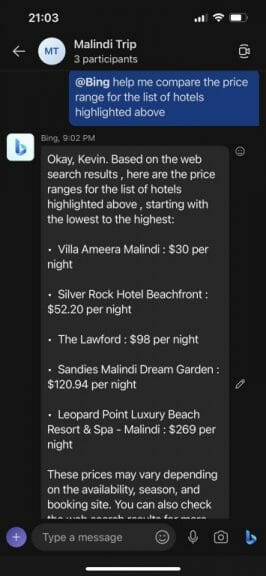 Since this was my first time traveling to this place, other than having knowledge that there were many sandy beaches in the area, I had no idea what other activities that one could take part in. I asked Bing to plan a weekend itinerary for us.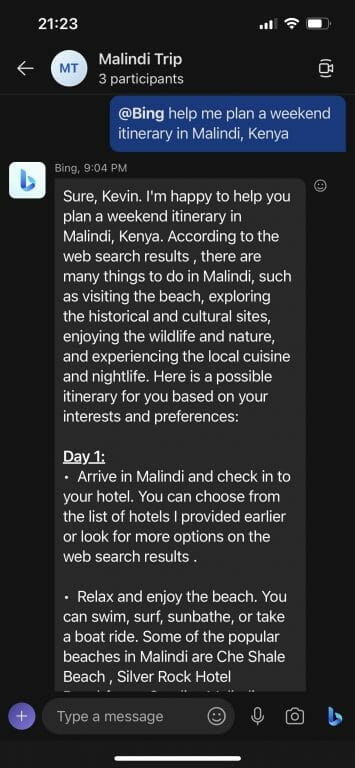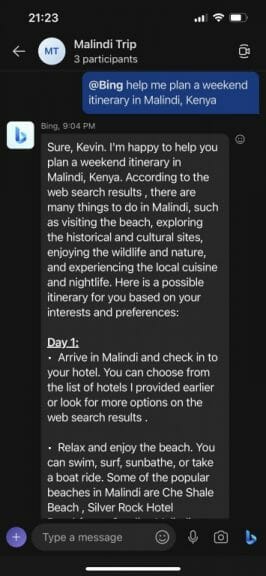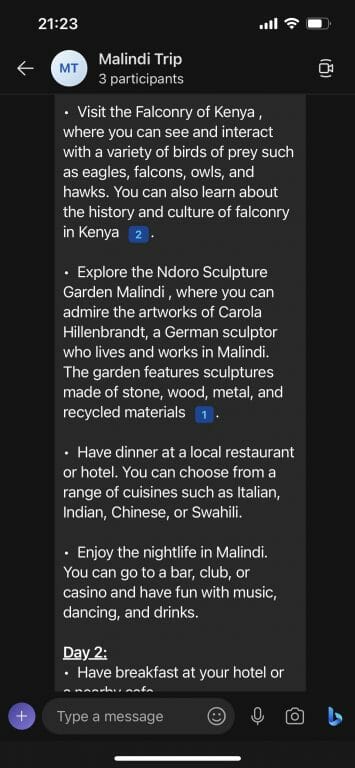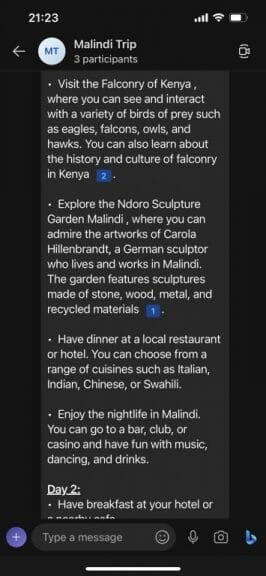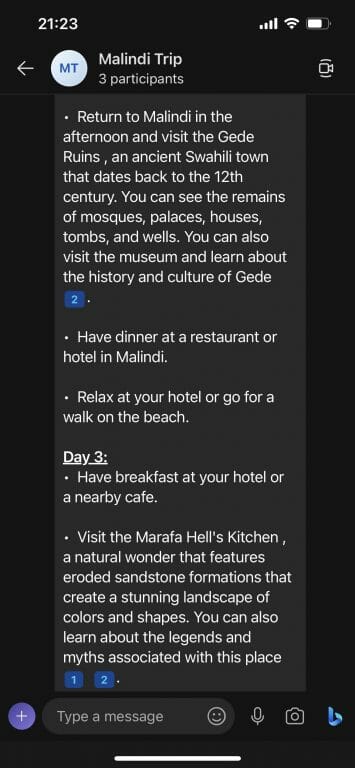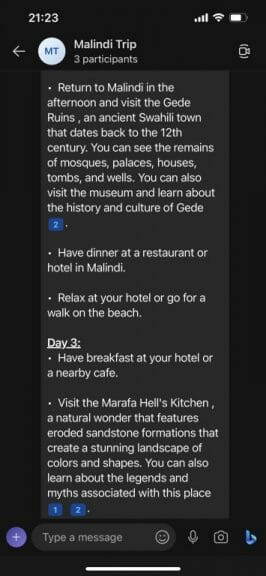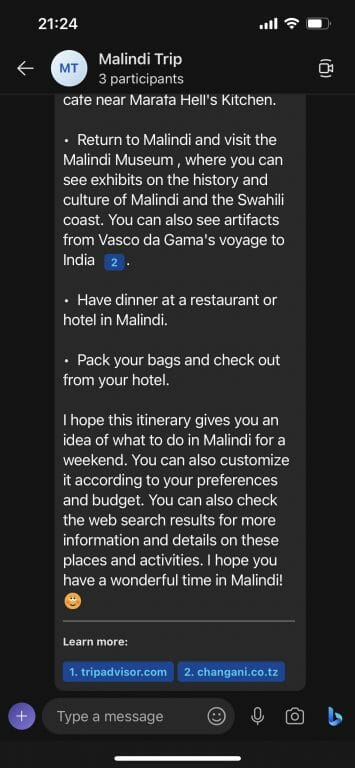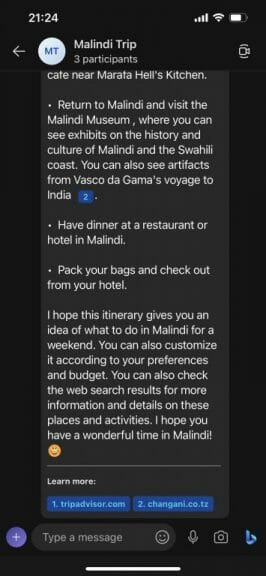 Bonus point
Queries are editable – You don't need to ask Bing a question all over again in case you made a spelling mistake etc. You can just click on the message and tap on the Edit option to correct the mistake.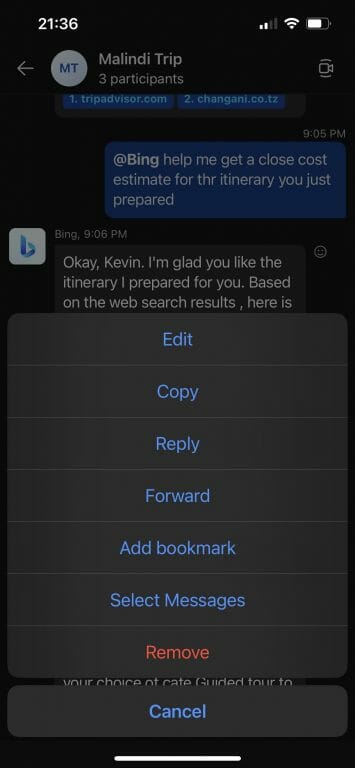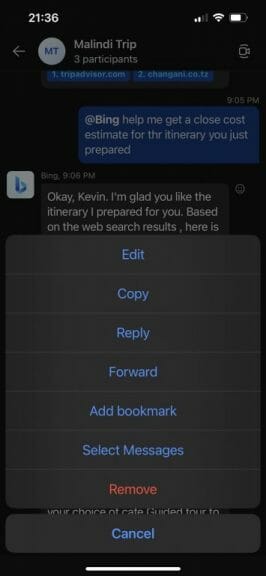 This is extremely helpful as it will help prevent the disruption and flow of the conversation while reducing clutter. This way it's easier for the user to find information easily within the thread.
Final Words
I was thoroughly impressed by how fast I was able to plan that trip. I didn't need any additional assistance from trip planners or agents which helped me meet my goal of traveling on a budget.
Moreover, it promoted inclusivity in the platform, everyone got to air out their opinions and ideas and through Bing, it was easy to blend the ideas and find a common ground.
I found the feature extremely helpful as I could refer back to the notes from the group even when in remote areas where the network was not as stable. I also liked how the responses had references linked to them.
This way it was easier for me to tell how relevant and credible the information was. Additionally, I appreciated how detailed the itinerary was and the incorporation of meals and drinks between the activities.
However, it's worth noting that you might run into some trouble if you exhaust your daily limit. At the time of writing, the limit was set at 20 turns per conversation and up to 200 turns per day.
Featured Image by Bing Image Creator