When Microsoft first revealed the Surface Earbuds in October 2019, I was a bit skeptical. After all, there were tons of alternatives from Apple, Samsung, and Sony. But, deep inside, I had hope. Microsoft was taking a different route with Surface Earbuds.
Instead of copying and pasting Apple's Airpods, Microsoft came up with a unique design for its wireless earbuds and added some unique integrations with Microsoft 365, too. Now finally available (and priced cheaper at $200) I am glad I held off and waited for Surface Earbuds. In my brief day with the buds, they seem to have everything I longed for. Here are my quick impressions as to why.
Attention to detail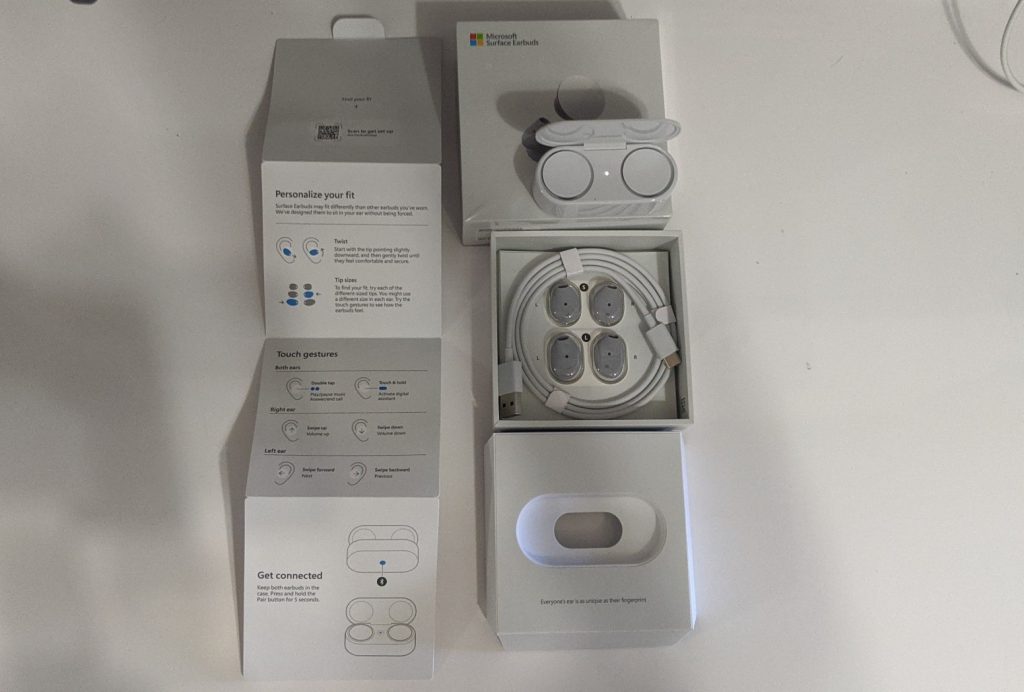 The minute I unboxed my Surface Earbuds, I was excited. Microsoft paid a lot of attention to detail with the packaging. Everything is bundled together in the box in a careful and thoughtful way. It's something I normally won't mention this at all in a quick impressions review, but I think deserves a section just for the way things are bundled in the box.
Lifting the lid of the Surface Earbuds reveals the Surface Earbuds charging case wrapped in plastic and a message in the tray that reads, "everyone's ear is as unique as their fingerprint." I found that cute, as I remember that Microsoft mentioned to me at the October Surface event that the Surface Earbuds can fit 95% of all human ears.
Anyway, putting that charging case to the side and lifting the housing up then reveals a leaflet that is folded in a way that will show you step-by-step quick-start directions. There's then the USB-C charging cable, and the replacement ear tips underneath, with an additional manual bundled together with legal terms. There's no charging brick, as Microsoft probably assumes you already have one with your PC or phone.
For the price that they are, the unboxing experience is quite satisfying. I've never been this happy opening up a Microsoft Product before, be it the Surface Pro X, the Surface Laptop 3, or even the Surface Go.
Charging case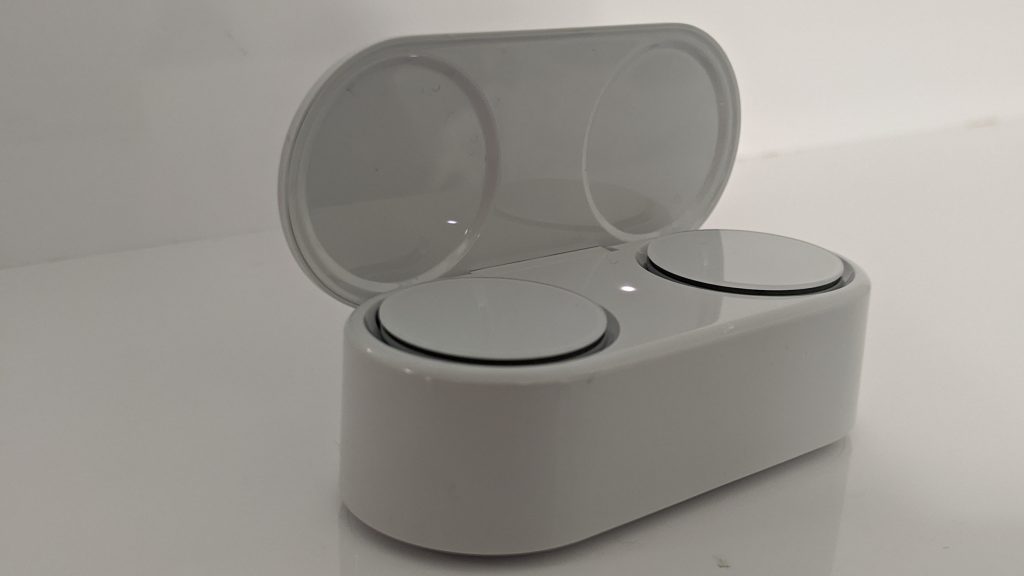 But going back to the actual product, the highlight has got to be the Surface Earbuds charging case. Unlike Google's Pixelbuds or Apple's AirPods, this charging case has a unique look. It isn't really that compact and takes on what I like to call an oval-like "traffic light" shape. There's a good reason why.
While this shape makes it larger and a bit heavier than most charging cases for wireless earbuds on the market, I think it's all about battery life. Microsoft says this case can hold up to 24 hours of battery, which is enough to charge the Surface Earbuds (that hold 8 hours of battery) three times.
That's really appreciated, as since these are intended for productivity and Office use, you don't want to be constantly attached to a charger. You can use the Surface Earbuds in confidence knowing it will always have a charge when you need it. It's something I experienced myself, as in two days of use, I haven't yet charged the case since I initially received the product.
Elsewhere, the case is thoughtfully designed. While the top lid is a bit thin, it still makes a satisfying click noise when you push it closed. The Earbuds also pull right into the case when you rest them above their enclosure, thanks to magnets, making another small satisfying clicking noise.
There's a LED light inside the case which lets you know when you're pairing, or when you need to charge the case. You also have USB-C connectivity for charging, and a pairing button on the bottom. It's a nice clean design that fits just right with the rest of the Surface lineup.
Fit, look, and feel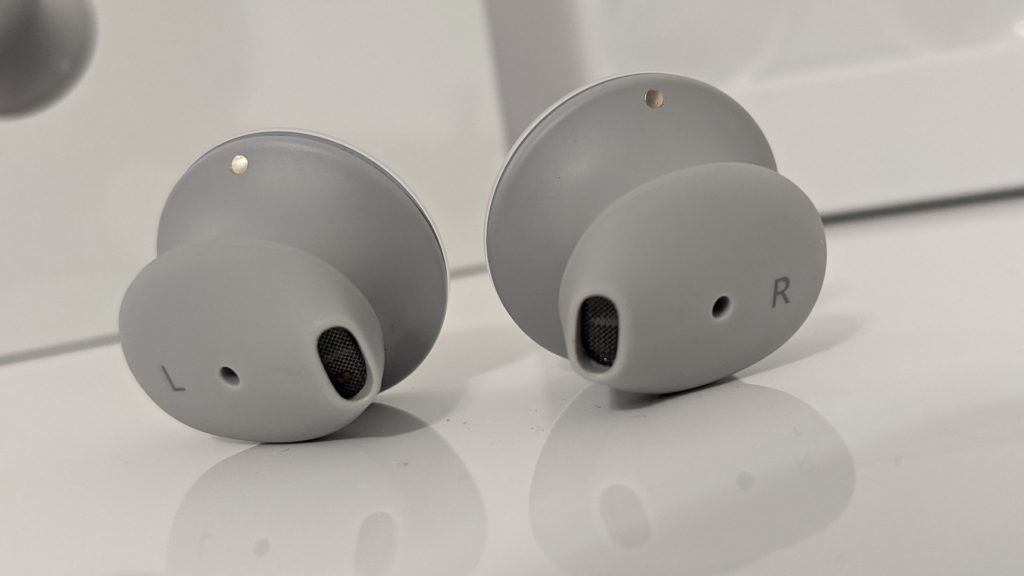 The most important thing of all, though, is how the Surface Earbuds fit, feel, and look. This has been one of the most controversial areas of the Surface Earbuds, being mocked for a "bad 90's like earrings design," but in my time so far, I do think this is where they are best.
Included in the box installed on the Earbuds are the "medium" tips, but I swapped it out for the small to create a better fit in my ear. Swapping it out is as easy as pulling the tip out, and pulling them back on top of the buds, sort of like a pair of rubber gloves. You'll know when the fit right as you'll hear a "click" noise when it snaps right.  Fitting the buds in your ears, meanwhile, is as easy as placing it in your ear canal, and then "screwing" it upwards to secure it. This makes it so that they won't fall out.
With the right silicone ear tips in place, the Surface Earbuds feel will feel really natural in the ears. I've tried Apple's Airpods before and they always create a "pain" sensation on the insides of my ear canal after an hour of use. With the Surface earbuds silicone tips, I never experienced this feeling. It slots right into my ears and just feels so natural. I've worn them for a full 5-hour writing shift without feeling any pain, and it felt like a natural part of my ears.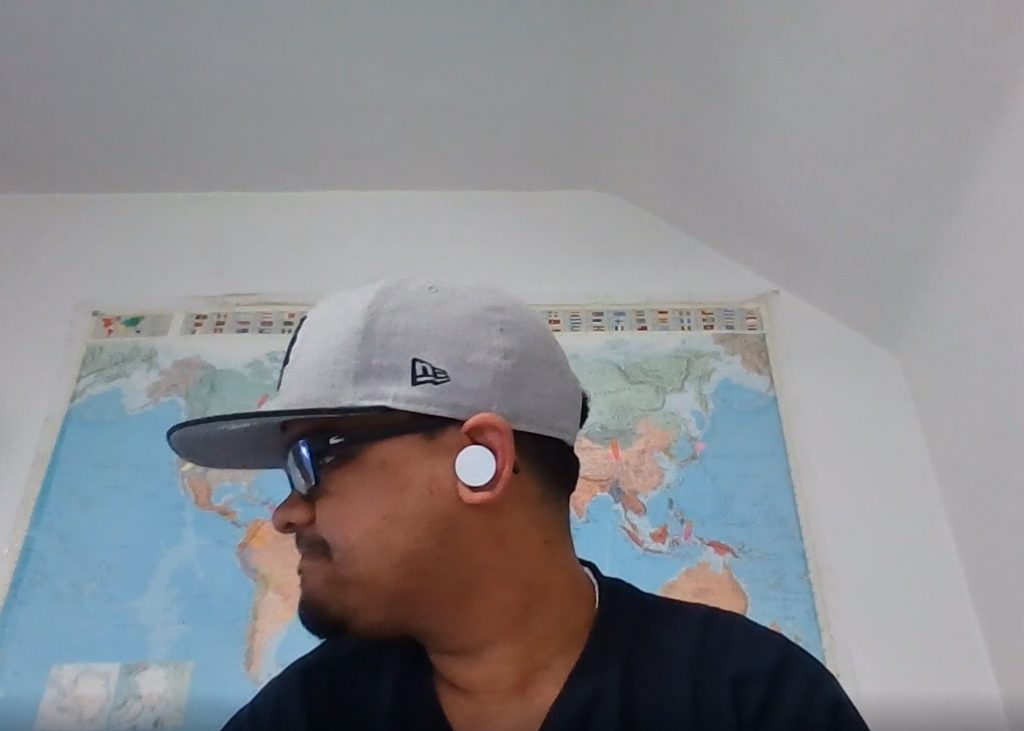 The looks, though, while being called ridiculous by some, has a good purpose. When in your ears, the large "earring" like touch surface gives you quick access to controlling music. While busy typing away on my keyboard, I was easily able to move my hands upwards to the earbuds and stop, pause, or play music. The gestures are quite intuitive, with each side of the buds having unique controls.
On Android, triple tapping even summons Spotify by default. And, long-tapping with summon your digital assistant of choice (So far in my testing, that's Cortana on Windows, Google Assitant on Android.) It's quite the experience as the Earbuds play nice with any product you own, regardless if it's from Microsoft or not.
Pairing and audio is great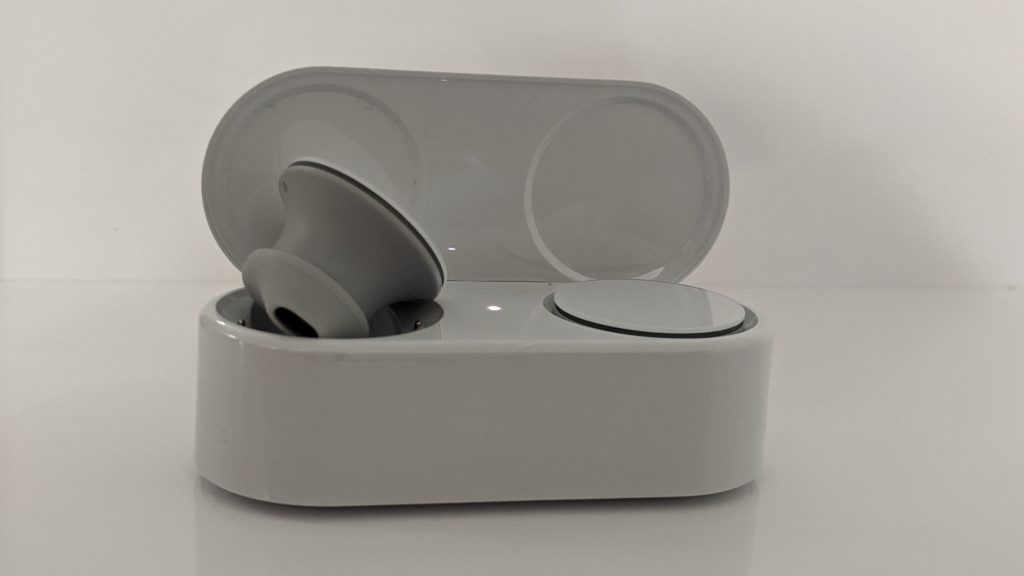 Finally, there's is the audio quality and pairing process. This is just as you expect it from a Surface product. On compatible Windows 10 PCs, pairing on Windows is seamless. Out of the box, just open the lid of the Earbuds charging case, and when Bluetooth turned on, Windows 10 will Swiftpair to it, asking you to accept and connect. You can also download the Surface Audio app, too, to update the Earbuds, and enjoy the equalizer and other settings.
Without going into too many details, I'll also say the audio quality is great. Most of my EDM, pop, and electropop music sounded great, even at low volumes. The bass isn't as strong as I had hoped, but the Earbuds do have good quality when it comes to songs with lyrics.
Just keep in mind, the Surface Earbuds is NOT noise canceling like Apple's Airpods Pro, and there's a reason why. As I've said before, these are not meant to be noise canceling. They just rest in your ears and don't go directly into your ear canals to cancel out sounds around you. If you want that experience, you should buy the Surface Headphones 2.  Essentially, Microsoft envisions you wearing the Surface Earbuds all day, out and about in the office or at home so you can still hear the world around you.
But, I did find that some of the ear tips do create somewhat of a "tight" seal around your ears to lock out just a tiny bit of the sounds around you. Overall, though, when wearing the Earbuds, you'll still hear some of the outside world. Be it your own voice when talking on a call, or the chatter in the room you're in, and even typing on your keyboard.
Full review soon
I've only spent two days with Surface Earbuds so far, so there's a lot that I did not get to play with yet. I'll be looking into the Microsoft 365 integrations, listening to more music, and testing the Earbuds out on Skype and Teams calls later this week, so be sure to keep tuned to OnMSFT for an in-depth review soon!