For those of you who stuck around to appreciate the hard work the Windows team has done in stabilizing and refining the Windows 10 experience on mobile, or for those who are new to the platform, here is a list of what we believe to be the top 10 Microsoft apps for your Windows 10 Mobile device.
While many may jump straight to Microsoft's bread and butter suite of productivity apps, let's be honest, how often are you knocking out PowerPoint presentations on a sub six-inch device? Instead, let's first explore the apps that make a mobile experience worth having.
OneDrive
Picture the OneDrive app as the heart of your OS. OneDrive in Windows 10 Mobile represents the centralized hub for collecting, storing and organizing any and everything that funnels through your mobile device. Need to share a photo from a night out with the group or pull up a quick animated movie to entertain the kid with, OneNote acts as the digital storage unit that can bring your phone to life.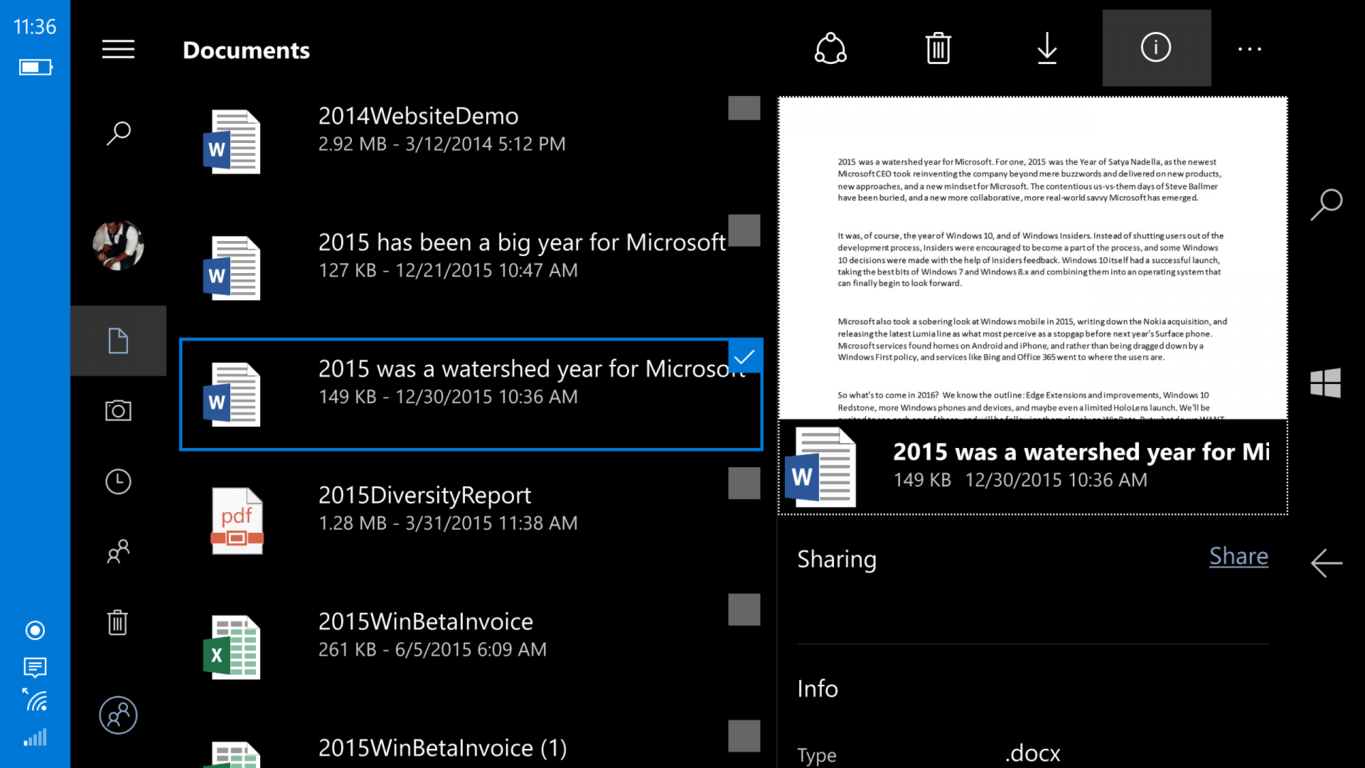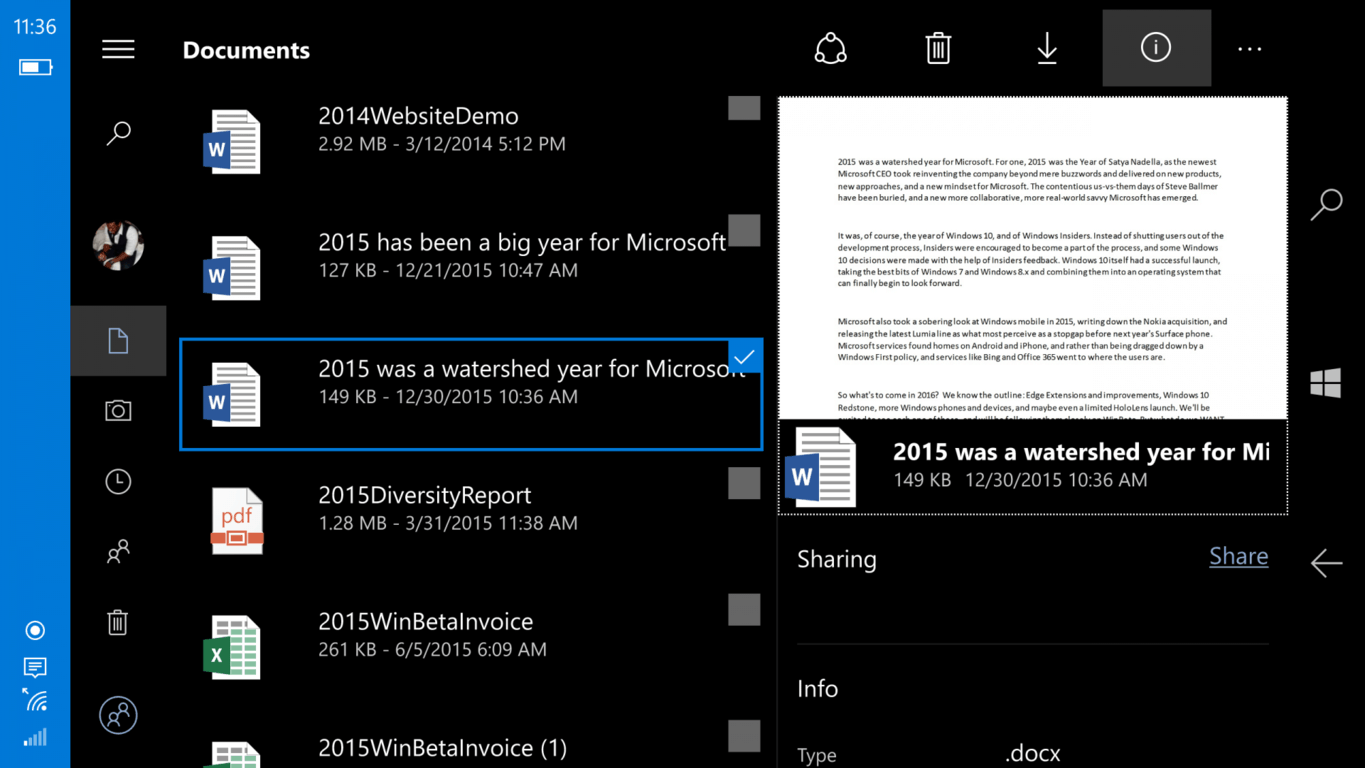 In Windows 10 Mobile, the OneDrive app has seen some much-needed refinement from its Windows Phone 7 and 8 days. While still very Spartan-like in its appearance, the app is speedy and straightforward while enabling the user to craft cross-platform editing and sorting options on the fly.
Aside from the new visual layout tweaks and the addition of arguably dreaded hamburger menu, users can not search and sort through their files with universal search menu, sorting options that include largest or Name (descending), as well as creating folders to organize new items.
Depending on bandwidth, the OneDrive also enables users to watch videos within its own video player equipped with a details page made up of tons of metadata.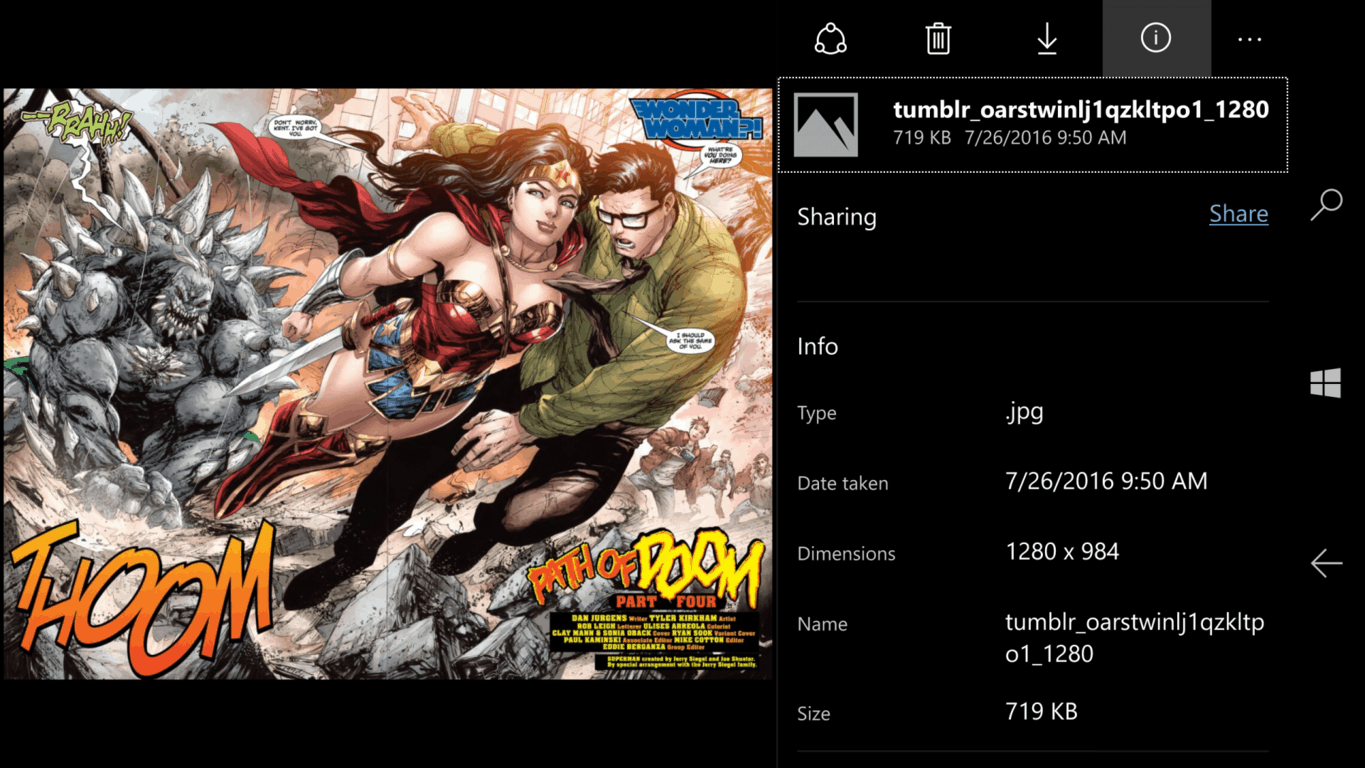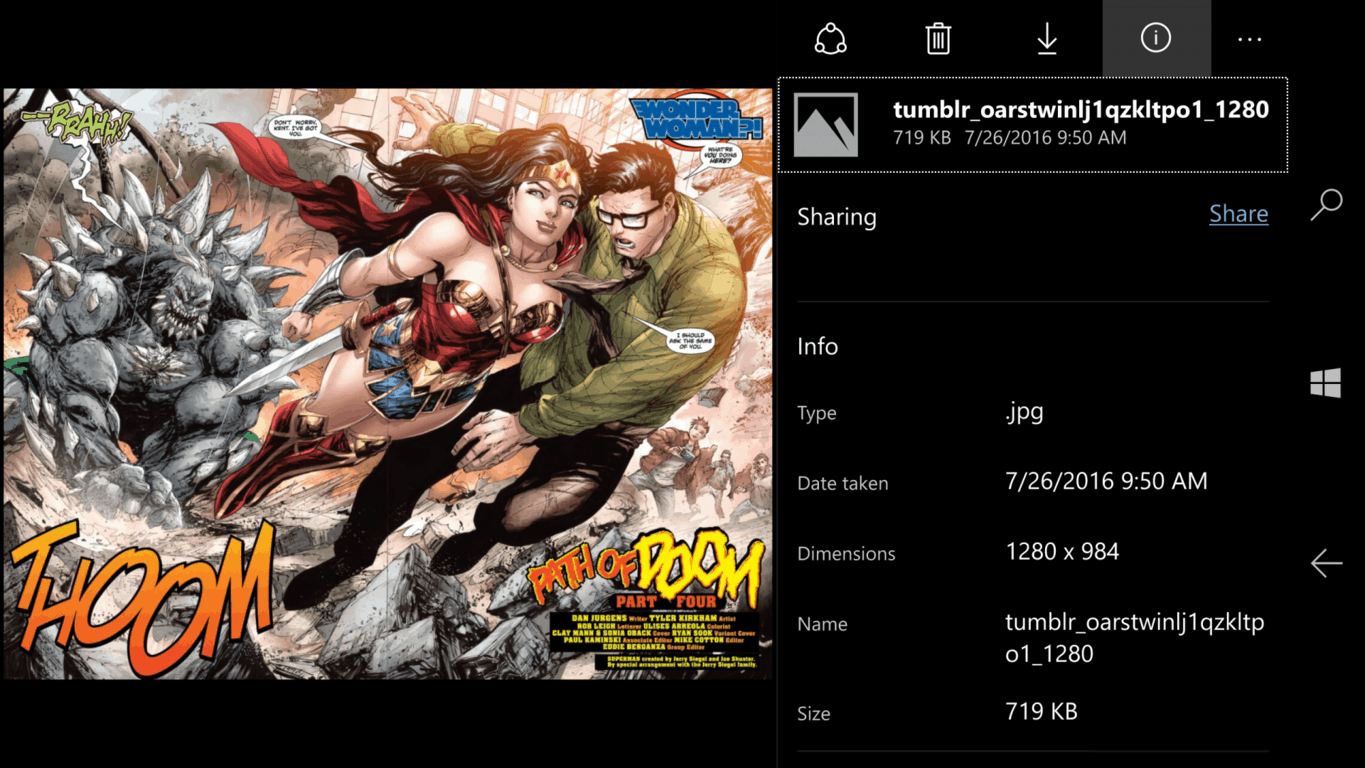 Perhaps, what makes OneDrive so useful to someone donning a Windows 10 Mobile device are the automatic settings that tie into the app. For those who want more granular controls over content uploaded into OneDrive, it's as easy as opening the app or using the Windows 10 Mobile settings prompts when they appear. For more casual mobile users, turning on automatic uploads and backups to OneDrive ensure that all photos are captured, saved and viewable from anywhere that has an internet connection. OneDrive is available on Ios, MacOS, Android, the web, and Windows 10, so photos, videos or documents saved on your Windows 10 Mobile device can be retrieved from almost anywhere.
OneNote
For most people, a smartphone becomes a black box of notes, calendar appointments, to-do lists, reminders, and ideas. Using OneNote on Windows 10 Mobile can help capture and organize all the little intricacies of everyday life into one convenient app. Identical to the OneDrive app, OneNote is available on iOS, MacOS, Windows 10, Android and the web, so notes captured on the device live on in the cloud and can be referenced anytime from anywhere.
In Windows 10 Mobile, the Windows team also beefed up the apps integration with the OS by adding a Note Action Center toggle. Now users can fire up OneNote by just swiping down the Action Center, rather than searching the Start Screen for the icon. OneNote has also been receiving regular updates over the past year that have made it Swiss-army knife of utility. Users can now take advantage of built-in audio recording and playback, integrated image capture, page section copy/paste, direct email saves and ClassNotebook integration among a litany of other note taking features.
Search options in the OneNote app also make it a breeze when searching for much 00older or seemingly obscure notes. Perhaps, the only remaining additions to the app user may be clamoring for a tag to label each note with or AI recognition, making search even that much easier.
Outlook Mail
For those who have been stuck on the poor experience of Windows 8 or Windows Phone 8 mail client, the Outlook Mail, the mobile client feels like a godsend. For users who have been using Windows 10 for some time, the new mail client may only seem like an evolution, but either way, using the mail client on Mobile is a delight in comparison.
Outlook Mail on mobile has been updated for landscape use that includes a dual-pane view enabling users to skim email subjects and headings without actually having to deep-dive into every email in a single page view. Another addition users may enjoy the Outlook Mail app is the refined HTML experience. Back when Outlook Mail first hit handsets, it suffered a seemingly inexplicable issue with HTML rendering, forcing the user to pinch and zoom their email content into the right size before correctly viewing it. After several updates and bug fixes, email should render in the appropriate view right off the bat.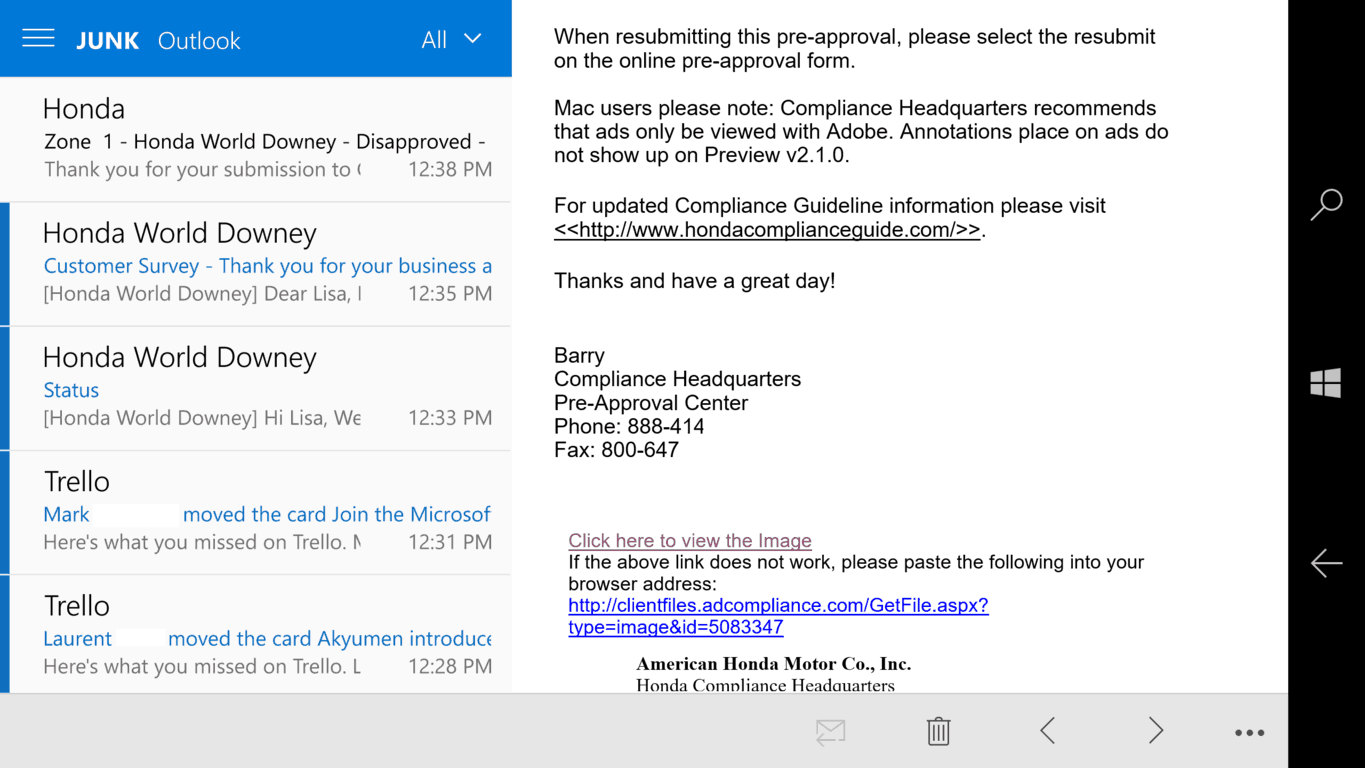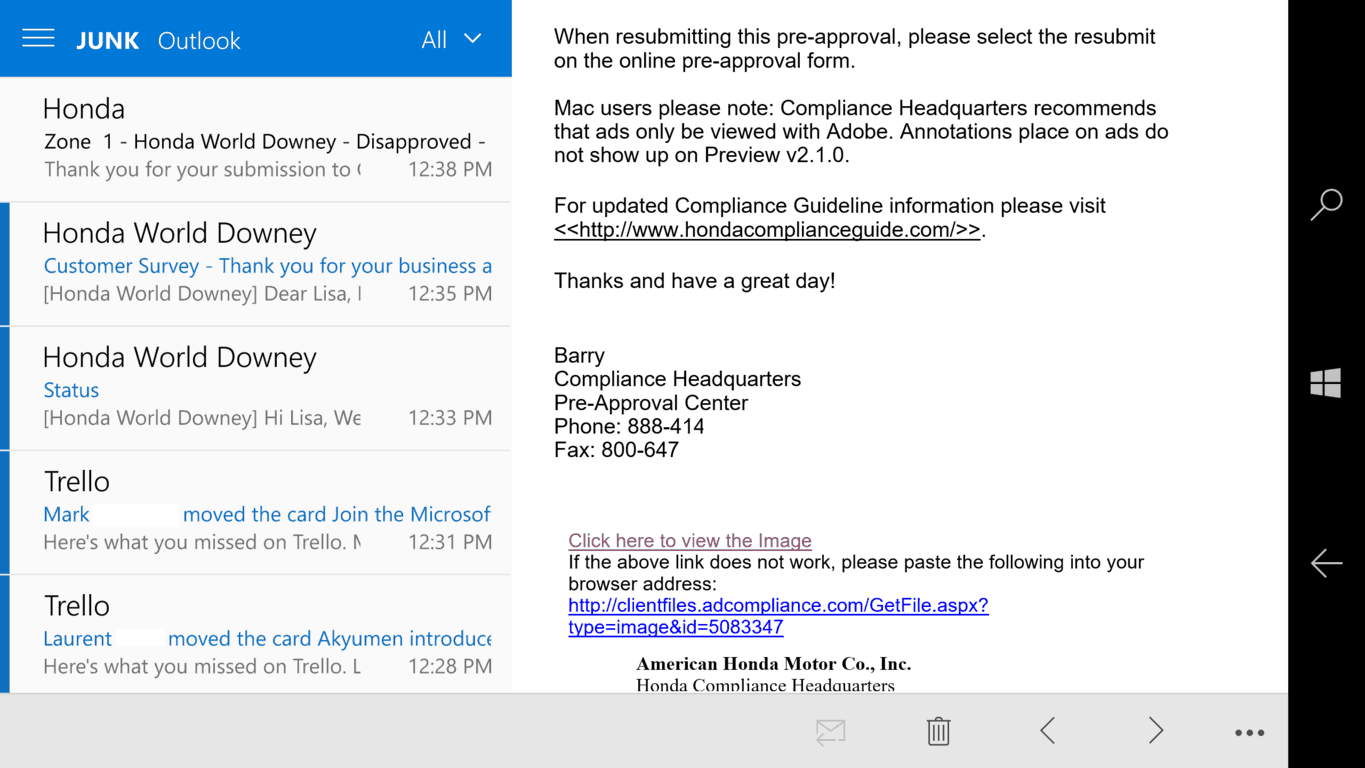 Other new additions to Outlook Mail include combined inboxes, account extensive settings options, dark theme, select all sorting and email security settings for Exchange users. The last few improvements come by way of the settings menu, where users can adjust signature, notification, reading views, automatic replies, quick actions, color choices, and account management.
While the Windows 10 Mobile version of the Microsoft Mobile Outlook experience arguably lacks in comparison to its Android and iOS counterparts (at least as of writing this), it's miles ahead of what was offered on Windows Phone 8 or 8.1. For those who still primarily communicate through email on their smartphones, the Outlook Mail app is a necessity and works very well with its web and desktop counterparts. Outlook Mail echoes the singular mantra of Microsoft everywhere that accompany most apps on this list. Actions taken in the Outlook Mail app on Windows 10 Mobile carry over to experiences on the Mac, iOS, Android, the Web and Windows 10, thus enabling email organization to be swift and mobile-convenient.
Groove Music
The first few apps on this list are selected to help users get things done, which is also in line with Microsoft's revitalized concept of enabling users to "do more," but not everything on a smartphone is designed to be productive, at least not initially. While Microsoft's streaming music service, may, in fact, help users get things done as enabling white noise or memory associated motivation or inspiration, Groove is just at its core, just a nice musical experience.
On mobile, notably Windows 10 Mobile, the Groove experience is a great one. Some Spotify, Apple Music or Play Music subscribers may argue the merits of Groove's competing features list, but the overall experience has grown and seen refinement from Windows Phone 7, 8 and its early days on Windows 10 Mobile.
Users will now be greeted with recently added Your Groove playlist curation tool that takes the place of the Recently Played section of Groove and turns it into a more Spotify-like playlist section. With the Your Groove section, users now get access to Microsoft's curation algorithm that places songs that have been listened to pairings in a specialized playlist with themed listening experiences that can include such titles as Bitter Adult Alternative, Heavy rotation, R&B from Georgia, written by Curtis Mayfield, etc.
Groove listeners also have access to the OneDrive music locker which can take music libraries saved in the cloud and integrate them into the on-device listening experiences. Another benefit of Groove's Windows 10 integration is its deep linking to Cortana and the Shazam-like music searching feature. Similar to Windows Phone's integrated system-wide search feature, users who tap Cortana to find the name of a song or artist on the fly, can now continue that experience into saving it to their Groove collection or downloading to their device for offline listening.
The UI and UX elements of Groove have also been updated to make navigation easier and more straightforward for users. While the hamburger menu remains an unsightly app design concession for some, Microsoft has also flirted with using pivot controls to interact with the side menus in Groove. Instead potentially hyperextending a thumb reaching for the hamburger menu, users can just swipe from the screen to reveal the remaining menu options.
Once again, Microsoft has crafted a multi-platform experience for its Groove app that enables listeners on iPhones, iPads, Mac's, Android, Chromebooks, Xbox One, and Windows to have synced experience. Actions taken on the Windows 10 Mobile Groove app carry across all platforms, although, the Windows 10 Mobile experience is arguably the best one to have.
Windows 10 Camera
Listing the Camera app as a useful Microsoft developed Windows 10 Mobile app may seem like a bit of a no-brainer, but the operating system does allow for switching default camera apps (well at least in theory). With that being said, the Windows 10 Camera is perhaps the best camera experience on Windows 10 Mobile and produces arguably the best photo quality of any camera app on any platform. For those of you who may have noticed the careful wording above, I mentioned best camera 'experience' on Windows 10 Mobile and not elsewhere as camera navigation seems mainly a subjective undertaking.
However, the Windows 10 Camera app has seemingly come and gone a long way over the course of the Windows Phone 8 to Windows 10 Mobile transition. Items and features that were previously built as add-ons to the Windows Phone 8 camera had been removed and had since returned as built-in experiences. Now Windows 10 Mobile users have access to Slow-Motion capture, app-integrated Living Images capture, automatic HDR settings, Panorama, and 4K video recording, all from within a single camera app. The previous notion of linking specialized camera apps (called lenses) is still in effect, but as the camera continues to develop code to integrate those experiences across all Windows 10 devices, the dependency has lessened over time.
Revisiting an earlier app on the list, setting up automatic upload from the camera app also ensures that every image captured lives well beyond the hardware in case of theft, accidental water damage, app corruption or flat-out destruction of the phone.
The editing tools and links to the photo gallery have also seen performance improvements and additions such as editing regulate video capture to incorporate slow-motion enhancements, trimming videos, quick photo edits and more.
File Explorer
Perhaps the geekiest and most granular app among the list, Windows 10 Mobile users may appreciate the desktop-like feel of using the File Explorer app. Granted, all the sorting and organizational options have yet to make their way to the mobile app from the desktop, but it's well built and straightforward mobile navigations should be appreciated by most.
File Explorer for Windows 10 Mobile should represent the device-based version of OneDrive for users as it takes controls and organization of local content to the next level. Users can now move images, photos, gifs, videos, movies, PDF's, Office Documents, Internet downloads and much more across folders and storage areas.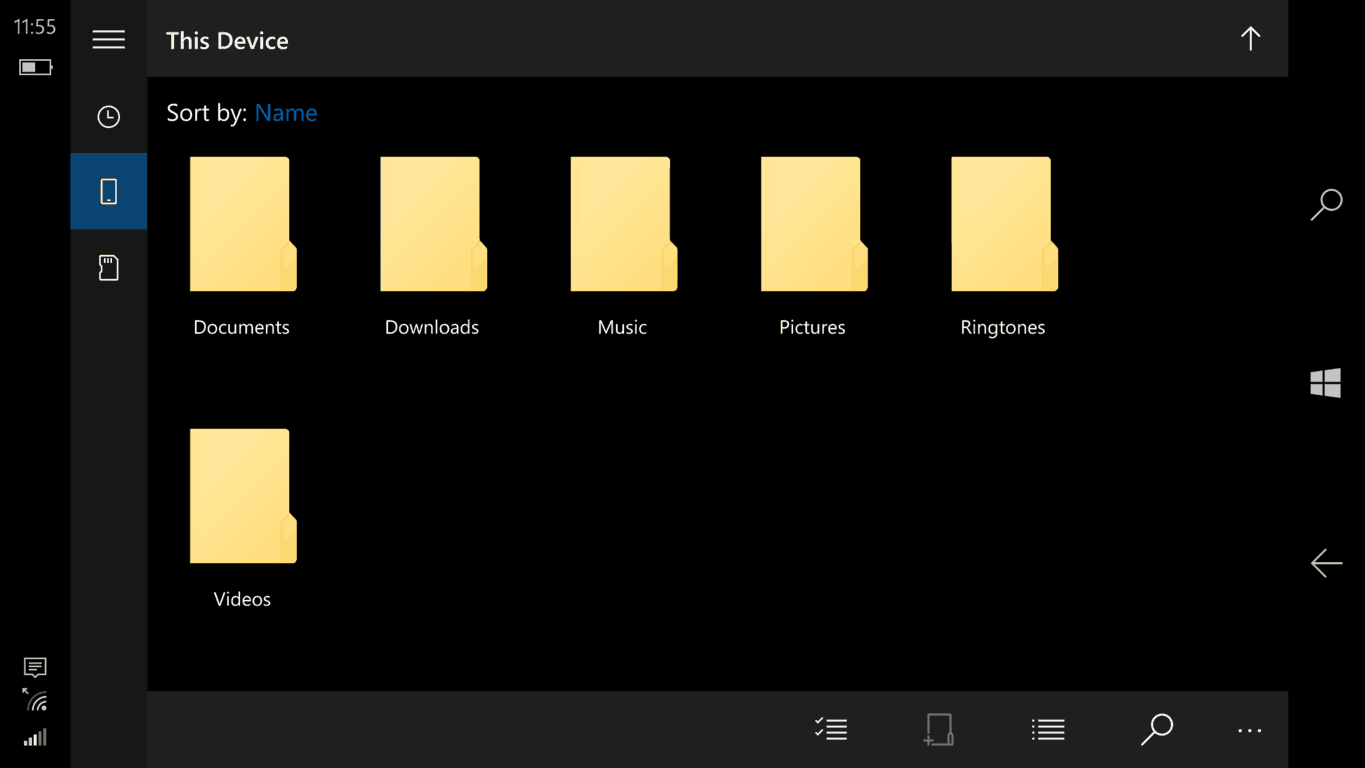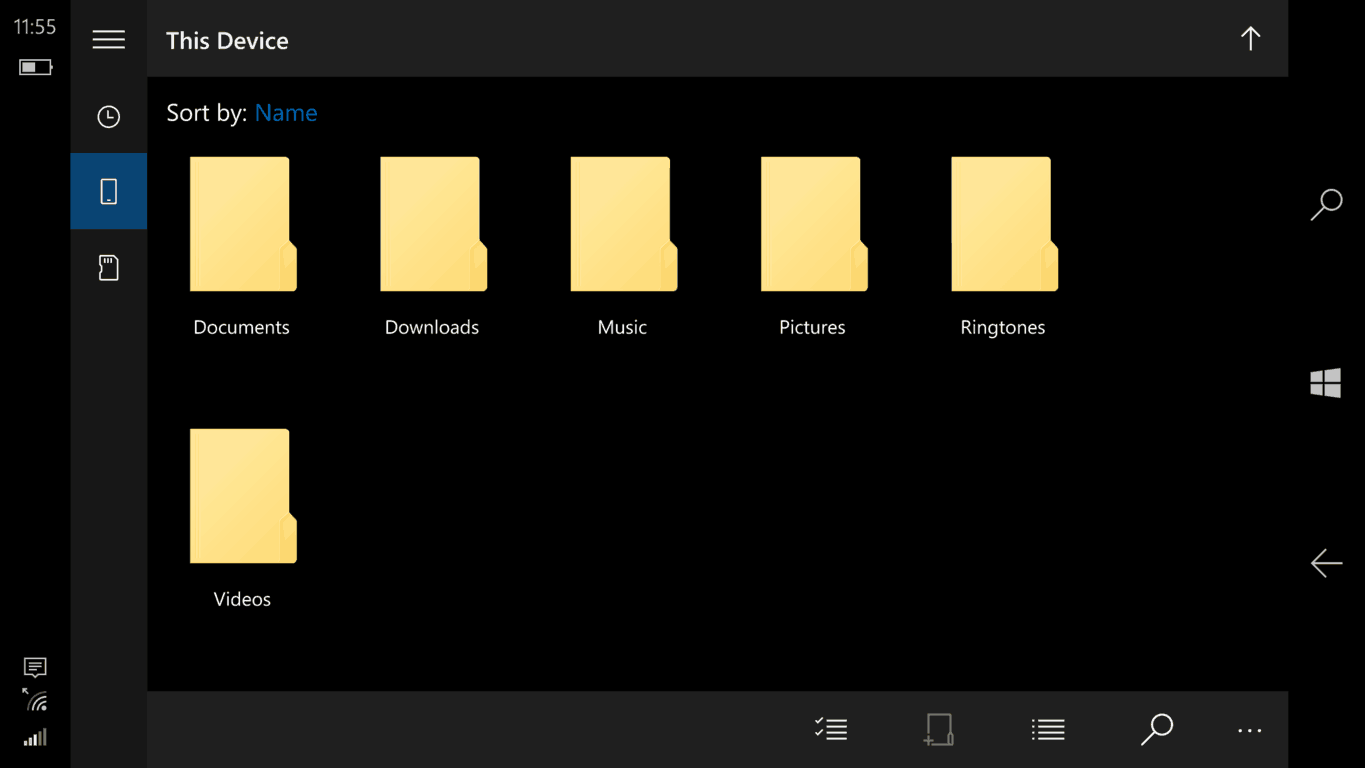 For Windows 10 Mobile devices sporting MicroSD cards, using File Explorer is a dream come true. Load up a card with content either from a desktop or prior device and navigate and organize straight from the phone, fully equipped with Folder creation, universal search, sorting preferences and easily identifiable sections for recent, on-device storage and MicroSD slots.
Beyond the apps desktop-like experience, the Windows team has also extended its usefulness beyond its app interface by integrating save prompts from Edge, Groove, Voice Record, Photos, Music & Videos and the Storage Settings. Most of the integrated Windows 10 Mobile app experiences will bring up Folders or sub-folders created from within the app to save content in.
For users who prefer to make the most of their screen real estate, the Windows 10 also developed the File Explorer app with landscape viewing incorporated as well thumbnail or listing views to see however much or little about a file as possible.
Similar to its bigger brother desktop experience, users can also explore file properties, rename, and share using various apps. Unlike the previous app selection, the File Explorer app is native to Windows 10 Mobile and changes made on the device, stay on the device. As the Windows team continues to tweak the Continuum experience for the everyday consumer, apps such as the File Explorer will probably see more refinement and use by users in the coming days.
Windows 10 Maps
I know, I know, there is no Google Map or HERE Map offering to counter this claim, but the Windows 10 Map app, I believe, can stand on its own. There are some third party app solutions out there and even one that comes very close to matching Google's offerings on other platforms called Maps App Discovery, but the Windows 10 Map app has come a long way and offers some neat features of its own.
With Windows Phone 8 and 8.1 the Windows team, perhaps, focused more on the visual aspects of maps rather than the mapping itself. There were neat tie-ins into city-search that brought up food, entertainment, and some other relevant location based options. However, compared to the other solution Microsoft was pushing at the time with Nokia's HERE Maps, Bing Maps paled in comparison.
Now with HERE Maps no longer a crutch to lean, the Windows team has crafted, what I believe to be great mapping experience. Granted my experience with Windows 10 Maps is very narrowed and confined mainly to the West Coast of America (mileage may vary). The glitz and visual glamor of the Windows 10 Map app have taken a backseat to a much sparser interface, but the apps built-in turn by turn navigation has seen much love. Users can now select from a series of routes to the same destination, each with options for transit, walking or vehicle.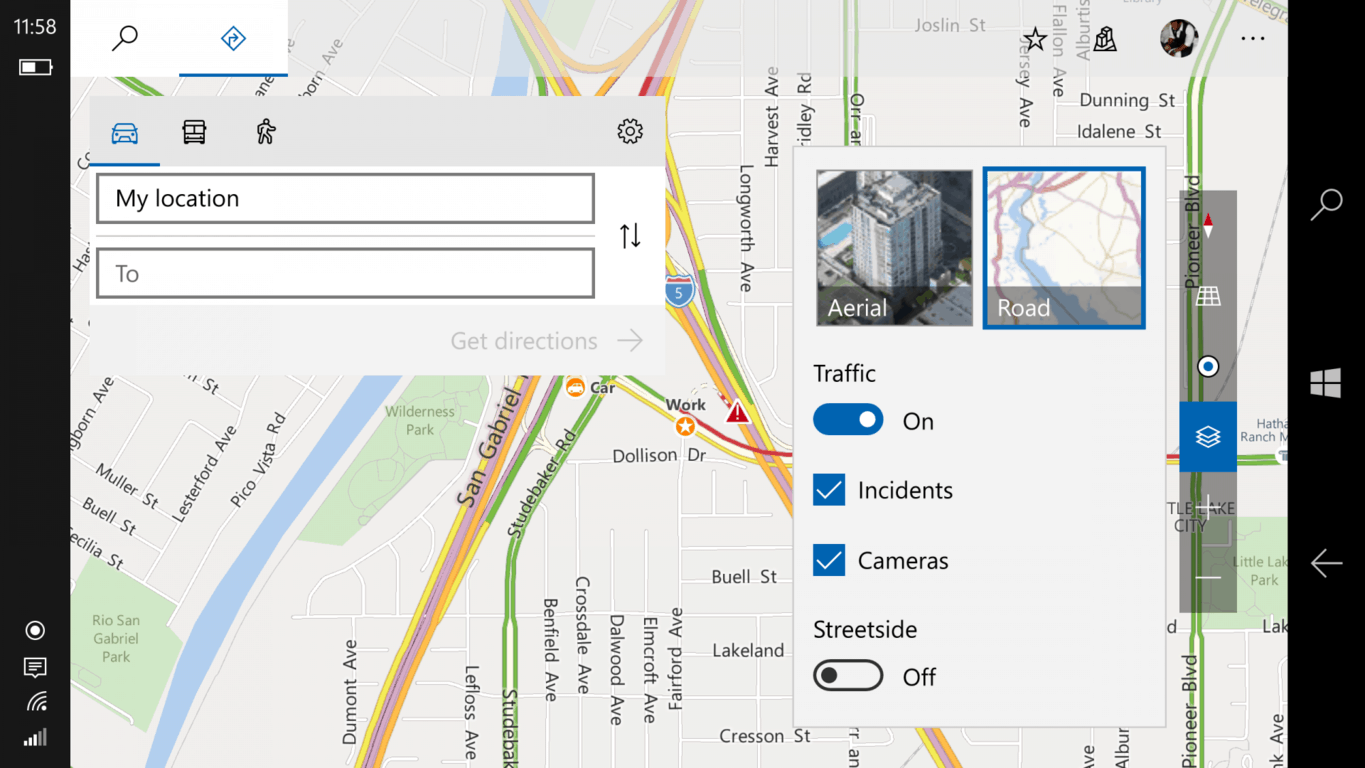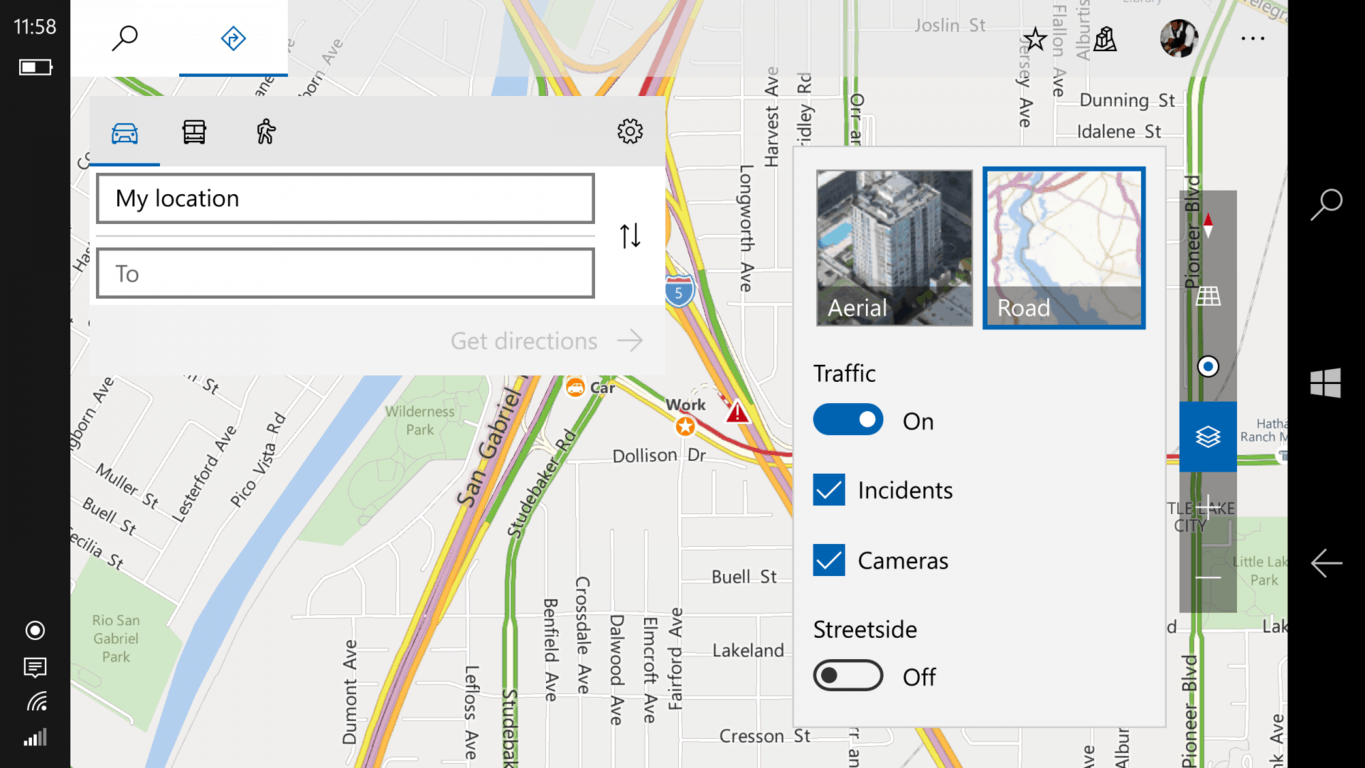 New to the app is also street view reporting that's represented as video camera icons along a given path, road, freeway, street or bike lane. Integrated with local government cameras along roadsides, users can stay up to the minute on what traffic is like near an exit, popular street or favorite on-ramp.
Other app additions include accident reporting, including a brief description of the accident and ETA on clearance. The accident reporting also extends towards construction work highlights that offer similar information for users. Crafted as a Windows 10 universal experience, users can navigate the app in landscape or portrait mode, each with their distinct visual advantages. Another benefit of being a UWP is the sharing of information across platforms, meaning users can start a search on their desktop and continue with directions in the car or vice versa.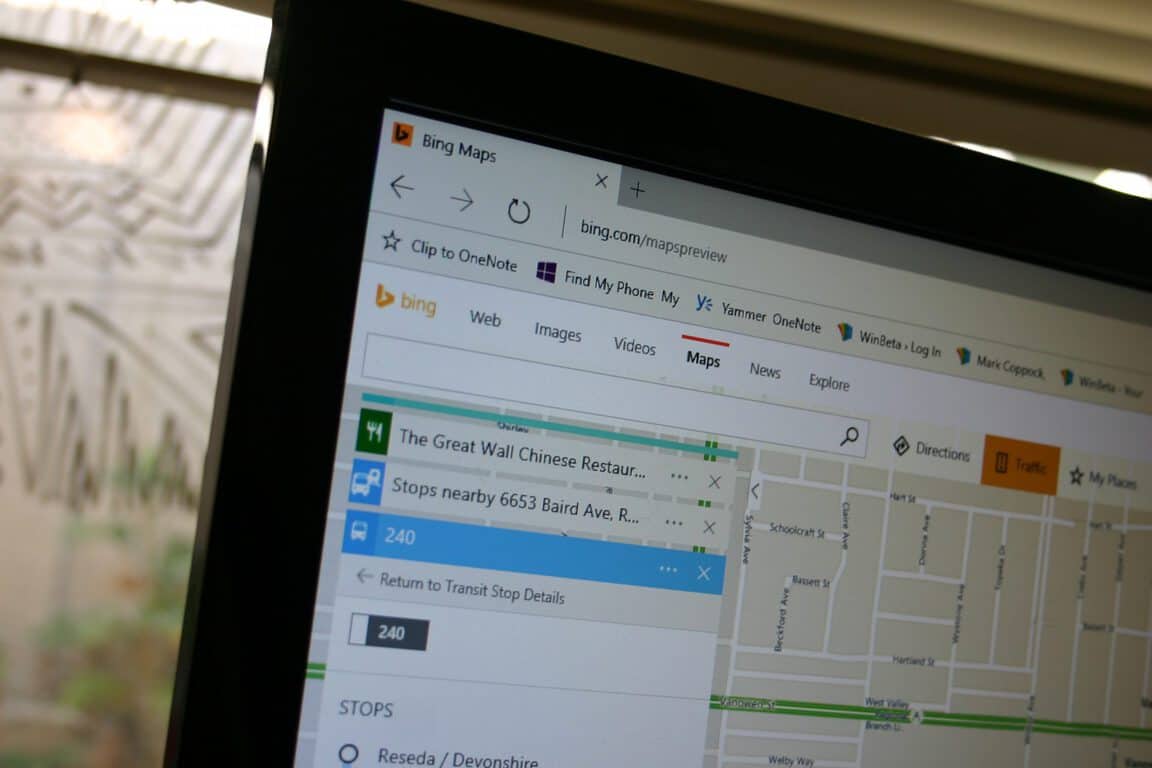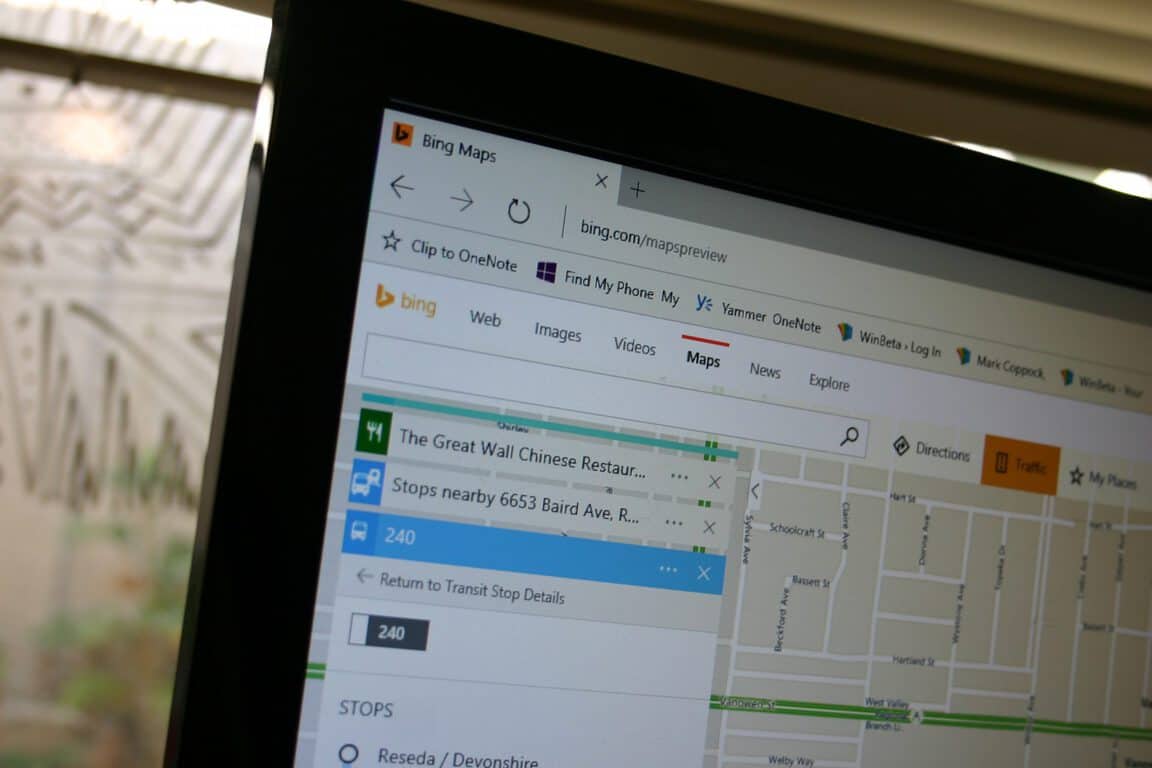 It's understood that Apple Maps and Google Maps offer these features and perhaps more in their respective apps on their platforms, but we're talking about Windows 10 Mobile where neither of those are options. However, Windows 10 Mobile users shouldn't feel feature-deprived using the Windows 10 Maps experience, especially when users can download maps and navigate them offline. As the Windows 10 Map experience continues to get refined, it's becoming harder and harder to find reasons to miss HERE Maps on Windows 10 Mobile, for me, at least.
News & Weather
The Microsoft News and Weather apps are among the most useful apps to stay up to date with the world around you. Starting with the Weather App, the Windows team has put a lot of elbow grease into making an amazing visual experience of the weather. Beyond the overhauled UI update, users now get week-long predictions, live tile notifications, day details, precipitation, humidity, UV index and Max Wind details from any spot on the planet.
Users can also access radar map observations, historical weather patterns, weather related news articles and sections for favorited areas. Once again, the app was built as a UWP, so landscape navigation opens a new world of visual exploration that matches it Windows 10 and Xbox One experiences.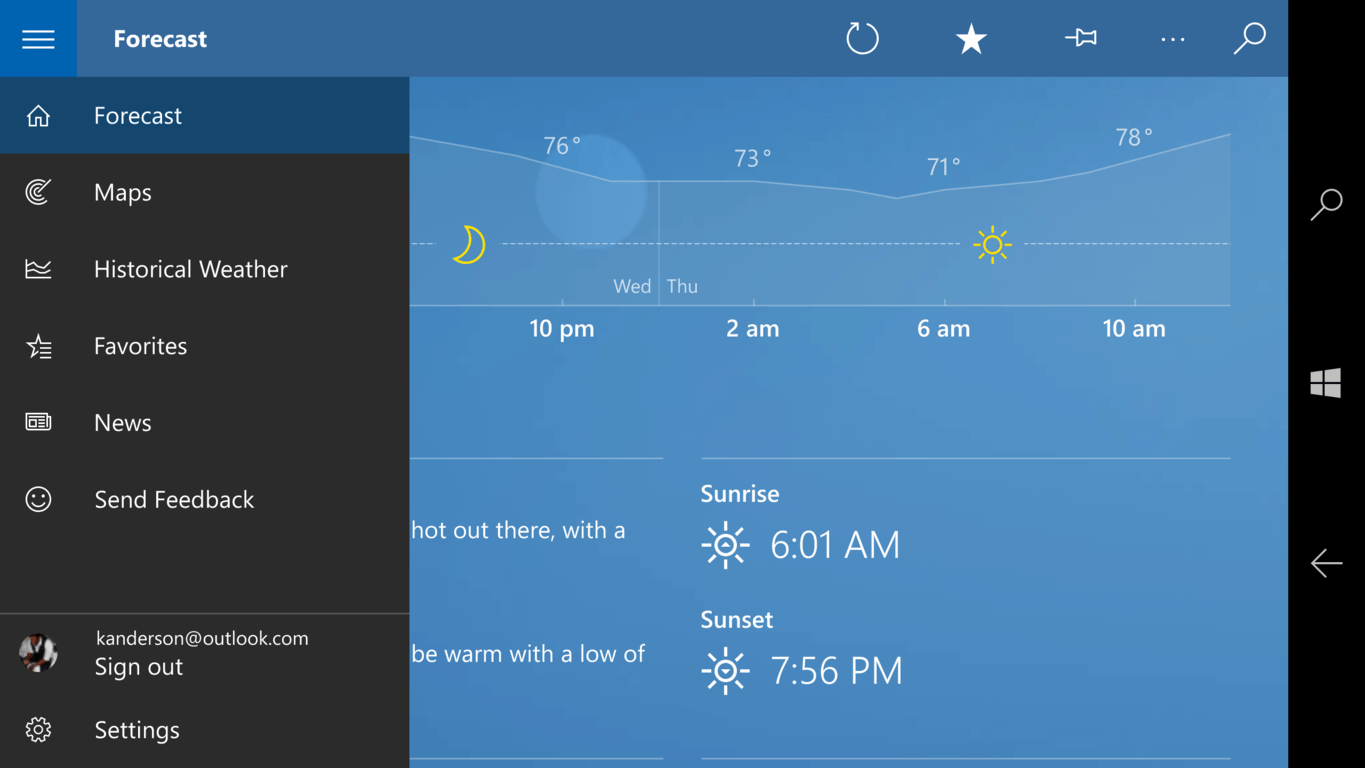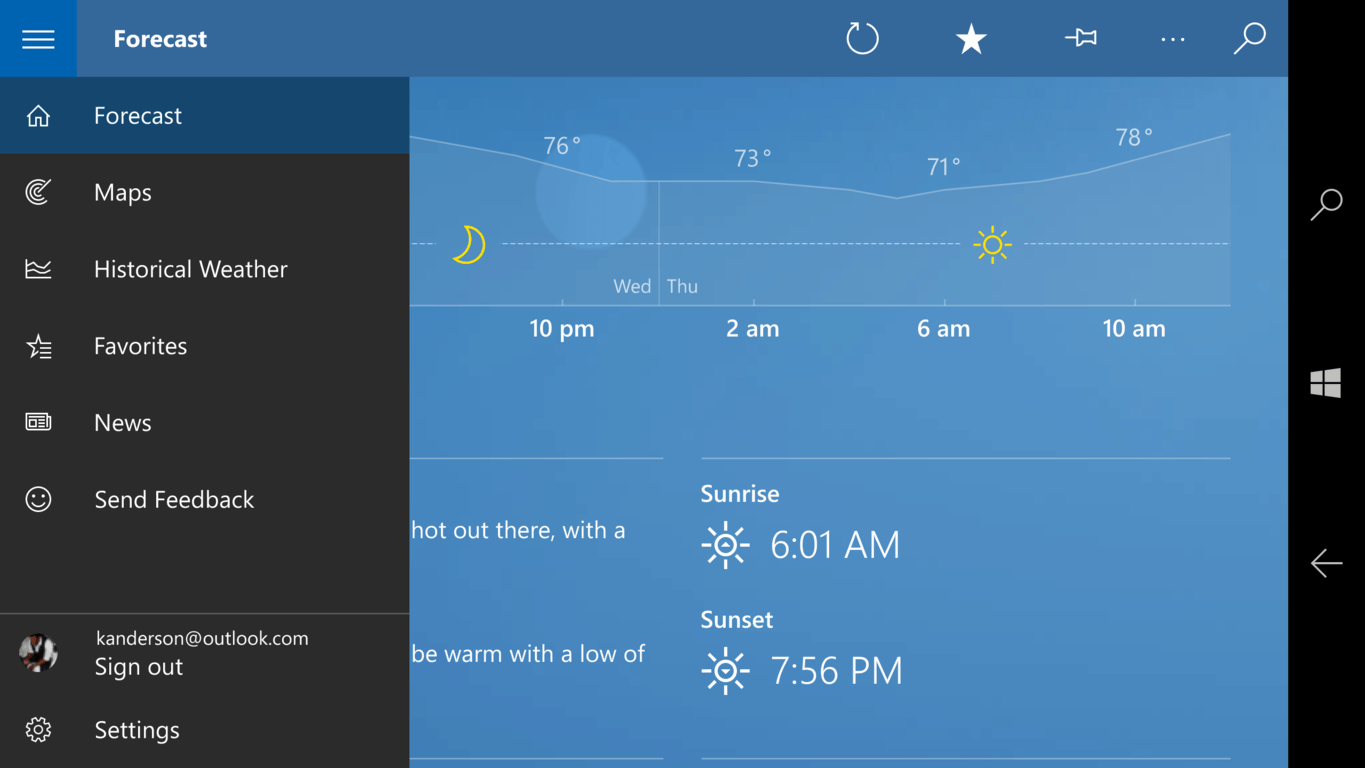 The News app has also received a ton of improvements from the Windows Phone 8 days where users can now individually source their news as well as swipeable pivots and a new dark theme for reading. For new users or those without a favorite source, users can search for local news using new GPS-enabled searching. The News app in Windows 10 Mobile has become an arguably go-to RSS reader for fans of news as it also crops websites to fit and navigate from within the app itself as opposed to kicking readers out to the Edge browser. With Live-Tile integration and news break notifications, the news app has become a full featured news experience.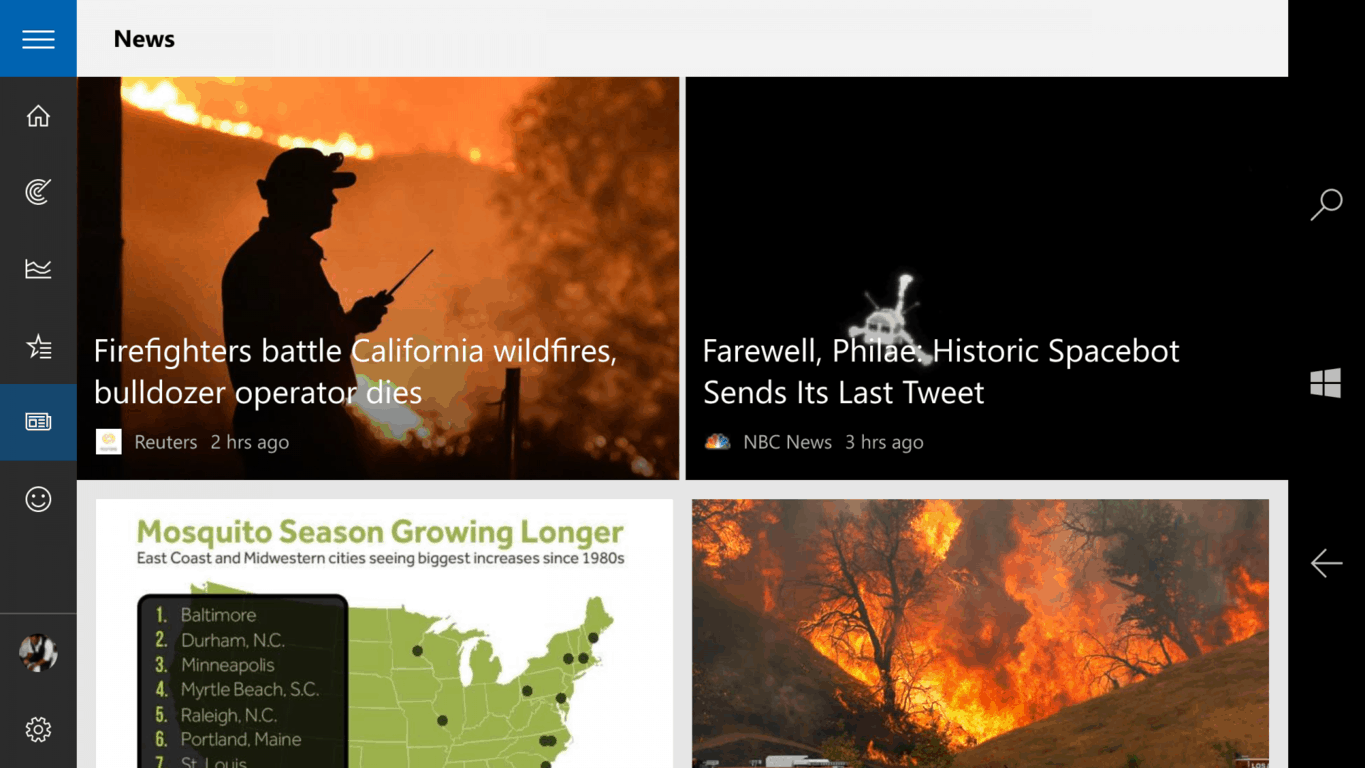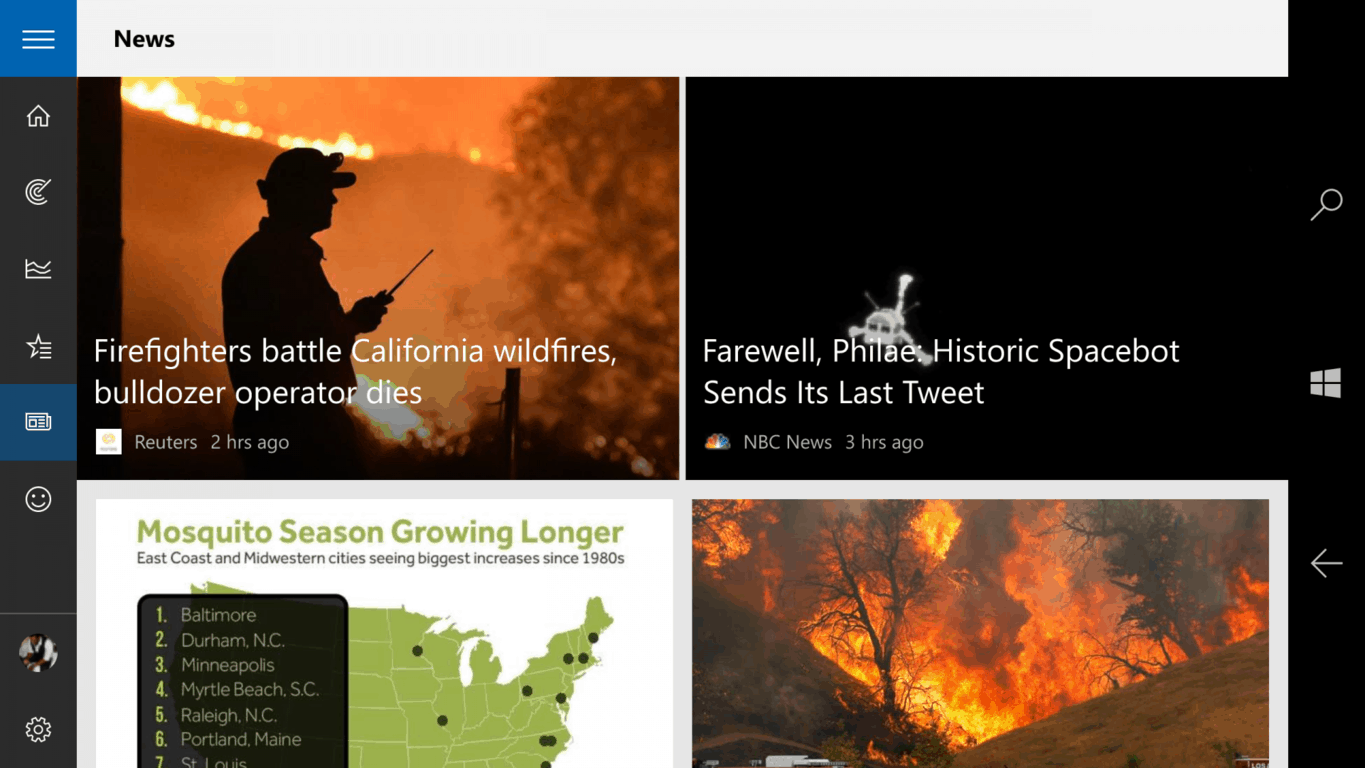 Unfortunately, I would love to have included the Sports app, but it seems that app has fallen the priority ladder for the Windows team as it has seen few development advances and the Money app is a very niche experience reserved for investors or those seeking financial news about companies. Personally, I love and use the Money app frequently on my device and appreciate the new additions that have quietly been rolling out.
Cortana
Cortana makes the list as an excellent aggregator of activities done on a smartphone, in an email, on the desktop or cross-platform searches.  As an app that spans use on iOS, Android, and Windows 10, users can access their Cortana related activities on any platform, but on Windows 10 is where the app truly shines. In Windows Phone 8.1 Cortana was confined to the phone, but just a few years late, Cortana can be accessed and interacted with on the Xbox One, Windows 10 Taskbar iOS and Android apps as well as from the dedicated search icon on every Windows 10 Mobile device.
Cortana has moved beyond the witty banter of its original voice interactions to incorporate several additional activity notebooks such as Health & Fitness tracking, Movies & TV, Package tracking, Special Days, Shopping and much more.
Aside from setting reminders and getting traffic notifications, perhaps one of Cortana's most useful addition is its flight and boarding tracking feature. For the frequent flyer's out there, this may be by far, the most convenient integrated experience in Windows 10, especially in light of the removal of the Travel app from the Windows Store.
Other benefits of Cortana are the organic Bing search features being built into the Cortana experience that includes highlighted location based info, celebrity and historical wiki integration, YouTube video integration, music searching and recipes curation that makes using Cortana a delight.
Authenticator app
As security continues to grow in the public conscious, more and more apps are asking its users to set up two-factor authentication or additional security measures to ensure data protection. With that being said, Microsoft's re-released Authenticator app is a useful and convenient way to make sure users are engaging in proper security practices.
Using Microsoft or Google services or products encourage even more use of two-factor authentication thus directing users of those services on various platforms to access them via the use of a specialized pen or code that can be delivered either in an email, text or phone call. With the Authenticator app, users can bundle all those points of access into one app that randomizes codes and spits them back out to users without forcing them into their messaging, phone or email clients.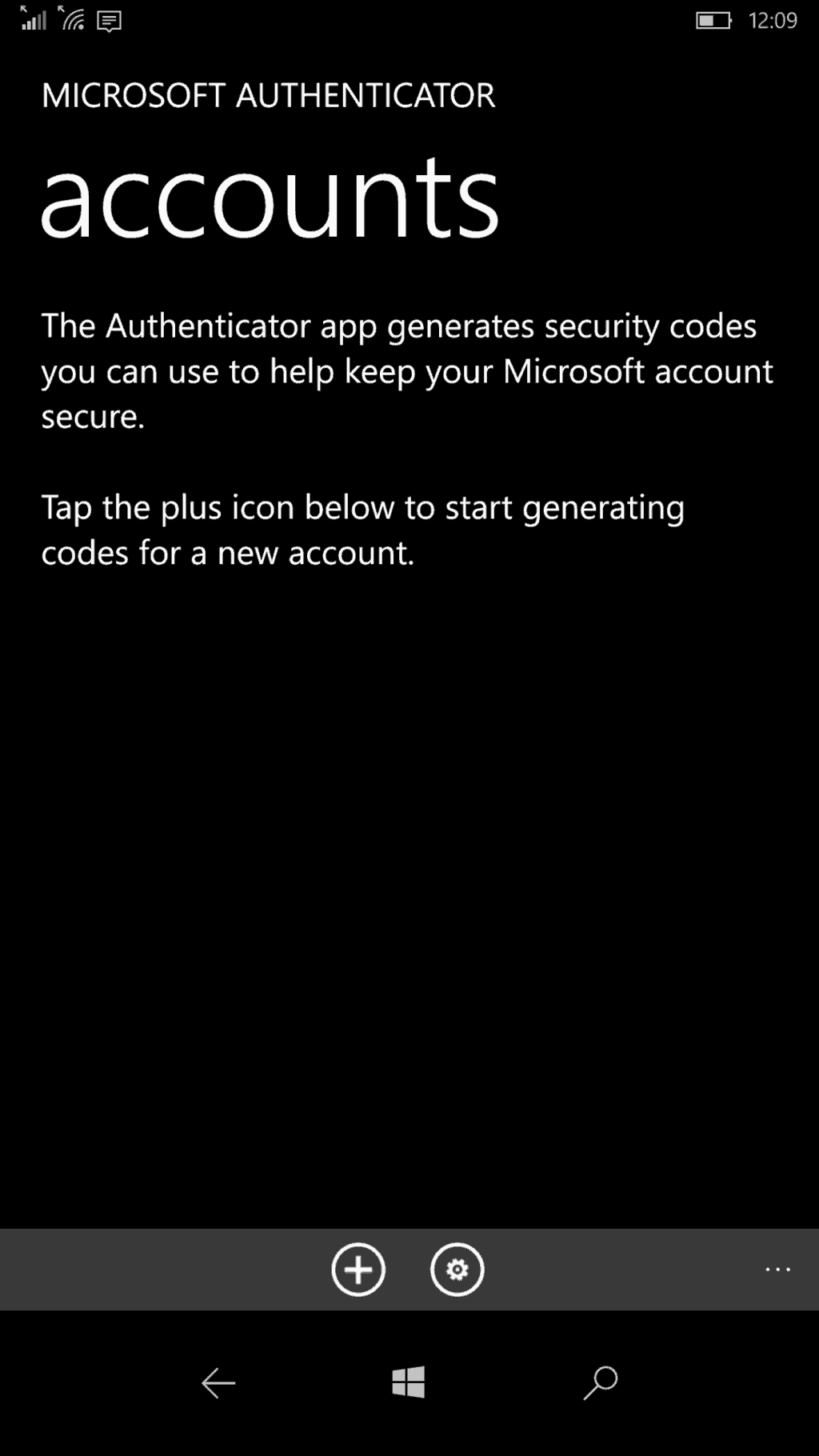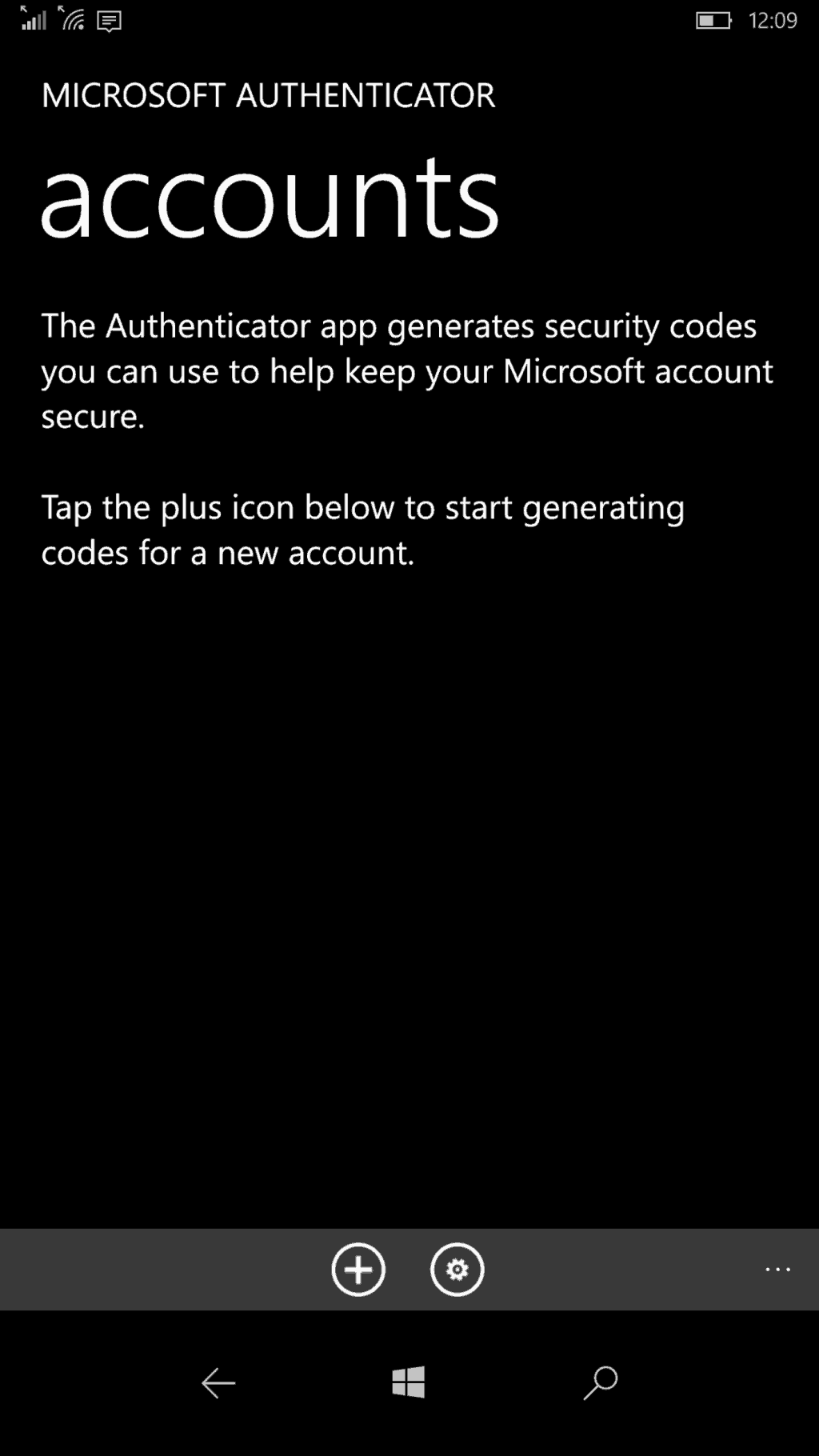 The new Authenticator app is also integrating Android and iOS support that enables quicker and direct notifications from peripherals such as smartwatches or other iOS and Google apps and the director of program management at Microsoft also believes that the company will be able to deliver even more functionality to the app.
While we mostly stuck to Microsoft first party offerings, there are plenty of 1st and 3rd party apps from other developers on the Windows 10 Mobile platform that helps elevate the mobile experience. Let us know what apps you've chosen to replace or augment your experience on Windows 10 Mobile with over time.