Windows 11 will be available as a free update for Windows 10 users later this year, but it's possible that a big part of the user base may not be able to upgrade. Microsoft shared the minimum requirements for Windows 11 yesterday, which include a 64-bit CPU, a DirectX12 GPU, and a TPM 2.0 chip.
Microsoft released yesterday a PC health Check app that can tell you if your PC is eligible for a free Windows 11 upgrade later this year, but the app does a poor job at explaining what's wrong if your PC doesn't meet the minimum requirements. For now, the app won't tell you that you may be able to upgrade your PC's components or enable the dormant TPM chip on your motherboard, which may be cheaper than purchasing a brand new PC that's for ready Windows 11.
Anyway, Microsoft's lackluster communication about the TPM requirement has forced some employees to step up on Twitter yesterday. If you do have a recent PC, there's a good chance that it shipped with a TPM 2.0 chip, though many PC OEMs may have it turned off by default in your UEFI settings. Again, that's something that Microsoft's PC Health Check app should be able to tell you, but it doesn't right now and this has probably caused a lot of frustration among early enthusiasts since yesterday.
Can't get Windows 11 even though you have a TPM? Check your UEFI (BIOS) to see if Virtualization extensions/instructions are enabled for your CPU. Even if you don't USE virtualization, they're a key part of the security platform. Many gaming/enthusiast motherboards default to OFF

— Carmen Crincoli – @crincoli.org (@CarmenCrincoli) June 24, 2021
Nope, nope, and nope. All CPUs on the compatible list already have an embedded TPM. TPMs have been required for Windows certified devices since 2015! A very small number (mostly DIY) will have to enable it. We have some instructions and an update to the tool to make it easier. https://t.co/6VYPhDQUUA

— David Weston (DWIZZZLE) (@dwizzzleMSFT) June 25, 2021
Worse, Microsoft's bad communication about TPM chips has already led scalpers to buy these usually inexpensive chips to raise their price. It looks like TPM 2.0 chips are about to become just as rare as next-gen consoles and PC GPUs, and it's unfortunate that Microsoft couldn't anticipate that.
Microsoft, can you not impose a TPM requirement during a silicon shortage?

Especially considering most desktop motherboards support TPM only as a purchasable accessory.

— Shen Ye (@shen) June 25, 2021
Steve Dispensa, VP of Product, Enterprise Mobility & Security at Microsoft explained on Twitter yesterday that Microsoft is going to "improve the PC Health Check app over the next couple of weeks", with a first update possibly coming today. The exec added that Microsoft will also release in a few days analytics tools for IT departments to assess their fleet for Windows 11 compatibility, with full integration into Microsoft Endpoint Manager analytics coming this fall.
What Microsoft's PC Health Check app really needs is to be able to tell users if the hardware test is failing because of not meeting the "hard floor" or "soft floor" requirements. The company noted on a support page that TPM 2.0 chips and CPU generations are a actually "soft floor" limit that will still allow older PCs to install Windows 11, even though the upgrade is not advised on these machines. The company published yesterday a quite restrictive list of Intel, AMD, and Qualcomm processors that are officially supported by Windows 11, but again, CPU generations shouldn't be a hardware block for the upgrade. It appears, however, that at least currently, the PC Health Check is failing devices that don't meet the 8th gen CPU hard floor requirement.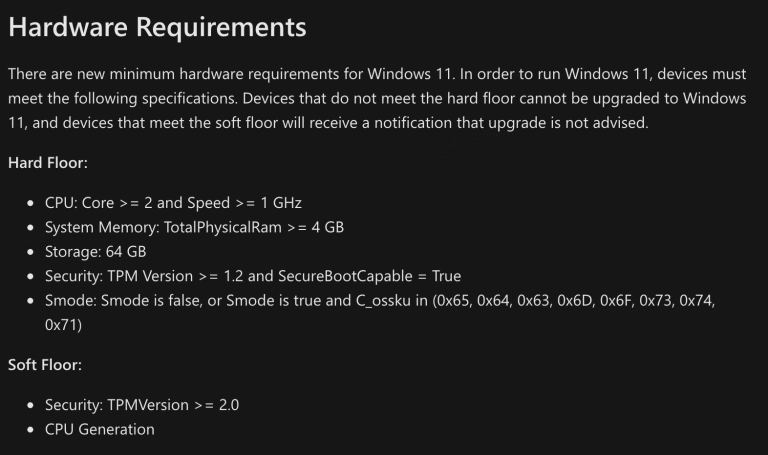 For Intel Core processors, only 8th gen "Coffee Lake" CPUs or newer are officially supported. On the AMD side, only Ryzen 2000 or newer and 2nd-gen or newer Epyc CPUs are officially supported. This leaves a lot of recent devices in the not officially supported camp, including Surface devices Microsoft is still selling such as the Surface Studio 2 which uses 7th gen Intel Core CPUs.
it can run Windows 11, it just won't be officially supported or "recommended"

— Tom Warren (@tomwarren) June 25, 2021
Again, many devices that don't have an officially supported CPU may still be able to upgrade to Windows 11 for free, even though Microsoft isn't recommending the update. However, PCs that don't meet Microsoft's "hard floor", which includes a TPM 1.2 chip, a 64-bit CPU, 4GB of RAM, and 64GB of storage won't be able to upgrade to Windows 11 at all.
In that case, these devices will continue to receive Windows 10 updates until 2025, which is when mainstream support for the OS will end. Windows 10 should continue to receive new updates twice a year, and the OS is also getting the new version of the Microsoft Store that will also ship with Windows 11 later this year. This new Store will welcome Win32 UWP, PWAs, as well as Android apps via a partnership with the Amazon App Store, so Windows 10 users won't really be left behind.
Microsoft is getting ready to release the first official Windows 11 build next week, and the company will allow all Insiders already running Dev Channel builds to install it, even though their PC doesn't meet the minimum requirements. However, unsupported PCs will only be able to install Windows 11 preview builds until the OS becomes generally available later this year, a situation that mirrors what Microsoft did many years ago with its Windows 10 Mobile Insider program for unsupported Lumia phones.
The software giant explained yesterday that free Windows 11 upgrade will begin to roll out to eligible Windows 10 PCs this holiday and continuing into 2022, but it's not exactly clear how unsupported devices that still meet the "soft floor" limit will be able to install the new OS. Microsoft will need to clarify soon, but the upcoming launch of Windows 11 should be a great opportunity for PC manufacturers to sell new PCs. Microsoft is already working with its retail partners to make sure that the Windows 10 PCs you buy today are ready for Windows 11, but the new OS will also be available on new devices that will ship this holiday season.