I was invited to Microsoft's First League program, which I wrote about a while ago. The new program, for Microsoft enthusiasts in the Czech Republic, Slovakia, Serbia, Poland, Hungary and Greece, is designed to support Microsoft's most hardcore fans. Microsoft First League had its official start on the 17th of December, where I attended the first Warsaw event.
After arriving in Warsaw, we were greeted with a nice yet regular "Welcome" where we were served some drinks and food, got to meet the employees hosting the event, got to know each other and shared some opinions and general talk.
Microsoft First League Program
The event kicked off with explaining some things about the program itself. Who was chosen? Why were they? What were the requirements? What is this all about? All of this and much more was explained.
Microsoft's Jakub Rzany (in the picture) welcomed the members by starting the presentation and answering questions. He briefly explained that the company chose the members based on their "authenticity."
Microsoft doesn't want free advertisement from the members. The goal is to let the biggest fans of the brand test out new devices, leave authentic feedback, have fun and feel well as a thank you from the company. As Microsoft's CEO, Satya Nadella himself said:
Fans of the Microsoft brand have a big role in the development of our company and products. You inspire us, and make us work even harder to ensure we create and deliver great products and services that you love.
Some people in the team aren't even journalists or bloggers, with no way to promote the brand, so this move was purely to show appreciation towards the people that truly enjoy the products Microsoft is pushing out.
The program has its own website where the members will be able to change the device they lend from Microsoft, and where they will be able to submit "activities" like tweets, articles and other creations surrounding the company. This was presented and shown how it will work and look in the future, as the website is still in a beta and not ready for use.
The Loan Program is probably the most interesting part. The members will be able to apply for different devices of all different form factors. The current ones available are:
Huawei MateBook
Lenovo Yoga 900
Lenovo Yoga Book
Dell XPS 13
Acer's Aspire Switch Alpha 12
HP Spectre x360
MSI GT73
Microsoft Surface Pro 4
There were some requirements for the devices, which Microsoft thought about before choosing them. They needed to have a "new design, a new experience and high performance."
I believe all of these devices did, in fact, meet the requirements where they all have at least a little of each point. They are all futuristic, with each one having its own unique thing, they all have a very specific experience.
The interesting part here is that there are rumours about much higher end devices getting released for the loan program, like the HoloLens, which would allow the members to truly test out Windows 10 in every way possible.
Product presentation
The event continued with a PowerPoint presentation of Microsoft's and their partners products, some of which the members are supposed to test out during the program's duration. Each one of the products was presented, with its strong and weak points, describing who each of these products was made for.
Other products like Microsoft's Office 365, the differences between it and Office 2016 were also explained, as well as different features of the Windows 10 Anniversary Update.
The Xbox One S was also shown, with its new and sleek design as well as some of the cross-platform features, like the Play Anywhere project. Microsoft explained every single one of their flagship products from top to bottom.
Device giveaway
After the product presentations, every member got an individual package ready for them in a separate room. Every device or thing that the package contained was individually chosen for each of the members, based on their applications for the program, info available on the internet et cetera.
I received my own package too, which I tweeted about without revealing too much information at once. Some of the things were visible in the picture, meanwhile, the more interesting hardware was saved for later, which is now:
Free stuff from Microsoft. pic.twitter.com/G1Ti6Mli9o

— Dennis the Minecraft YouTuber (@DennisBednarz) December 17, 2016
The detailed list of every item I received at the event can be seen below but keep in mind that this is very individual and what each member got may vary:
Xbox One S 500GB FIFA17 Edition
Xbox Live Gold 6 months + 14-day trail
Additional Xbox One S Bluetooth Controller
6 games for the console, including Battlefield 1, Star Wars Battlefront, Mirrors Edge Catalyst, Plants vs. Zombies GW2, Need For Speed as well as FIFA17
A code for a full year of Office 365, which will be refilled as long as the program is active
The Huawei MateBook as well as the white and brown keyboard cover
Microsoft First League merchandise like two sheets of stickers, a t-shirt and a mug
This set is of a shocking value. Every member was shocked to know what they got. Especially since no member had to pay a single penny for the hardware, but note that every device needs to be returned after some time if the members don't choose to keep them and pay a small fee, which is purely to avoid some taxes in Poland and may be around a few dollars.
Warsaw Indoor Skydiving
The event ended with some entertainment for the members. To loosen up the corporate feel, Microsoft invited every member to the Warsaw Flyspot, which is an aerodynamic tunnel located in the capital of Poland.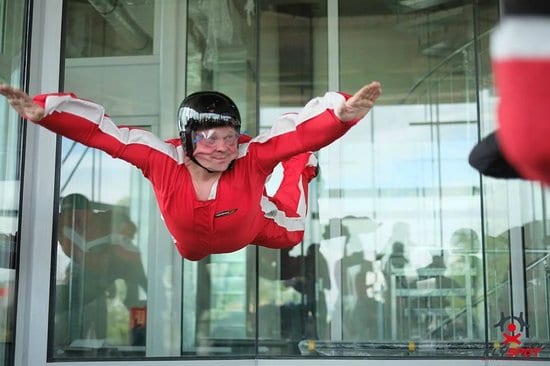 We got our suits, helmets and everything else needed for the sport, signed some documents about our physical and mental health, went through a course and finally got to enter the chamber.
When we were done, everyone gathered again at the Microsoft Poland HQ to summarise the whole event, bring up some info about future events then finally say goodbye.
The next event is slated for March of 2017 where Jakub Rzany confirmed that it will focus way more on the technology itself, virtual as well as argumented experiences and much more, so stay tuned as we will definitely be there to cover everything.