The Xbox Series X is one hard-to-find console. Even during the holiday season, it was out of stock in many key retailers, and Microsoft confirmed that it's likely to be that way even in the new year. That's one of the reasons I put out a guide on how you could try to find one for yourself. Yet, lo and behold, a couple of months later, I finally ended up purchasing one, but it didn't involve any of those methods on that list. Here's a look at the trick I used to finally buy an Xbox Series X.
It all started with an email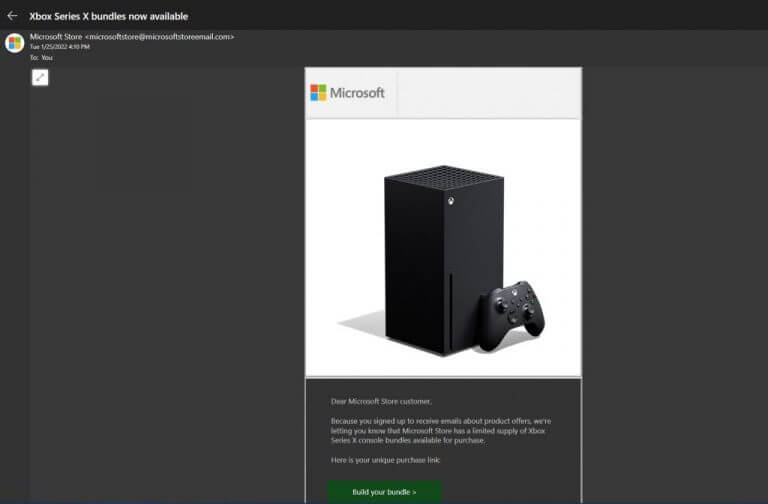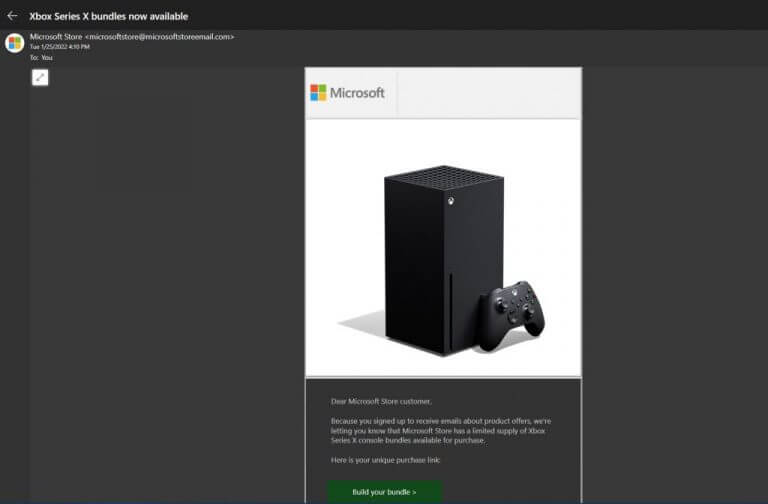 We reported back in November that Microsoft was giving valued customers the opportunity to buy an Xbox Series X. This is exactly how I ended up buying my console. I signed up for promotional emails from the Microsoft Store, and in one of those emails, I was targeted as a "valued customer."  In that email, I had a link to buy an Xbox Series X bundle directly from the Microsoft Store.
Note that the link is a customized link. Microsoft mentioned that it only could be used once in order, and I only could buy two bundles per 30-day period. The link is also linked to my Microsoft Account, and clicking it takes me to my Microsoft Account login page. Forwarding the email to someone else to buy their own bundle will not work.
Anyway, I got that email on January 25  at 4:10 PM. A short hour later, my order was placed. Then, on January 26, the order shipped. Two days later, on Friday, the order was delivered.
Loving my new Xbox
My colleague Laurent Giret already offered his professional thoughts on the Xbox Series X when it initially launched, so I won't be doing a review, but I do think it's a huge upgrade from anyone who has an original "fat boy" Xbox One like myself. Games load much faster, look beautiful on a 4K display, and the system boots up so much faster thanks to the SSD inside the Series X.
Originally, I was depending on Xbox Cloud Gaming on my Xbox One to play next-gen games like Forza Horizon 5, Now, the game runs natively, and with its intended resolution and performance targets on my Series X. Not to mention, I can finally play Microsoft Flight Simulator on my console, too. I've been playing on my Surface Laptop Studio, and though the console version is locked to 30 frames per second, it definitely performs solidly.
All in all, I never thought that the emailed link from the Microsoft Store would work, but long behold, it did, and I'm quite happy. Of course, though, it is best to act fast if you get one of these emails. Microsoft does warn in the email message that Xbox Series X consoles are available on a first-come, first-served basis and will sell out quickly.