Microsoft might be best known for the Surface Pro, Surface Laptop and Surface Book lineup for consumers, but the company also has a vision for how it wants you to use its devices and services in the modern workplace. We've already seen this come to life in part with the original Surface Hub, but Microsoft in May 2018 revealed its successor, dubbed the Surface Hub 2.
The Surface Hub 2S is a form of the Surface Hub 2 that went on sale in June of 2019, and a demo unit was recently on display at the flagship Microsoft Store in New York City. I went hands-on with it and was very impressed, finding that it'll make you want to say goodbye to your office whiteboard.
So thin, so cool
The original Surface Hub was mindblowing on its own for many reasons, but the Surface Hub 2S takes that to another level. It is now up to 40% smaller, coming in at 29.2″ x 43.2″ x 3.0″ over the original Surface Hub's 46.12" x 86.7" x 4.15″.  It is also much lighter, and is a mere 61.6 pounds, compared to the original Surface Hub's hefty 280-pound weight. The display, though, has shrunk and is now 50-inches instead of 55 inches like the original Surface Hub. There will be, however, a larger version with an 85-inch display coming later next year.
But those are just numbers on paper. You really do have to see the Surface Hub 2S in person to see how much it's changed over the last generation. The side bezels are now much slimmer. The Surface Hub 2S also ditches the black color for Microsoft's signature platinum, and the overall design and profile make it seem just like an oversized and slightly thicker Surface Book display. I've previously gone hands-on with a collaborative touch-screen display from Dell, and the difference is quite outstanding. The Surface Hub 2S really is thin for something of this size.
But what makes the Surface Hub 2S special is its ability to be mounted on an easel. While it indeed can still be mounted on a wall, Steelcase sells a mobile easel for the Surface Hub 2S which makes it a more mobile solution. Called the Steelcase Roam, the easel is just as slim as the Surface Hub 2S. It has a low profile and even a battery pack that lets you wheel the Surface Hub 2S around. The battery pack also doubles as somewhat of a stand, allowing for you to place a laptop or other objects on top. I really wanted to roll the Surface Hub 2S around the store, just because the stand seemed so cool.
A note on the computing power
Another thing that makes the Surface Hub 2S special is the fact that it has all its computing power built right into the unit itself, and is designed sort of like a cartridge system. It's all located in the back of the Surface Hub 2S inside a circular-shaped housing. There is where you'll find the quad-core 8th Generation Intel Core i5 processor, 8GB RAM, and 128GB SSD. You'll also find some ports here on the back too. Connectivity on the 2S ranges from a USB-A port, Mini-DisplayPort, RJ45 Ethernet Port, HDMI Input USB-C with DisplayPort Input, and four USB-C ports.
This is quite a modern upgrade from the original Surface Hub, which sports the 4th Generation Intel Core i7 processor, 128GB SSD, as well as 8GB of RAM. It also only had 1 USB-C port, USB-3.0 port, USB 2.0 port, Ethernet 1000 Base T, DisplayPort Video Output, and 3.5mm Stereo Out.
Anyway, these specs make the Surface Hub 2S quite a beast for any multi-tasking. I opened up multiple tabs in Edge, instances of YouTube, and the Hub was able to keep up with it. I'll also want to mention that the Surface Hub 2S will be upgradable to the Surface Hub 2X next year via a cartridge. It will have beefier specs to unlock the power of Windows Core OS, and the ability to combine four different displays together as one and rotate it into the vertical orientation.
A note on the operating system & user interface
When Microsoft showed off the original Surface Hub 2, it showcased a version running an operating system that we've come to know as Windows Core OS. The operating system was able to adapt to the display, and seemed a bit more modular. However, the Surface Hub 2S currently is powered by the Windows 10 Teams OS that currently ships on the original Surface Hub. If you're not familiar with the OS, then I'm about to explain.
Basically, the Surface Hub 2S is a bit similar to regular Windows 10 but overlayed with Teams and a custom skin for a large screen display. If you walk up to it, you'll be able to sign in. A pop-up message will then prompt you to tap the Start menu. When you do that, a somewhat modular-looking start menu will then show up. It seems a bit similar to the Windows Mixed Reality Start Menu. It also shows you a list of your pinned apps, and the option to join a meeting in Microsoft Teams or end the session. You also can expand it out and see a list of apps by pressing All Apps.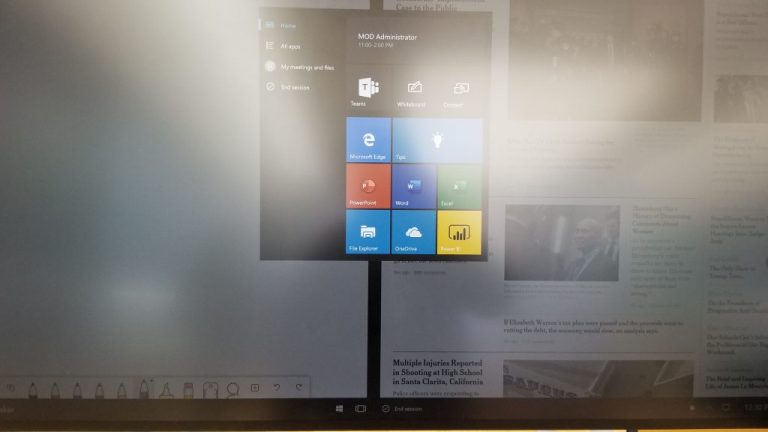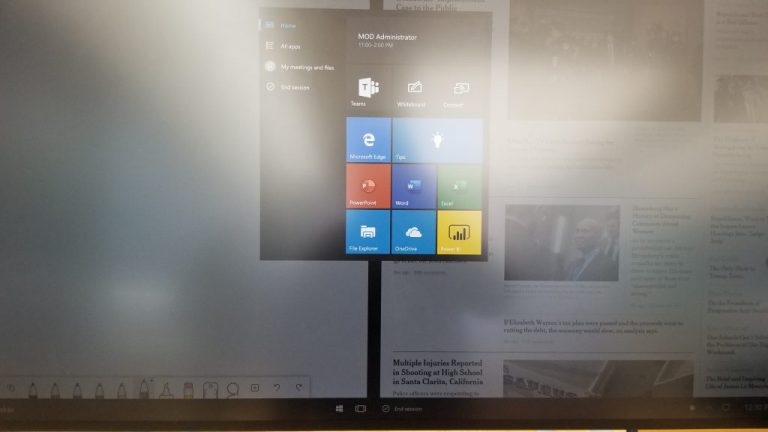 Once you open an app, you can send it full-screen, but you also can split-screen by tapping a split-screen icon on the taskbar. This will show you a list of open apps. If you choose one, it will give you a divider along with the screen, letting you size the apps as you see fit. You even can touch on the Action center icon which gives you access to some quick toggles for volume and do not disturb mode.
As I touched on before, Microsoft Teams is also overlayed on top of the UI on Surface Hub 2S. When open, it'll appear on the left side, or right side of the screen. It'll show you an agenda, as well as an option to join a meeting. As this is a collaborative display, that's quite convenient.
Touch screen display that'll knock you off your feet
As a collaborative display, the killer feature of the Surface Hub 2S has got to be its 50-inch IPS LCD touchscreen. It comes in at a resolution of 3840 x 2560 and sports the signature 3:2 aspect ration from the rest of Microsoft's Surface lineup. In my time with the Surface Hub 2S, I opened up webpages and even a YouTube video.  Everything that showed on the screen was crystal sharp and clear. Even the fonts of the New York Times webpage looked sharp as I stepped back from the display.
It's also worth noting that the display itself is flanked by some small bezels. According to Microsoft, it comes in at around 15.5mm. This is quite slim, as other collaborative displays will have thicker borders for you to grab hold of. It's really quite inviting and begged me to go in and touch the display. Oh, the speakers are also hidden in those bezels too, but can still get quite loud and immersive. Microsoft says it's 3-way stereo speakers. There's also support for the Surface Hub 2 Pen, as we discuss later.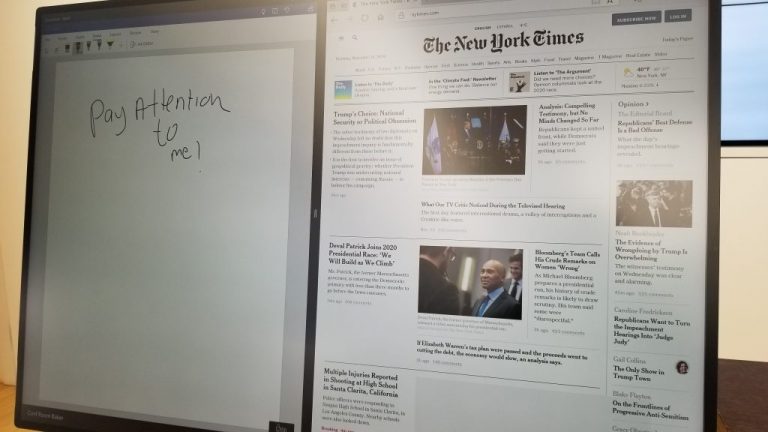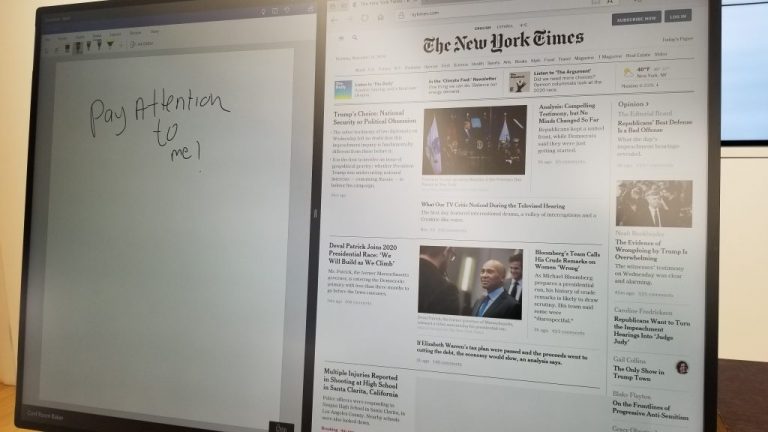 Power to the pen, touch, and other accessories
Finally, there's the need to talk about touch and pen support. The Surface Hub 2S sports support for up to 10 points of touch, as well as the Surface Hub 2 Pen. I tried out the touch support by dragging and scrolling through a map of Manhattan, and it really was responsive. It didn't lag, and it tracked the movements of my fingers.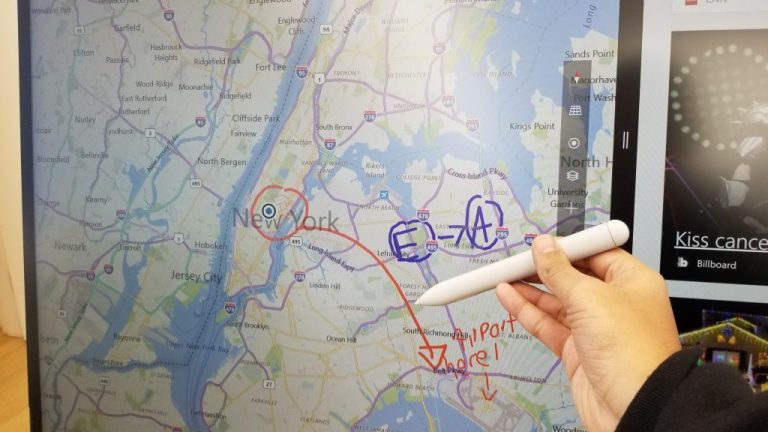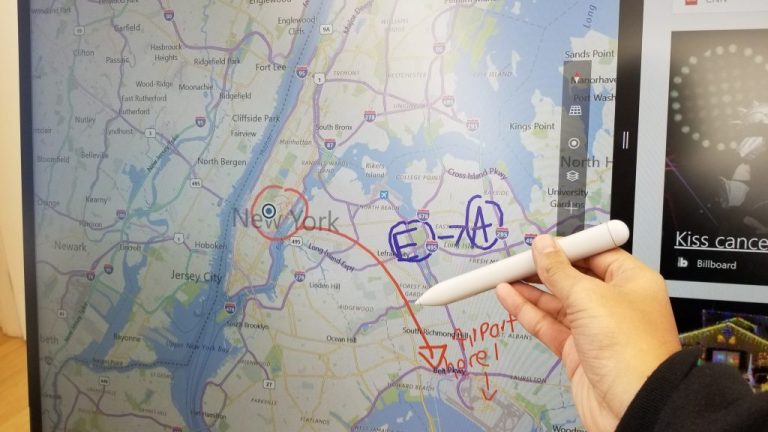 To try out the pen, I inked up a map in the Microsoft Maps app, simulating directions on how to take the train to the airport from Manhattan. It too was smooth. The pen itself is also really comfortable. It's rounded and feels nice and solid in the hands, similar to a Sharpie dry-erase marker for a whiteboard. There's a button on the side, and an eraser on the top, just as you'll find on the regular Surface Pen. It's even magnetic and stick to the side of the display, so it stays out of your way when you don't need it.
Another feature of the Surface Hub is the Surface Hub 2 camera. It is housed on the top and, according to Microsoft, allows you to "capture the room and conference participants in a full field of view." It's magnetically attached and has a 90-degree HFOV, with anti-dicker, and face-based auto exposure. It wasn't something I got to try out, but I wish I did as these specs make it seem high-quality.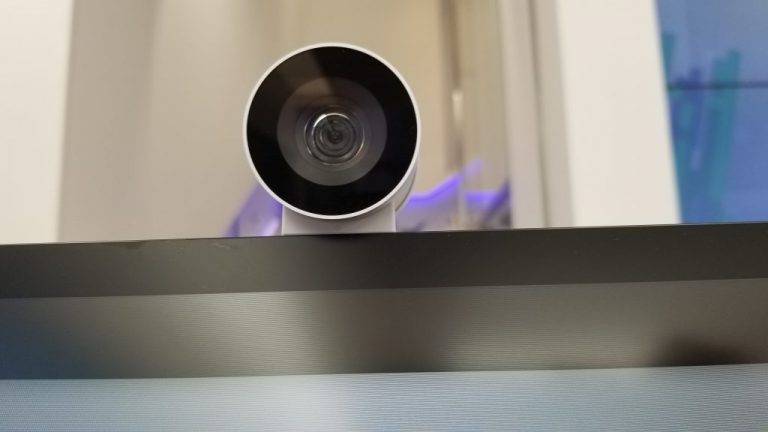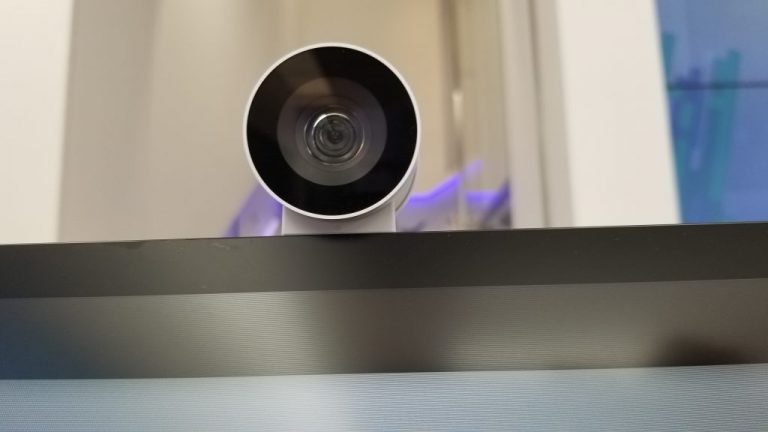 A high price to pay to replace whiteboards
At the end of the day, the Surface Hub 2S is quite amazing. It's touch screen display really packs a lot of pixels, and the overall design is quite modern and thin. The computing power is also impressive, and the Windows 10 OS backs it with some cool touch gestures. Inking support and the Surface Hub 2 Pen also opens it up to replacing whiteboards, but at the high cost of $9,000.