It's been almost a year since Microsoft unveiled a new consumer experience in Microsoft Teams during a Microsoft 365 digital event on March 30, 2020. Teams is still one of the fastest-growing Microsoft apps in recent years, and its growth has been accelerating since the beginning of the COVID-19 pandemic which led to the rise of remote work.
Microsoft first started rolling out personal features in Microsoft Teams on iOS and Android last year, but the consumer experience is now available on the web and it's currently rolling out in the Windows and macOS desktop apps. I noticed the option to log in with my personal account in the Microsoft Teams app this week, though my colleagues at OnMSFT have yet to see this option.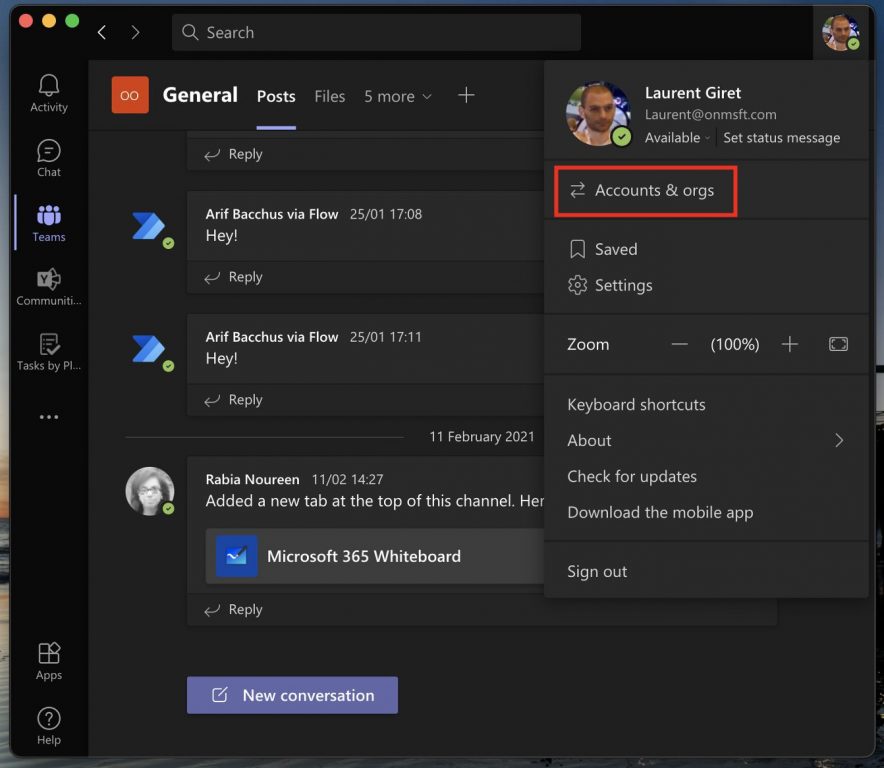 Microsoft Teams for Consumers should not be confused with Microsoft Teams free, which Microsoft launched a couple of years ago to compete with Slack. Both experiences require a personal Microsoft account, though, and I think there will definitely be some confusion.
With Microsoft Teams free, you get the same Teams experience as Microsoft 365 commercial customers, with your own organization that can welcome up to 500,000 members. Microsoft Teams for Consumers has a very similar UI, but the experience focuses on chats, video meetings, and shared calendars, leaving the channel system out of the picture.
I already tried Microsoft Teams for Consumers on mobile and the web, the desktop experience is pretty much identical. The left panel has shortcuts for notifications, chats, and apps, though Calendar is the only app that is showing for me. I've been able to chat with friends that also logged in in Teams with their personal Microsoft account, and video meetings are also available.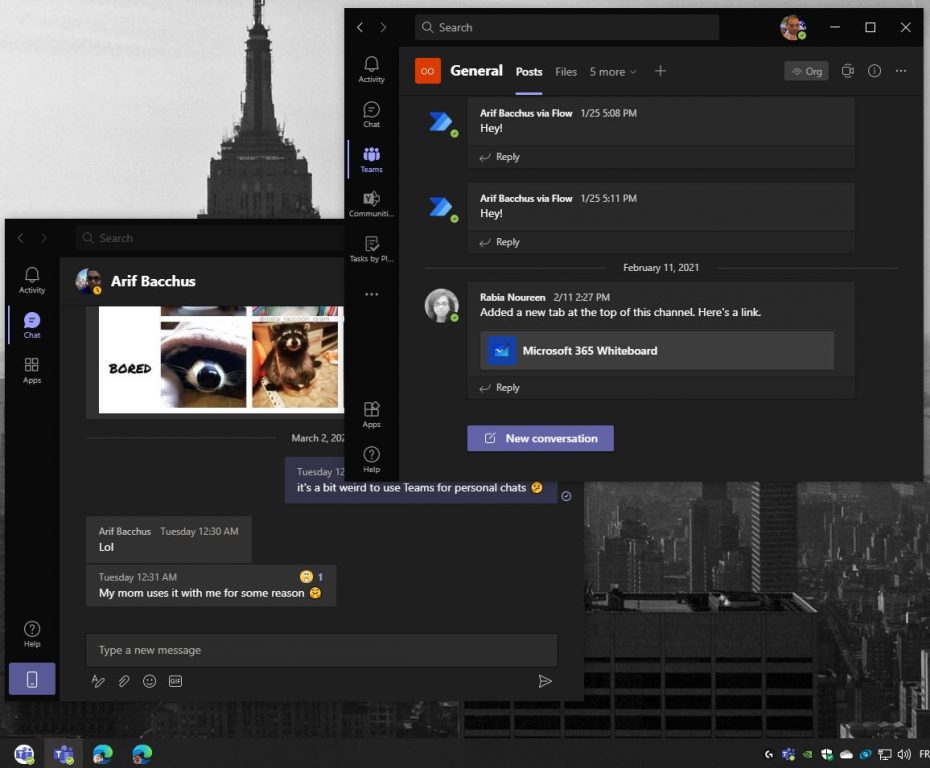 Microsoft Teams for Consumers is a pretty solid messaging app, with support for group messages, message reactions, GIFs, and you can also start a group chat with friends who haven't downloaded the app yet. But it can also do much more than that, with the possibility to edit shared calendars, assign tasks to people, access cloud storage right from your group chats, and more. Every group comes with a dashboard where you can see everything shared within a group.
On mobile, Microsoft Teams for consumers lets you find your friends on Teams by syncing your phone contacts, and people will be able to find you on Teams by using your phone number or email address associated to your personal Microsoft account. However, using the same app Teams with both your Office 365 account and your personal Microsoft account is a hassle. Switching accounts is done by clicking your profile picture on the top left corner of the app, and this nowhere near as seamless as having different email inboxes in Outlook.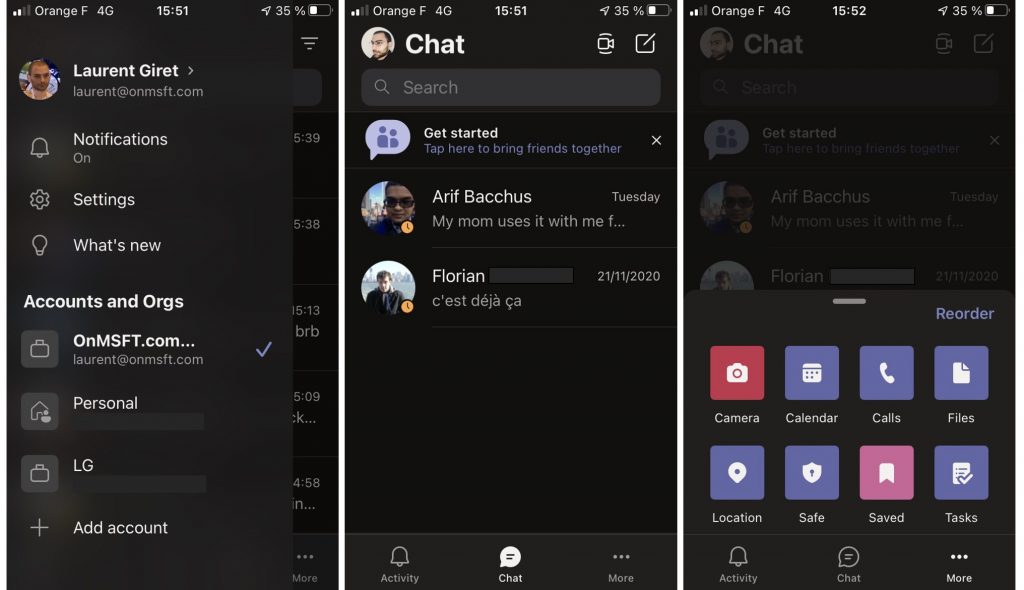 Using Microsoft Teams personal features on the desktop is much more convenient as the app will actually open a separate window for your personal Microsoft account. On Windows, you can pin Microsoft Teams Personal on your taskbar, so you can use the app with your personal Microsoft account without opening the regular app with your Office 365 account. It's similar to how you can pin shortcuts to your different Edge profiles, but macOS currently doesn't support this.
Overall, Microsoft Teams for Consumers is pretty solid, and I find it currently easier to use on the desktop or the web than on mobile devices. I understand why Microsoft would like Teams to become that's not just for work, and I'm sure some users will be happy to have a single app to interact with colleagues, friends, and family, but that's not me. Apps like WhatsApp, Facebook Messenger, or Instagram already have over 1 billion users, and teenagers and young adults certainly won't replace them with Microsoft Teams.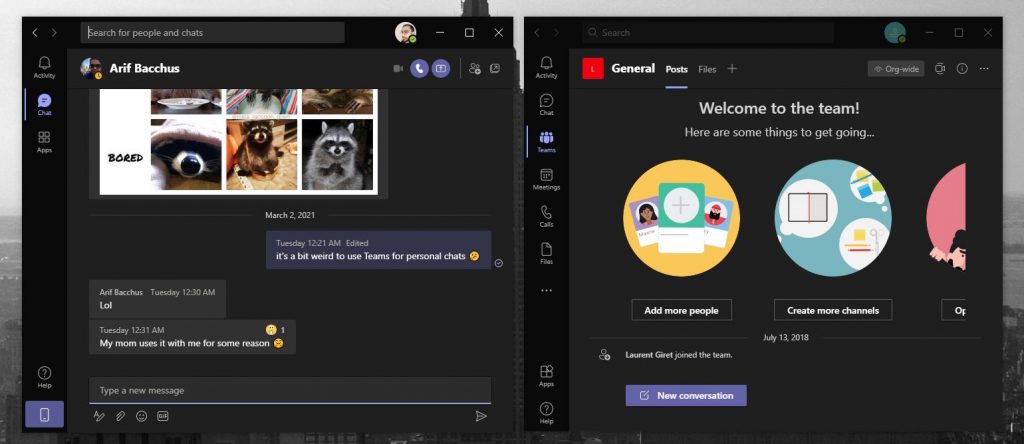 In some way, I wish Skype evolved into a consumer version of Microsoft Teams. This could have prevented the confusion I mentioned before between Microsoft Teams free and Microsoft Teams for consumers (pictured above), which both work with a personal Microsoft account. Anyway, that won't be happening.
Skype went through several redesigns in recent years, and it's no longer the juggernaut it once was when Microsoft acquired it. The software giant seems to believe that Skype and Microsoft Teams for consumers can coexist, and it will be interesting to see if personal features in Teams will take off. For now, though, I think Teams will remain an enterprise-focused platform that is getting more and more complex as times goes on.
Have you already tried Microsoft Teams for consumers? If so, let us know in the comments if you're excited to be able to use Teams to chat and collaborate with friends and family.